Note: Supplemental materials are not guaranteed with Rental or Used book purchases.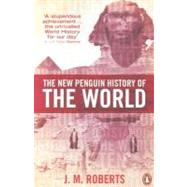 Summary
One of the most extraordinary history bestsellers on the Penguin list, John Roberts' book has now been completely updated to the end of the last century and revised throughout to make sure it keeps its amazing appeal to a new generation of readers. The entire text has been overhauled to take account of the great range of discoveries that have changed our views on early civilizations and to bring it fully up-to-date. The book has also been completely redesigned and reset. The result is a book that is both an essential work of reference for anyone with the slightest historical interest and a great reading experience.
Author Biography
J. M. Roberts (1928-û2003) was warden of Merton College, Oxford, and one of our greatest contemporary historians.
Table of Contents
viii
Preface to Fourth Edition
xi

| | |
| --- | --- |
| | BOOK ONE BEFORE HISTORY -- BEGINNINGS |

1
(2)
3
(15)
18
(11)

| | |
| --- | --- |
| | The Possibility of Civilization |

29
(12)

| | |
| --- | --- |
| | BOOK TWO THE FIRST CIVILIZATIONS |

39
(2)
41
(8)
49
(17)
66
(22)

| | |
| --- | --- |
| | Intruders and Invaders: The Dark Ages of the Ancient Near East |

88
(31)

| | |
| --- | --- |
| | The Beginnings of Civilization in Eastern Asia |

119
(29)

| | |
| --- | --- |
| | The Other Worlds of the Ancient Past |

148
(11)
159
(8)

| | |
| --- | --- |
| | BOOK THREE THE CLASSICAL MEDITERRANEAN |

165
(2)
167
(4)
171
(17)
188
(24)
212
(15)
227
(18)
245
(15)

| | |
| --- | --- |
| | Jewry and the Coming of Christianity |

260
(16)

| | |
| --- | --- |
| | The Waning of the Classical West |

276
(25)
301
(16)

| | |
| --- | --- |
| | BOOK FOUR THE AGE OF DIVERGING TRADITIONS |

315
(2)

| | |
| --- | --- |
| | Islam and the Remaking of the Near East |

317
(16)
333
(12)
345
(27)

| | |
| --- | --- |
| | The Disputed Legacies of the Near East |

372
(21)
393
(29)
422
(22)
444
(22)
466
(11)
477
(12)

| | |
| --- | --- |
| | Europe: the First Revolution |

489
(35)
524
(25)

| | |
| --- | --- |
| | BOOK FIVE THE MAKING OF THE EUROPEAN AGE |

547
(2)

| | |
| --- | --- |
| | A New Kind of Society: Early Modern Europe |

549
(21)

| | |
| --- | --- |
| | Authority and Its Challengers |

570
(28)

| | |
| --- | --- |
| | The New World of Great Powers |

598
(32)

| | |
| --- | --- |
| | Europe's Assault on the World |

630
(27)

| | |
| --- | --- |
| | World History's New Shape |

657
(17)
674
(25)

| | |
| --- | --- |
| | BOOK SIX THE GREAT ACCELERATION |

697
(2)
699
(21)

| | |
| --- | --- |
| | Political Change in an Age of Revolution |

720
(25)

| | |
| --- | --- |
| | Political Change: A New Europe |

745
(23)

| | |
| --- | --- |
| | Political Change: The Anglo-Saxon World |

768
(21)

| | |
| --- | --- |
| | The European World Hegemony |

789
(24)

| | |
| --- | --- |
| | European Imperialism and Imperial Rule |

813
(18)

| | |
| --- | --- |
| | Asia's Response to a Europeanizing World |

831
(32)

| | |
| --- | --- |
| | BOOK SEVEN THE END OF THE EUROPEANS' WORLD |

861
(2)
863
(20)

| | |
| --- | --- |
| | The Era of the First World War |

883
(32)
915
(17)

| | |
| --- | --- |
| | The Ottoman Heritage and the Western Islamic Lands |

932
(14)
946
(23)

| | |
| --- | --- |
| | The Shaping of a New World |

969
(26)

| | |
| --- | --- |
| | BOOK EIGHT THE LATEST AGE |

991
(4)
995
(44)
1039
(52)
1091
(33)
1124
(24)
1148
(37)
Index
1185