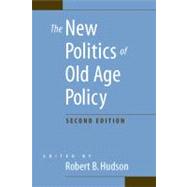 Summary
As the aging population of the United States continues to increase, age-related policies have come under intense scrutiny and have sparked heated debates. This revised and updated edition of The New Politics of Old Age Policy explains the politics behind the country's age-based programs, describes how those programs work, and assesses how well -- or poorly -- they meet the growing and changin g needs of older Americans.The chapters address theoretical approaches to age-based policy; population dynamics and the impact of growing diversity within the older population; and national, state, and local political issues associated with major age-based programs. The contributors are leading experts whose essays range across disciplines, including political science, sociology, law, social work, social welfare, and gerontology.More than any other source, this book presents the most current information on growing older in the United States, including detailed analyses of Social Security, Medicare, Medicaid, housing initiatives, the Older Americans Act, the Age Discrimination in Employment Act, and tax policy.Contributors: Christina M. Andrews, M.S.W., University of Chicago; Jeffrey A. Burr, Ph.D., University of Massachusetts--Boston; Andrea Louise Campbell, Ph.D., Massachusetts Institute of Technology; Caroline Cicero, M.P.L., University of Southern California; Kerstin Gerst, Ph.D., University of Texas Medical Branch; Judith G. Gonyea, Ph.D., Boston University School of Social Work; Colleen M. Grogan, Ph.D., University of Chicago; Madonna Harrington Meyer, Ph.D., Syracuse University; Christopher Howard, Ph.D., The College of William and Mary; Ryan King, S.B., Renewable Energy Systems Americas, Denver, Colorado; Sandra R. Levitsky, Ph.D., University of Michigan; Frederick R. Lynch, Ph.D., Claremont McKenna College; Laurie A. McCann, J.D., AARP Foundation Litigation, Washington, D.C.; Kimberly J. Morgan, Ph.D., The George Washington University; Jan E. Mutchler, Ph.D., University of Massachusetts--Boston; John Myles, Ph.D., University of Toronto; Christy M. Nishita, Ph.D., University of Hawaii; Jon Pynoos, Ph.D., University of Southern California; Rick A. Settersten, Jr., Ph.D., Oregon State University; Molly E. Trauten, B.A., M.G.S., Oregon State University; Cathy Ventrell-Monsees, J.D., Attorney, Chevy Chase, Maryland; Janet M. Wilmoth, Ph.D., Syracuse UniversityPraise for the first edition"This is an excellent book for those who specialize in American social policy." -- Ageing and Society"The volume will be a useful introduction to the contemporary policy." -- Canadian Journal on Aging"The contributing authors do an excellent job of dissecting and illuminating the many policy options involved in current national debates. The book is a valuable resource for students and professionals in the field." -- Family Caregiver Alliance
Author Biography
Robert B. Hudson is a professor and chair of the Department of Social Welfare Policy, Boston University School of Social Work. He is editor of The Future of Age-Based Public Policy, also published by Johns Hopkins.
Table of Contents
List of Contributors
p. vii
Preface
p. ix
Perspectives on Aging Policy
Contemporary Challenges to Aging Policy
p. 3
Shifting Risk and Responsibility: The State and Inequality in Old Age
p. 21
Aging Policy and Structural Lag
p. 42
What Justice Requires: Normative Foundations for U.S. Pension Reform
p. 64
Political Power and the Baby Boomers
p. 87
Theoretical Approaches to the Development of Aging Policy in the United States
p. 108
The Populations of Aging Policy
On Time and Ties: Why the Life Course Matters for Old Age Policies
p. 141
Public Policies and Older Populations of Color
p. 160
The Oldest Old and a Long-Lived Society: Challenges for Public Policy
p. 183
Caregiving and the Construction of Political Claims for Long-Term Care Policy Reform
p. 208
Public Policies on Aging
Social Security: Political Resilience in the Face of Conservative Strides
p. 233
Medicare: Deservingness Encounters Cost Containment
p. 254
The Politics of Aging within Medicaid
p. 275
The Older Americans Act and the Aging Services Network
p. 307
New Challenges and Growing Trends in Senior Housing
p. 324
Taxation and the Elderly
p. 337
Age Discrimination in Employment
p. 356
Index
p. 373
Table of Contents provided by Ingram. All Rights Reserved.