Note: Supplemental materials are not guaranteed with Rental or Used book purchases.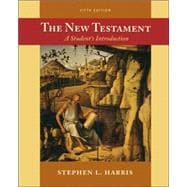 The New Testament: A Student's Introduction
by
Harris, Stephen L.
McGraw-Hill Humanities/Social Sciences/Languages
Questions About This Book?
What version or edition is this?
This is the 5th edition with a publication date of 10/14/2005.
What is included with this book?
The Used copy of this book is not guaranteed to include any supplemental materials. Typically, only the book itself is included.
Related Products
Summary
This introductory student-centered text is now full color, enhancing its readers' visual experience! The fifth edition of The New Testament retains its effective 5-part organization ("An Invitation to the New Testament," "Diverse Portraits of Jesus," "An Account of the Early Church," "Paul and the Pauline Tradition," and "General Letters and Vision of End Time"), which traces the New Testament's chronological, thematic, and literary development and examines each New Testament document on a book-by-book basis. This method helps students to become familiar with the content and major themes of the New Testament as well as to acquaint themselves with the goals and methods of important biblical scholarship. The fifth edition of The New Testament is the best revision ever.
Table of Contents
Preface
vii

| | |
| --- | --- |
| | PART ONE An Invitation to the New Testament |

1
(98)

| | |
| --- | --- |
| | Photo Essay | The Jewish and Hellenistic Background of Early Christianity |

2
(2)

| | |
| --- | --- |
| | An Overview of the New Testament |

4
(19)
4
(1)

| | |
| --- | --- |
| | What Is the New Testament? |

5
(1)

| | |
| --- | --- |
| | The New Testament and the Hebrew Bible |

6
(7)

| | |
| --- | --- |
| | Language and Literature of the New Testament |

13
(5)

| | |
| --- | --- |
| | Other Early Christian Literature |

18
(2)

| | |
| --- | --- |
| | Scholarly Approaches to the New Testament |

20
(1)
21
(1)
21
(1)

| | |
| --- | --- |
| | Questions for Discussion and Reflection |

21
(1)

| | |
| --- | --- |
| | Terms and Concepts to Remember |

22
(1)
22
(1)

| | |
| --- | --- |
| | How the New Testament Was Formed and Handed Down to Us |

23
(39)
23
(1)

| | |
| --- | --- |
| | Formation of the New Testament Canon |

23
(4)

| | |
| --- | --- |
| | Transmitting the New Testament Texts |

27
(4)
31
(6)
37
(1)
38
(1)

| | |
| --- | --- |
| | Questions for Discussion and Reflection |

38
(1)

| | |
| --- | --- |
| | Terms and Concepts to Remember |

38
(1)
38
(2)

| | |
| --- | --- |
| | The Two Worlds in Which Christianity Originated |

40
(22)
40
(1)
40
(2)
42
(1)
43
(1)
44
(1)

| | |
| --- | --- |
| | The World of Greek Thought and Culture |

45
(1)
46
(3)
49
(7)
56
(3)
59
(1)
60
(1)

| | |
| --- | --- |
| | Questions for Discussion and Reflection |

60
(1)

| | |
| --- | --- |
| | Terms and Concepts to Remember |

60
(1)
60
(2)

| | |
| --- | --- |
| | The Troubled World into Which Jesus Was Born |

62
(19)
62
(1)

| | |
| --- | --- |
| | Alexander and His Successors |

63
(1)

| | |
| --- | --- |
| | Antiochus's Persecution and the Maccabean Revolt |

64
(5)
69
(6)

| | |
| --- | --- |
| | The Jewish Revolt Against Rome |

75
(3)
78
(1)
79
(1)

| | |
| --- | --- |
| | Questions for Discussion and Reflection |

79
(1)

| | |
| --- | --- |
| | Terms and Concepts to Remember |

79
(1)
79
(2)

| | |
| --- | --- |
| | The Diverse World of First-Century Judaisms |

81
(18)
81
(1)

| | |
| --- | --- |
| | First-Century Jewish Diversity |

81
(9)

| | |
| --- | --- |
| | The Messiah: First-Century Expectations |

90
(6)

| | |
| --- | --- |
| | Messianic Claimants Before and After Jesus |

96
(1)
97
(1)
97
(1)

| | |
| --- | --- |
| | Questions for Discussion and Reflection |

97
(1)

| | |
| --- | --- |
| | Terms and Concepts to Remember |

98
(1)
98
(1)

| | |
| --- | --- |
| | PART TWO Diverse Portraits of Jesus |

99
(190)

| | |
| --- | --- |
| | Photo Essay | Archaeological Sites and Artifacts Associated with Jesus' Life |

100
(3)
103
(23)
103
(3)

| | |
| --- | --- |
| | The Gospels and Modern Scholarship |

106
(2)

| | |
| --- | --- |
| | Assumptions and Approaches |

108
(2)
110
(9)
119
(1)

| | |
| --- | --- |
| | Literary Analysis of the Gospels |

119
(5)
124
(1)
124
(1)

| | |
| --- | --- |
| | Question for Discussion and Reflection |

124
(1)

| | |
| --- | --- |
| | Terms and Concepts to Remember |

124
(1)
124
(2)

| | |
| --- | --- |
| | The Hidden Messiah and Eschatological Judge |

126
(29)
126
(1)

| | |
| --- | --- |
| | Mark's Historical Setting |

126
(2)

| | |
| --- | --- |
| | Mark's Puzzling Attitude Toward Jesus' Close Associates |

128
(3)

| | |
| --- | --- |
| | Mark as a Literary Narrative |

131
(2)

| | |
| --- | --- |
| | Prelude to Jesus' Public Ministry |

133
(2)

| | |
| --- | --- |
| | The Galilean Ministry: Inaugurating the Kingdom |

135
(8)

| | |
| --- | --- |
| | The Journey to Jerusalem: Jesus' Predestined Suffering |

143
(2)

| | |
| --- | --- |
| | The Jerusalem Ministry: A Week of Sacred Time |

145
(4)

| | |
| --- | --- |
| | Mark's Passion Narrative: Jesus' Trial and Crucifixion |

149
(3)
152
(1)
152
(1)
152
(1)

| | |
| --- | --- |
| | Questions for Discussion and Reflection |

153
(1)

| | |
| --- | --- |
| | Terms and Concepts to Remember |

153
(1)
153
(2)

| | |
| --- | --- |
| | Matthew's Portrait of Jesus |

| | |
| --- | --- |
| | A Teacher Greater than Moses |

155
(32)
155
(1)

| | |
| --- | --- |
| | Relation to the Hebrew Bible |

155
(2)

| | |
| --- | --- |
| | Authorship, Purpose, Sources, and Organization |

157
(9)

| | |
| --- | --- |
| | Introduction to the Messiah: Infancy Narrative |

166
(1)

| | |
| --- | --- |
| | The Beginning of Jesus' Proclamation |

167
(2)

| | |
| --- | --- |
| | First Major Discourse: The Sermon on the Mount |

169
(3)

| | |
| --- | --- |
| | First Narrative Section: Ten Miracles |

172
(1)

| | |
| --- | --- |
| | Second Major Discourse: Instructions to the Twelve Apostles |

172
(2)

| | |
| --- | --- |
| | Second Narrative Section: Questions and Controversies |

174
(1)

| | |
| --- | --- |
| | Third Major Discourse: Parables on the Kingdom |

174
(2)

| | |
| --- | --- |
| | Third Narrative Section: From the Rejection in Nazareth to the Transfiguration |

176
(1)

| | |
| --- | --- |
| | Fourth Major Discourse: Instructions to the Church |

176
(1)

| | |
| --- | --- |
| | Fourth Narrative Section: The Jerusalem Ministry |

177
(1)

| | |
| --- | --- |
| | Fifth Major Discourse: Warnings of Final Judgment |

178
(4)

| | |
| --- | --- |
| | Fifth and Final Narrative Section: The Passion Story and Resurrection |

182
(2)
184
(1)
184
(1)

| | |
| --- | --- |
| | Questions for Discussion and Reflection |

185
(1)

| | |
| --- | --- |
| | Terms and Concepts to Remember |

185
(1)
185
(2)

| | |
| --- | --- |
| | A Savior for ``All Nations'' |

187
(31)
187
(1)

| | |
| --- | --- |
| | Israel and the Church: Luke's Theology of History |

188
(1)

| | |
| --- | --- |
| | The Author and His Sources |

189
(8)

| | |
| --- | --- |
| | Infancy Narratives of the Baptist and Jesus |

197
(3)

| | |
| --- | --- |
| | Jesus' Galilean Ministry and the ``Lesser Interpolation'' |

200
(3)

| | |
| --- | --- |
| | Luke's Travel Narrative: Jesus' Teachings on the Journey to Jerusalem |

203
(7)

| | |
| --- | --- |
| | The Jerusalem Ministry: Jesus' Challenge to the Holy City |

210
(2)

| | |
| --- | --- |
| | The Final Conflict and Passion Story |

212
(2)

| | |
| --- | --- |
| | Epilogue: Postresurrection Appearances in the Vicinity of Jerusalem |

214
(1)
215
(1)
216
(1)

| | |
| --- | --- |
| | Questions for Discussion and Reflection |

216
(1)

| | |
| --- | --- |
| | Terms and Concepts to Remember |

217
(1)
217
(1)

| | |
| --- | --- |
| | Photo Essay | Diverse Portraits of Jesus |

218
(3)
221
(29)
221
(1)
222
(10)
232
(3)
235
(6)
241
(2)

| | |
| --- | --- |
| | John's Interpretation of the Passion |

243
(3)

| | |
| --- | --- |
| | Epilogue: Postresurrection Appearances in Galilee |

246
(1)
247
(1)
248
(1)

| | |
| --- | --- |
| | Questions for Discussion and Reflection |

248
(1)

| | |
| --- | --- |
| | Terms and Concepts to Remember |

248
(1)
248
(2)

| | |
| --- | --- |
| | Additional Portraits of Jesus |

250
(16)
250
(1)

| | |
| --- | --- |
| | Contrasting Portrayals of Jesus |

250
(3)
253
(5)
258
(1)
258
(1)

| | |
| --- | --- |
| | Gospels About Jesus' Infancy and Childhood |

259
(4)
263
(1)
264
(1)

| | |
| --- | --- |
| | Questions for Discussion and Reflection |

264
(1)

| | |
| --- | --- |
| | Terms and Concepts to Remember |

264
(1)
264
(2)

| | |
| --- | --- |
| | The Continuing Quest for the Historical Jesus |

266
(23)
266
(2)

| | |
| --- | --- |
| | Early Historical References to Jesus |

268
(1)

| | |
| --- | --- |
| | A Survey of the Historical Search for the ``Real'' Jesus |

269
(1)
270
(1)

| | |
| --- | --- |
| | The Continuing Scholarly Debate |

271
(1)

| | |
| --- | --- |
| | Some Criteria for Testing the Authenticity of Jesus' Words and Deeds |

271
(2)

| | |
| --- | --- |
| | A Nonapocalyptic Wisdom Teacher |

273
(2)
275
(2)

| | |
| --- | --- |
| | Some General Agreements About the Historical Jesus |

277
(3)

| | |
| --- | --- |
| | Jesus' Teaching About the Kingdom |

280
(4)

| | |
| --- | --- |
| | Wisdom and the Kingdom of God |

284
(1)
285
(1)
286
(1)

| | |
| --- | --- |
| | Questions for Discussion and Reflection |

286
(1)

| | |
| --- | --- |
| | Terms and Concepts to Remember |

287
(1)
287
(2)

| | |
| --- | --- |
| | PART THREE An Account of the Early Church |

289
(28)

| | |
| --- | --- |
| | Photo Essay | Themes and Settings in the Book of Acts |

290
(3)
293
(24)
293
(1)

| | |
| --- | --- |
| | The Divine Plan of Humanity's Salvation |

294
(2)

| | |
| --- | --- |
| | Prologue and Account of the Ascension |

296
(1)

| | |
| --- | --- |
| | Founding the Jerusalem Church |

297
(2)

| | |
| --- | --- |
| | The Work of Peter and the Apostles |

299
(1)

| | |
| --- | --- |
| | Persecution of the Hellenist-Jewish Christians: The First Missions |

300
(1)

| | |
| --- | --- |
| | Preparation for the Gentile Mission: The Recruitment of Paul and Cornelius |

301
(2)

| | |
| --- | --- |
| | The First Missionary Journey of Barnabas and Paul: The Jerusalem Conference |

303
(4)

| | |
| --- | --- |
| | Paul's Second Missionary Journey: Evangelizing Greece |

307
(4)

| | |
| --- | --- |
| | Paul's Third Missionary Journey: Revisiting Asia Minor and Greece |

311
(1)

| | |
| --- | --- |
| | Paul's Arrest in Jerusalem and Imprisonment in Caesarea |

312
(2)

| | |
| --- | --- |
| | Paul's Journey to Rome and His Preaching to Roman Jews |

314
(1)
315
(1)
315
(1)

| | |
| --- | --- |
| | Questions for Discussion and Reflection |

316
(1)

| | |
| --- | --- |
| | Terms and Concepts to Remember |

316
(1)
316
(1)

| | |
| --- | --- |
| | PART FOUR Paul and the Pauline Tradition |

317
(76)

| | |
| --- | --- |
| | Photo Essay | Paul and His World |

318
(2)
320
(13)
320
(1)

| | |
| --- | --- |
| | Seeking the Historical Paul |

321
(1)

| | |
| --- | --- |
| | The Historical Reliability of Acts |

321
(1)

| | |
| --- | --- |
| | Paul's Experience of the Risen Jesus |

322
(1)
323
(2)
325
(3)

| | |
| --- | --- |
| | Paul's Major Assumptions and Concerns |

328
(3)
331
(1)
331
(1)

| | |
| --- | --- |
| | Questions for Discussion and Reflection |

331
(1)

| | |
| --- | --- |
| | Terms and Concepts to Remember |

331
(1)
332
(1)

| | |
| --- | --- |
| | Unity, Freedom, and Christ's Return |

| | |
| --- | --- |
| | Paul's Letters to Thessalonica and Corinth |

333
(17)
333
(1)

| | |
| --- | --- |
| | First Letter to the Thessalonians |

334
(2)

| | |
| --- | --- |
| | First Letter to the Corinthians |

336
(10)

| | |
| --- | --- |
| | Second Letter to the Corinthians |

346
(2)
348
(1)
348
(1)

| | |
| --- | --- |
| | Questions for Discussion and Reflection |

348
(1)

| | |
| --- | --- |
| | Terms and Concepts to Remember |

349
(1)
349
(1)

| | |
| --- | --- |
| | Freedom from Law and Justification by Faith |

350
(15)
350
(1)

| | |
| --- | --- |
| | An Angry Letter to the ``Stupid'' Galatians |

351
(3)
354
(9)
363
(1)
363
(1)

| | |
| --- | --- |
| | Questions for Discussion and Reflection |

363
(1)

| | |
| --- | --- |
| | Terms and Concepts to Remember |

364
(1)
364
(1)
365
(11)
365
(1)
365
(1)

| | |
| --- | --- |
| | Letter to the Philippians |

366
(4)
370
(1)
371
(2)
373
(1)
374
(1)

| | |
| --- | --- |
| | Questions for Discussion and Reflection |

374
(1)

| | |
| --- | --- |
| | Terms and Concepts to Remember |

374
(1)
374
(2)

| | |
| --- | --- |
| | Continuing the Pauline Tradition |

| | |
| --- | --- |
| | 2 Thessalonians, Colossians, Ephesians, the Pastoral Epistles, 1 Clement, and the Epistle of Barnabas |

376
(17)
376
(1)

| | |
| --- | --- |
| | The Problem of Pseudonymity |

377
(1)

| | |
| --- | --- |
| | Second Letter to the Thessalonians |

378
(1)

| | |
| --- | --- |
| | A Disputed Letter to the Colossians |

379
(2)
381
(3)

| | |
| --- | --- |
| | The Pastorals: Letters to Timothy and Titus |

384
(3)
387
(1)
388
(1)
389
(1)
389
(1)

| | |
| --- | --- |
| | Questions for Discussion and Reflection |

390
(1)

| | |
| --- | --- |
| | Terms and Concepts to Remember |

390
(1)
390
(3)

| | |
| --- | --- |
| | PART FIVE General Letters and Some Visions of End Time |

393
(56)

| | |
| --- | --- |
| | General Letters on Faith and Behavior |

| | |
| --- | --- |
| | Hebrews, the Catholic Epistles, and the Teachings (Didache) of the Twelve Apostles |

394
(20)
394
(1)
395
(1)
395
(4)
399
(3)
402
(2)
404
(1)
405
(2)

| | |
| --- | --- |
| | Letters from the Johannine Community |

407
(2)

| | |
| --- | --- |
| | The Teaching (Didache) of the Twelve Apostles |

409
(2)
411
(1)
411
(1)

| | |
| --- | --- |
| | Questions for Discussion and Reflection |

412
(1)

| | |
| --- | --- |
| | Terms and Concepts to Remember |

412
(1)
412
(2)

| | |
| --- | --- |
| | Photo Essay | The Conflict Between Caesar and Christ |

414
(2)

| | |
| --- | --- |
| | Continuing the Apocalyptic Hope |

| | |
| --- | --- |
| | The Book of Revelation and Other Jewish/Christian Apocalyptic Works |

416
(24)
416
(1)

| | |
| --- | --- |
| | Revelation and the Apocalyptic Tradition |

417
(9)

| | |
| --- | --- |
| | Jesus' Letters to the Seven Churches |

426
(1)
426
(2)

| | |
| --- | --- |
| | Signs in Heaven: The Woman, the Dragon, the Beast, and the Seven Plagues |

428
(4)

| | |
| --- | --- |
| | Other Hellenistic-Jewish and Christian Apocalypses |

432
(5)
437
(1)
437
(1)

| | |
| --- | --- |
| | Questions for Discussion and Reflection |

438
(1)

| | |
| --- | --- |
| | Terms and Concepts to Remember |

438
(1)
438
(2)

| | |
| --- | --- |
| | The Judeo-Christian Bible and Subsequent History |

440
(9)

| | |
| --- | --- |
| | The Evolution of the Hebrew Bible and the Christian Greek Scriptures |

440
(2)
442
(1)

| | |
| --- | --- |
| | The Church and the Secular World |

442
(2)
444
(3)
447
(1)
447
(1)

| | |
| --- | --- |
| | Questions for Discussion and Reflection |

447
(1)

| | |
| --- | --- |
| | Terms and Concepts to Remember |

447
(1)
447
(2)
Glossary of New Testament Terms and Concepts
449
(28)
Selected Bibliography
477
(1)
Credits
478
(2)
Index
480