Note: Supplemental materials are not guaranteed with Rental or Used book purchases.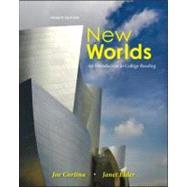 New Worlds : An Introduction to College Reading
by
Cortina, Joe
;
Elder, Janet
McGraw-Hill Humanities/Social Sciences/Languages
Questions About This Book?
What version or edition is this?
This is the 4th edition with a publication date of 1/12/2010.
What is included with this book?
The Used copy of this book is not guaranteed to include any supplemental materials. Typically, only the book itself is included.
Related Products
Summary
The new fourth edition of Joe Cortina and Janet Elder'sNew Worlds: An Introduction to College Readingcontinues to offer a clear, effective, and systematic way to approach college reading assignments.New Worldsintroduces the skills needed to master college-level reading, and shows how to apply those skills throughout the college curriculum and beyond.
Table of Contents
* - New reading selections To the Instructor: Getting Started Using New Worlds To the Student

PART ONE: A NEW WORLD OF LEARNING: READING AND STUDYING IN COLLEGE

CHAPTER 1: INTRODUCTION TO READING AND STUDYING: BEING SUCCESSFUL IN COLLEGEWhat do you need to know about the reading and studying process?What are the keys to studying college textbooks?What is comprehension monitoring and why is it important?What is the SQ3R study system?How can you adjust your reading rates when you study?What do you need to do to be successful in college?Why is it important to set goals?What are learning styles?Creating Your Summary: Developing Chapter Review CardsReading Selections:1-1: A Mother's Answer (Nonfiction)1-2: Yes, You Can Strengthen Your Memory Skills (Student Success)1-3: Wise Up! The When and How of Preparing for Tests (Study Skills)

CHAPTER 2: DEVELOPING A COLLEGE-LEVEL VOCABULARY: A NEW WORLD OF WORDSWhy is it important to develop a college-level vocabulary?What are context clues and how do you use them?What are word-structure clues and how do you use them?How do you use a dictionary pronunciation key?What is figurative language and how do you interpret figures of speech? Other things to keep in mind when developing your college-level vocabulary.Creating Your Summary: Developing Chapter Review CardsVocabulary Practice ExercisesContext CluesWord Structure CluesFigurative LanguageReading Selections:2-1: Should Teenagers Work Part-Time? (Human Development)2-2: McDonaldization: The Sun Never Sets on the Golden Arches (Business)2-3: Rage on the Road: The Danger of Aggressive Driving (Health)

PART TWO: A NEW WORLD OF UNDERSTANDING: USING CORE COMPREHENSION SKILLS WHEN YOU READ COLLEGE TEXTBOOKS

CHAPTER 3: DETERMINING THE TOPICWhat is the topic of a paragraph, and why is it important?What are the clues for determining the topic of a paragraph?Other things to keep in mind when determining the topicCreating Your Summary: Developing Chapter Review CardsComprehension Practice ExercisesDetermining the Topic Exercises, Part OneDetermining the Topic Exercises, Part Two Reading Selections:3-1: Is There a Better Way to Parent? A Look at Three Parenting Styles (Human Development)3-2: Giving a Speech? If You're Nervous, You're Normal! (Speech Communication)3-3: Better Sleep Is Big Business, but Are Restless Nights or Advertisements Fueling the Need? (Business)

CHAPTER 4: LOCATING THE STATED MAIN IDEA What is a stated main idea sentence, and why is it important?What is the method for identifying the stated main idea sentence?Which sentence can be the stated main idea sentence in a paragraph?Creating Your Summary: Developing Chapter Review CardsComprehension Practice ExercisesStated Main Idea Exercises, Part OneStated Main Idea Exercises, Part Two Reading Selections:4-1: Good Boss? Bad Boss? Three Leadership Styles (Business)4-2: Engagement and Marriage: The Same--Yet Different--Worldwide (Human Development)4-3: Smokers Versus Nonsmokers: A Question of Rights (Health)

CHAPTER 5: FORMULATING AN IMPLIED MAIN IDEAWhat is an implied main idea sentence, and why is it important to be able to formulate a main idea when it has been implied?What are three methods for using information in paragraph to formulate an implied main idea sentence?Creating Your Summary: Developing Chapter Review CardsComprehension Practice ExercisesFormulating Implied Main Idea Exercises, Part OneFormulating Implied Main Idea Exercises, Part Two Reading Selections:5-1: Two Artistic Tributes: The Vietnam Memorial and the AIDS Quilt (Art Appreciation)*5-2: Avian Flu: A Coming Pandemic (Biology) 5-3: Why Relationships Develop and What Makes Them Last (Psychology)

CHAPTER 6: IDENTIFYING SUPPORTING DETAILSWhat are supporting details and why are they important?What is the method for identifying supporting details?Major and minor details and how to tell the differenceCreating Your Summary: Developing Chapter Review CardsComprehension Practice ExercisesIdentifying Supporting Details Exercises, Part OneIdentifying Supporting Details Exercises, Part Two Reading Selections:*6-1: Hold It! You Can Recycle That! (Environmental Science)6-2: The Life of Buddha: The Path to Nirvana (History)6-3: The New Immigration: Asian Americans and Latinos (History)

CHAPTER 7: RECOGNIZING AUTHORS' WRITING PATTERNS What are author's writing patterns and why are they important?Transition words that signal the relationship of ideas within sentences and between sentencesFive Common Writing PatternsDefinition patternList patternSequence patternComparison-contrast patternCause-effect patternAdditional Paragraph PatternsDefinition and Example PatternGeneralization and Example PatternLocation or Spatial Order PatternSummary PatternClassification PatternAddition PatternStatement and Clarification PatternOther things to keep in mind when recognizing authors' writing patterns.Creating Your Summary: Developing Chapter Review CardsComprehension Practice ExercisesRecognizing Authors' Writing Patterns Exercises, Part OneRecognizing Authors' Writing Patterns Exercises, Part Two Reading Selections:7-1: Achoooo! You've Caught Another Cold! (Health) 7-2: The Right to Vote: Valued but Under Utilized (Government)7-3: Would You Eat "Frankenfood"?

PART THREE: A NEW WORLD OF READING AND THINKING CRITICALLY

CHAPTER 8: READING CRITICALLY What is critical reading and why is it important? What is author's point of view and how can you determine it?What is author's purpose and how can you determine it?What is author's intended audience and how can you determine it?What is author's tone and how can you determine it?Creating Your Summary: Developing Chapter Review CardsComprehension Practice ExercisesCritical Reading Exercises, Part OneCritical Reading Exercises, Part Two Reading Selections:*8-1: From For One More Day (Fiction)*8-2: I Never Made It to the NFL (Memoir)8-3: Dispelling the Myths about Millionaires (Business)

CHAPTER 9: THINKING CRITICALLY What is thinking critically why is it important? What are facts and opinions and why is it important to be able to distinguish between them?What are inferences and why is it important to make them? Other things to keep in mind when thinking critically.Creating Your Summary: Developing Chapter Review CardsCritical Thinking Practice Exercises, Fact and OpinionCritical Thinking Practice Exercises, Making Logical InferencesReading Selections: 9-1: "It's Your Turn to Feed the Baby!" How Infants Affect Marriage (Child Development)*9-2: Planet Under Stress: Curbing Population Growth (Biology)9-3: Is It Really Worth It? How Dual-Earner Couples Cope (Human Development)

PART FOUR: A NEW WORLD OF STUDYING

CHAPTER 10: APPROACHING COLLEGE READING AND STUDYINGWhat is the three-step process for studying college textbooks?Step 1: Prepare to ReadStep 2: Ask and Answer Questions to Guide Your ReadingStep 3: Review by Rehearsing Your AnswersWhat are textbook features?Chapter Introductions and Chapter ObjectivesChapter OutlinesVocabulary Aids and GlossariesBoxesChapter SummariesStudy Questions and Activities Other Textbook featuresHow can you interpret visuals and graphic aids?PhotographsDiagramsMapsCartoonsLine graphsPie chartsBar graphsFlowchartsTablesOther things to keep in mind when studying textbook material.Creating Your Summary: Developing Chapter Review CardsPractice ExercisesInterpreting Graphic AidsReading Selection:10-1: Living with Stress (Student Success)

CHAPTER 11: PREPARING FOR TESTS: STUDY-READING, REHEARSAL, AND MEMORYHow are rehearsal and memory related?How can you underline, highlight, and annotate your textbooks? How can you take notes from textbooks? Guidelines for Outlining Guidelines for Mapping Guidelines for SummarizingHow can you follow directions?Other things to keep in mind as you apply core comprehension skills while you study.Creating Your Summary: Developing Chapter Review CardsReading Selection:11-1: Information Technology, The Internet, and You (Information Technology)

Appendix 1 Glossary of Key Terms Appendix 2 Master Vocabulary List Appendix 3 Maps of the United States and the World

INDEX