Note: Supplemental materials are not guaranteed with Rental or Used book purchases.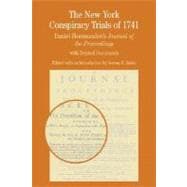 The New York Conspiracy Trials of 1741 Daniel Horsmanden's Journal of the Proceedings, with Related Documents
by
Zabin, Serena R.
Summary
When in 1741 a rash of fires followed a theft in pre-revolutionary New York City, British colonial authorities came to suspect an elaborate conspiracy led by slaves and poor whites who intended to burn the city and hand it over to Britain's Catholic foes. Within seven months, roughly 200 people were arrested, 17 were hanged, and 70 others were expelled from New York. This book abridges the transcript Justice Daniel Horsmanden kept of the trials. His record of the testimony of slaves and working-class whites provides extraordinary clues to the nature of race, class, and gender relationships in colonial New York City and raises questions about the nature and extent of the alleged conspiracy. Serena Zabin's introduction provides context by describing slavery, tavern culture, and the legal system as well as explaining British tensions with France and Spain. Additional documents include newspaper accounts of the Antigua and Stono Rebellions and letters concerning the 1741 trials to help students make connections among these uprisings and the atmosphere of fear and suspicion they created. Document headnotes and glosses, lists of trial participants, a chronology of events, questions for consideration, a selected bibliography, and an index provide strong pedagogical support.
Author Biography
SERENA R. ZABIN is an assistant professor of history at Carleton College, where she previously served as the Andrew W. Mellon postdoctoral fellow. She has also taught at Rutgers University and the University of North Carolina at Chapel Hill. She is at work on a monograph entitled Places of Exchange: New York City and the Slave Conspiracy Trials of 1741. Her scholarship has been recognized by grants and prizes from the American Association of University Women, the Woodrow Wilson Foundation, and the Immigration and Ethnic History Society, among others. A former classicist, she has also published scholarly and pedagogical materials on the ancient Mediterranean.
Table of Contents
Foreword
v
Preface
vii
LIST OF ILLUSTRATIONS
xiv
PART ONE Introduction: Fear, Race, and Society in British New York
1
(40)

| | |
| --- | --- |
| | New York City on the Eve of the Trials |

5
(5)

| | |
| --- | --- |
| | Colonial New York Society |

10
(6)

| | |
| --- | --- |
| | Slavery in Colonial New York |

16
(3)
19
(2)
21
(4)
25
(3)

| | |
| --- | --- |
| | Legal Context of the Trials |

28
(2)

| | |
| --- | --- |
| | The Journal as a Document |

30
(7)
37
(2)

| | |
| --- | --- |
| | Major Figures in the 1741 Trials |

39
(2)
PART TWO The Document
41
(120)

| | |
| --- | --- |
| | Daniel Horsmanden, A Journal of the Proceedings in The Detection of the Conspiracy Formed by Some White People, in Conjunction with Negro and other Slaves, for Burning the City of New-York in America, and Murdering the Inhabitants |

41
(1)
41
(5)
46
(16)

| | |
| --- | --- |
| | Larceny: The Trials of Caesar and Prince |

62
(12)

| | |
| --- | --- |
| | Arson: The Trials of Cuffee and Quack |

74
(18)

| | |
| --- | --- |
| | Conspiracy: The Trial of the Hughsons and Peggy Kerry |

92
(18)

| | |
| --- | --- |
| | Foreign Threats: The Trial of the Spanish Prisoners |

110
(10)

| | |
| --- | --- |
| | Papist Plot: The Trial of John Ury |

120
(28)
148
(13)
PART THREE Related Documents
161
(16)

| | |
| --- | --- |
| | 1. New York Weekly Journal, A full and particular Account of the Negro Plot in Antigua, as reported by the Committee appointed by the Government there to enquire into the same, March 7, 1736 |

161
(4)

| | |
| --- | --- |
| | 2. Public Record Office, The Confessions of Wan an Indian Slave belonging to Peter Low and of York a Negroe belonging to Peter Mars chalk, June 18, 1741, and June 20, 1741 |

165
(3)

| | |
| --- | --- |
| | 3. Lieutenant-Governor George Clarke, Letter to the Lords of Trade, June 20, 1741 |

168
(3)

| | |
| --- | --- |
| | 4. Letter to Cadwallader Golden, Summer 1741 |

171
(3)

| | |
| --- | --- |
| | 5. Daniel Horsmanden, Letter to Cadwallader Golden, August 7, 1741 |

174
(3)
APPENDIXES

| | |
| --- | --- |
| | A Chronology of the New York Conspiracy Trials of 1741 and Related Events (1624-1763) |

177
(2)

| | |
| --- | --- |
| | Questions for Consideration |

179
(3)
182
(5)
Index
187