Note: Supplemental materials are not guaranteed with Rental or Used book purchases.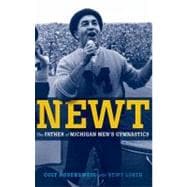 Table of Contents
Indroduction
p. v
Acknowledgements
p. ix
The End of an Era
p. 1
Minnesota Beginnings
p. 11
Leading the Gophers
p. 23
A Trampoline at Sea
p. 33
Newt Finds a Team
p. 41
The First Season
p. 49
Gathering Stars
p. 63
A Rivalry Begins
p. 73
The Rivalry Heats Up
p. 83
The Birth of a Dynasty
p. 97
Photographs
p. 116
Newts First National Tide
p. 141
Two More Tides¨and Mounting Complications
p. 155
Thwarted by Technicalities
p. 167
The Demise of the Trampoline
p. 189
Two National Tides in One Year
p. 201
The Early Seventies
p. 215
Newt's Last Big Ten Title
p. 229
Title DC Arrives
p. 241
The Late Seventies
p. 249
Renaissance Man
p. 257
1983¨Newts Last Season
p. 265
Life After Coaching
p. 273
p. 283
Table of Contents provided by Ingram. All Rights Reserved.