Note: Supplemental materials are not guaranteed with Rental or Used book purchases.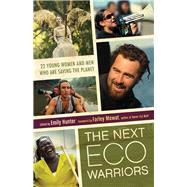 The Next Eco-warriors: 20 Young Woman and Men Who Are Saving the Planet
by
Hunter, Emily
Summary
Peter Hammarstedt and Benjamin Potts of Sea Shepherd fame and co-stars of television's Whale Wars. Enei Begaye, a Navajo/Diné activist bringing green jobs to the reservation. Rob Stewart, award-winning filmmaker ofSharkwater. Jamie Henn, co-founder of 350.org. Wen Bo, founder of China's Greenpeace. Tanya Fields, an urban farmer and poor people's activist in New York City. Meet the 21st century eco-activists who are devoting themselves to saving our planet.The Next Eco-Warriorsfeatures the stories of 20 of these emerging leaders and their heroic work in a variety of green revolutions. Emily Hunter, daughter of Greenpeace co-founders Robert and Bobbi Hunter, introduces us to the feisty and diverse global community of young people who are tackling issues of energy use, overfishing, overconsumption, waste management, the disappearance of indigenous cultures and rainforest, and other urgent environmental/social concerns with a sense of passion and possibility. Together their message is clear: anyone can be an eco-warrior if they use their talents for change. The book will release for Earth Day, with earth-friendly promotions, and the publisher will arrange to have trees planted to replace those used to publish this book.
Table of Contents
Acknowledgments
p. xi
Foreword
p. xiii
Introduction
p. xix
Not the End, Just the Beginning!
p. 1
350: The Movement behind a Number
p. 17
The Lights over Black Mesa
p. 29
The Yes Men: Surviving in a Time of Climate Chaos
p. 41
Taking the Whale War Hostage
p. 51
A Fijian Storm
p. 63
Tasmania: We Will Always Be Together in the Forest
p. 73
Sharkwater: The Rising Tide to Save an Ocean Predator
p. 85
A Peruvian Massacre
p. 97
Toxic City: A Cancer Survivor's Struggle
p. 109
A Powerleap
p. 119
In Defense of Seals
p. 129
The Lone Warrior of China
p. 139
Earth Hour: The Hour Is upon Us
p. 149
Evolving Activism at the G8
p. 161
Through the Lens of Compassion: Capturing an End to Bullfighting
p. 169
The Little Urban Farm that Could
p. 177
The SolarCycle Diaries
p. 191
A Mermaid's Fight
p. 199
A Fire in Kenya
p. 211
Eco-Terrorism 101
p. 223
We Shut Them Down: Ending Coal at the Capitol Power Plant
p. 235
Conclusion
p. 251
Eco-Warrior Resources
p. 255
Table of Contents provided by Ingram. All Rights Reserved.