Note: Supplemental materials are not guaranteed with Rental or Used book purchases.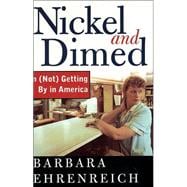 Related Products
Summary
Our sharpest and most original social critic goes "undercover" as an unskilled worker to reveal the dark side of American prosperity. Millions of Americans work full time, year round, for poverty-level wages. In 1998, Barbara Ehrenreich decided to join them. She was inspired in part by the rhetoric surrounding welfare reform, which promised that a job -- any job -- can be the ticket to a better life. But how does anyone survive, let alone prosper, on $6 an hour? To find out, Ehrenreich left her home, took the cheapest lodgings she could find, and accepted whatever jobs she was offered. Moving from Florida to Maine to Minnesota, she worked as a waitress, a hotel maid, a cleaning woman, a nursing-home aide, and a Wal-Mart sales clerk. She lived in trailer parks and crumbling residential motels. Very quickly, she discovered that no job is truly "unskilled," that even the lowliest occupations require exhausting mental and muscular effort. She also learned that one job is not enough; you need at least two if you int to live indoors. Nickel and Dimed reveals low-rent America in all its tenacity, anxiety, and surprising generosity -- a land of Big Boxes, fast food, and a thousand desperate stratagems for survival. Read it for the smoldering clarity of Ehrenreich's perspective and for a rare view of how "prosperity" looks from the bottom. You will never see anything -- from a motel bathroom to a restaurant meal -- in quite the same way again.
Author Biography
Barbara Ehrenreich is the author of Nickel and Dimed, Blood Rites, The Worst Years of Our Lives (a New York Times bestseller), Fear of Falling, which was nominated for a National Book Critics Circle Award, and eight other books. A frequent contributor to Time, Harper's, Esquire, The New Republic, Mirabella, The Nation, and The New York Times Magazine, she lives near Key West, Florida.

Table of Contents
Introduction: Getting Ready
p. 1
Serving in Florida
p. 11
Scrubbing in Maine
p. 51
Selling in Minnesota
p. 121
Evaluation
p. 193
Table of Contents provided by Syndetics. All Rights Reserved.
Excerpts
It is hotter inside than out, but I do all right until I encounter the banks of glass doors. Each one has to be Windexed, wiped, and buffed-inside and out, top to bottom, left to right, until it's as streakless and invisible as a material substance can be. Outside, I can see construction guys knocking back Gatorade, but the rule is that no fluid or food item can touch a maid's lips when she's inside a house. I sweat without replacement or pause, not in individual drops but in continuous sheets of fluid, soaking through my polo shirt, pouring down the backs of my legs. Working my way through the living room(s), I wonder if Mrs. W. will ever have occasion to realize that every single doodad and objet through which she expresses her unique, individual self is, from the vantage point of a maid, only an obstacle on the road to a glass of water.

---

Excerpted from Nickel and Dimed: On (Not) Getting by in America by Barbara Ehrenreich
All rights reserved by the original copyright owners. Excerpts are provided for display purposes only and may not be reproduced, reprinted or distributed without the written permission of the publisher.