Note: Supplemental materials are not guaranteed with Rental or Used book purchases.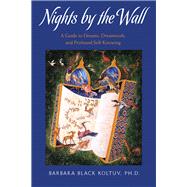 Nights by the Wall : Opening the Heart to the Divine through Dreams and Dream Work
ISBN13:
9780892541515
by
Koltuv, Barbara Black
Summary
Jungian analyst Barbara Black Koltuv evokes the image of the Wailing Wall in Jerusalem as a place of dreams and knowing God. Dr. Koltuv has studied the Torah, Jewish mysticism, and biblical Hebrew for many years and shares her knowledge and insights in this engaging book. She shows how important dreams and dream work are in the experience of intimately knowing and healing ones self. Dreams are God's gift to us. Dreams give us a symbol system and a personal soul language by which we can know our whole self. Dr. Koltuv teaches us how to use dream work to find meaning, renewal and healing from the essential divine within.
Author Biography
Dr. Barbara Black Koltuv is a clinical psychologist and a Jungian analyst. She is a graduate of the C. G. Jung Institute in New York and a founding member of the Jungian Psychoanalytic Association. After receiving her Ph.D. from Columbia University, Dr. Koltuv graduated from the New York University Post Doctoral Program in Psychoanalysis where she studied dream work intensively with Erich Fromm. Dr. Koltuv is the author of The Book of Lilith, Weaving Woman, Solomon and Sheba: Individuation and Inner Marriage, Amulets, Talisman, and Magical Jewelry, all published by Nicolas-Hays. Dr. Koltuv lives and is in Private Practice in New York city.
Table of Contents
Introduction
p. 1
Foundation
Nights by the Wall
p. 9
In the Beginning
p. 11
I and Thou/Thee and Me
p. 11
Following the Golden Thread
p. 12
Seeing and Being ˘I Am÷
p. 17
Knowing God
p. 22
Dreams of Love
p. 27
Body and Soul
p. 33
The World of Emanation
p. 39
Soulful Dreamwork
Dreams
p. 47
The Indwelling Shekhina
p. 49
Shekhina, Dreams, and the World of Formation
p. 51
Dream Instruction
p. 57
The Word Has Power Over the Dream
p. 67
The Lights in the Letters
p. 68
The Final Tzadde
p. 80
Dreams in the Bible
p. 83
Personal Dreams
p. 85
Without a Dream
p. 89
Love and Fear
p. 93
Letting Go
p. 94
I Am Black but Comely
p. 96
In a Dream, In a Vision of the Night
p. 98
Integration
Salt
p. 105
A Guide for the Perplexed
p. 111
Dreamwork and Meditation
p. 115
˘Know God÷
p. 116
About the Author
p. 119
Table of Contents provided by Ingram. All Rights Reserved.