Note: Supplemental materials are not guaranteed with Rental or Used book purchases.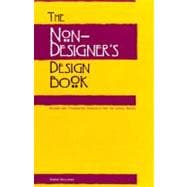 Non-Designer's Design Book : Design and Typographic Principles for the Visual Novice
ISBN13:
9781566091596
by
Williams, Robin
Related Products
Summary
Robin Williams wrote this one for people who now need to design pages but have not background or formal training in design. Follow her basic principles and your work is guaranteed to look more professional. organized, unified, and interesting. Witty and easy to read, this book is full of practical information, exercises, and quizzes that ensure you'll never look at a page in the same way again.
Author Biography
Robin Williams' clear, concise style of writing has made her popular with hundreds of thousands of readers worldwide. She has a knack for taking technical or esoteric information and making it easily accessible. Robin has taught traditional and electronic design for over twelve years, and this slim volume is a distilled version of what she has seen to be the most common pitfalls of most beginners' work. Robin is also the author of several best-selling, award-winning books, including The Little Mac Book, The Mac is not a typewriter, and Jargon.
Table of Contents
Is this book for you?
11
(1)
Mini-glossary
12
(1)
Design principles
13
(62)

| | |
| --- | --- |
| | The Joshua Tree Principle |

13
(2)

| | |
| --- | --- |
| | The Four Basic Principles |

14
(1)
15
(12)
26
(1)
27
(16)
42
(1)
43
(10)
52
(1)
53
(10)
62
(1)
63
(12)
64
(1)
65
(1)
66
(1)
67
(8)

| | |
| --- | --- |
| | Little Quiz #1: design principles |

68
(1)

| | |
| --- | --- |
| | Little Quiz #2: redesign this ad |

69
(1)

| | |
| --- | --- |
| | Increase your visual awareness |

70
(5)
Designing with type
75
(52)
75
(8)
76
(2)
78
(2)
80
(2)
82
(1)
83
(12)
84
(1)
85
(1)
86
(1)
87
(2)
89
(1)
90
(1)
91
(3)

| | |
| --- | --- |
| | Little Quiz #3: categories of type |

91
(1)

| | |
| --- | --- |
| | Little Quiz #4: thick/thin transitions |

92
(1)
93
(1)
94
(1)
95
(32)
96
(4)
100
(4)
104
(4)
108
(4)
112
(4)
116
(6)
122
(1)
123
(4)

| | |
| --- | --- |
| | Little Quiz #6: contrast or conflict |

124
(1)

| | |
| --- | --- |
| | Little Quiz #7: dos and don'ts |

125
(2)
Extras
127
(14)
127
(4)
128
(1)
129
(1)
130
(1)
131
(4)

| | |
| --- | --- |
| | My philosophy on tests and quizzes |

131
(1)
132
(3)
135
(2)
137
(4)

| | |
| --- | --- |
| | A list of all 103 typefaces used, shown in each style |

Index
141