Note: Supplemental materials are not guaranteed with Rental or Used book purchases.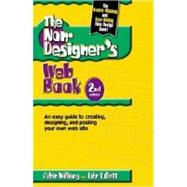 Non-Designer's Web Book : An Easy Guide to Creating, Designing and Posting Your Own Web Site
ISBN13:
9780201710380
by
Williams, Robin
;
Tollett, John
Questions About This Book?
What version or edition is this?
This is the 2nd edition with a publication date of 1/1/2001.
What is included with this book?
The New copy of this book will include any supplemental materials advertised. Please check the title of the book to determine if it should include any CDs, lab manuals, study guides, etc.
Summary
The Non-Designer's Web Book, Second Edition is an update to Robin Williams' best-selling book on Web design, and it's packed with more creative ideas, techniques, and updated technology. With a combination of savvy design principles and an appealing, easy-to-follow format, both novice and professional Web designers can implement the principles in this book for their own work. This four-color book covers a wide array of Web design basics such as alignment, proximity, and repetition, and then discusses other design issues as they relate to the Web, including color, typography, and graphics. Readers then move on to graphic and technical details, such as the preparation of simple Web images and animations, and deciding when to use different graphic file formats. The Non-Designer's Web Book, Second Edition teaches technical expertise with a creative sensibility, making it a Web design book that will inspire readers of all levels. Previous Edition ISBN: 0-201-68859-X
Author Biography
Robin Williams has written over a dozen best-selling and award-winning books that have taught and influenced an entire generation of computer users in the areas of typography, design, desktop publishing, and digital technology. Her workshops about the World Wide Web have empowered many people, designers and non-designers, to move forward with confidence in this new medium. John Tollett is a founding partner of West of the Pecos, a web development firm in Santa Fe, New Mexico. He spent thirty years working as an illustrator, art director, and designer before changing paths from print media to the World Wide Web. His broad range of experience gives him a unique perspective on design in general and on web design in particular.
Table of Contents
Introduction
xi
Part One: Using the World Wide Web

| | |
| --- | --- |
| | What is the World Wide Web? |

15
(18)
16
(1)
17
(2)
18
(1)
19
(1)
20
(1)
21
(1)
22
(1)
23
(1)
24
(1)
25
(3)
26
(1)

| | |
| --- | --- |
| | Details of the domain name |

26
(1)
27
(1)
28
(1)

| | |
| --- | --- |
| | Which file to download? (.sit .hqx .bin .sea .zip .mme) |

29
(1)
30
(1)

| | |
| --- | --- |
| | Commercial online service |

30
(1)

| | |
| --- | --- |
| | Internet Service Provider |

30
(1)

| | |
| --- | --- |
| | Self-Guided Tour of the World Wide Web |

31
(1)
32
(1)

| | |
| --- | --- |
| | How to Search the Internet |

33
(14)
34
(1)
35
(1)
36
(3)
39
(1)

| | |
| --- | --- |
| | RIFD: Read the Directions! |

40
(1)

| | |
| --- | --- |
| | For more information on how to search |

41
(1)
42
(1)
43
(1)
44
(3)
Part Two: Making Web Pages

| | |
| --- | --- |
| | Just what are Web Pages, Anyway? |

47
(22)
48
(2)

| | |
| --- | --- |
| | How do you actually make a web page? |

50
(1)
51
(1)
52
(2)
52
(2)
54
(2)
56
(2)
58
(2)
60
(2)
62
(2)

| | |
| --- | --- |
| | Absolute vs. relative table widths |

62
(2)
64
(2)
66
(1)
66
(1)
66
(1)

| | |
| --- | --- |
| | Self-Guided tour of the World Wide Web |

67
(1)
68
(1)

| | |
| --- | --- |
| | Things to Know Before You Begin a Web Site |

69
(20)
70
(1)
70
(1)
70
(1)
71
(1)
72
(2)
74
(2)
76
(1)
77
(2)
77
(1)

| | |
| --- | --- |
| | Ask these questions of your host |

78
(1)

| | |
| --- | --- |
| | Domain names and your web address |

79
(1)
79
(1)
80
(1)
80
(1)
81
(3)
81
(1)
81
(1)

| | |
| --- | --- |
| | Collecting and storing material |

82
(1)
82
(2)

| | |
| --- | --- |
| | Checklist: before you begin |

84
(1)

| | |
| --- | --- |
| | Self-Guided Tour of the World Wide Web |

85
(1)
86
(3)
Part Three: Design Issues on the Web

| | |
| --- | --- |
| | Print vs. Web and How it Affects Design |

89
(16)
90
(2)
92
(1)

| | |
| --- | --- |
| | Revisions, updates, and archives |

93
(1)
94
(1)
95
(1)
96
(1)
97
(1)
98
(1)

| | |
| --- | --- |
| | Amount and accessibility of information |

99
(1)
100
(1)
101
(2)

| | |
| --- | --- |
| | Self-Guided Tour of the World Wide Web |

103
(1)
104
(1)

| | |
| --- | --- |
| | Basic Design principles for Non-Designers |

105
(20)
106
(4)
110
(3)
113
(1)
114
(4)
118
(3)
118
(3)
121
(1)
122
(1)

| | |
| --- | --- |
| | Self-Guided Tour of the World Wide Web |

123
(1)
124
(1)

| | |
| --- | --- |
| | Designing the Interface and Navigation |

125
(20)
126
(2)
128
(4)
128
(4)
132
(1)
133
(1)
134
(1)
135
(1)
135
(1)

| | |
| --- | --- |
| | More than one way to navigate |

136
(2)

| | |
| --- | --- |
| | The site decides the navigation style |

138
(2)
140
(1)
141
(1)

| | |
| --- | --- |
| | Don't make irritating links |

141
(1)
142
(1)

| | |
| --- | --- |
| | Self-Guided Tour of the World Wide Web |

143
(1)
144
(1)

| | |
| --- | --- |
| | How to Recognize Good and Bad Design |

145
(12)
146
(4)
150
(2)

| | |
| --- | --- |
| | Not-so-good Design Checklist |

152
(2)

| | |
| --- | --- |
| | So-much-better Design Checklist |

154
(3)
Part Four: Color, Graphics, and Type

| | |
| --- | --- |
| | Color on the World Wide Web |

157
(16)
157
(2)
159
(1)
160
(1)
161
(1)
162
(2)
164
(2)
166
(1)
167
(1)

| | |
| --- | --- |
| | How to get browser-safe colors |

167
(1)
168
(2)
170
(2)
172
(1)

| | |
| --- | --- |
| | Graphic Definitions You Must Know |

173
(16)
174
(2)

| | |
| --- | --- |
| | Terminology of graphic file formats |

175
(1)
176
(2)
176
(1)

| | |
| --- | --- |
| | When to choose the GIF format |

177
(1)
178
(2)
178
(1)
178
(1)

| | |
| --- | --- |
| | When to choose the JPEG format |

179
(1)
180
(1)
181
(1)

| | |
| --- | --- |
| | A little lesson on bits and bytes |

181
(1)

| | |
| --- | --- |
| | How to find the correct file size |

181
(1)
182
(2)

| | |
| --- | --- |
| | Serve-side vs. client side images maps |

182
(2)
184
(1)
185
(2)

| | |
| --- | --- |
| | Self-Guided Tour of the World Wide Web |

187
(1)
188
(1)

| | |
| --- | --- |
| | How to prepare Image Files for the Web |

189
(30)

| | |
| --- | --- |
| | Web graphic specifications |

190
(1)

| | |
| --- | --- |
| | If you don't want to make your own graphics |

191
(1)

| | |
| --- | --- |
| | If you don't have Adobe Photoshop |

192
(1)
192
(1)

| | |
| --- | --- |
| | Shareware software for converting files |

193

| | |
| --- | --- |
| | Photoshop is an investment in your future |

192
(1)

| | |
| --- | --- |
| | How to get artwork or photographs into your computer |

193
(2)

| | |
| --- | --- |
| | Send your film to a digital processor |

193
(1)

| | |
| --- | --- |
| | What to ell someone who is scanning for you |

194
(1)
195
(1)
196
(2)
197
(1)
198
(2)
200
(2)
202
(2)
204
(3)
207
(9)

| | |
| --- | --- |
| | Left-edge graphic as background |

207
(1)

| | |
| --- | --- |
| | Top-edge graphic as background |

208
(1)

| | |
| --- | --- |
| | Create a seamless, textured background |

209
(2)

| | |
| --- | --- |
| | Graphics with colored backgrounds that match the background color of your web page |

211
(1)

| | |
| --- | --- |
| | But what if the background color of your web page is a colored texture? |

212
(1)
213
(1)

| | |
| --- | --- |
| | Avoiding halos or artifacts |

214
(2)
216
(3)
219
(14)

| | |
| --- | --- |
| | Readability vs. legibility |

220
(3)
220
(1)
221
(1)
221
(1)

| | |
| --- | --- |
| | Be conscious: If it looks hard to read, it is |

221
(2)
223
(1)
224
(2)

| | |
| --- | --- |
| | Bottom line: let go of total control |

224
(1)
225
(1)
226
(2)
228
(2)

| | |
| --- | --- |
| | Proportional vs. monospaced type |

228
(1)

| | |
| --- | --- |
| | Logical vs. physical styles |

228
(1)
229
(1)

| | |
| --- | --- |
| | The curse of the underline |

229
(1)
230
(1)
230
(1)
230
(1)
230
(1)
230
(1)

| | |
| --- | --- |
| | Self-Guided Tour of the World Wide Web |

231
(1)
232
(1)
233
(32)
234
(2)
236
(1)
237
(1)

| | |
| --- | --- |
| | Easier-to-read small type |

238
(2)
240
(2)

| | |
| --- | --- |
| | Slicing files into pieces |

242
(5)

| | |
| --- | --- |
| | Slicing a GIF file for animation |

242
(2)

| | |
| --- | --- |
| | Slicing a graphic for layout freedom |

244
(3)

| | |
| --- | --- |
| | Quick Photoshop for web designers |

247
(4)
247
(1)
248
(1)

| | |
| --- | --- |
| | Techniques to make your work easier |

249
(1)

| | |
| --- | --- |
| | Use multiple layers to create navigation buttons |

250
(1)
251
(2)

| | |
| --- | --- |
| | Make rollovers and image swaps |

253
(4)
257
(3)
260
(1)
261
(4)
Part Five: You're Done---Now What?

| | |
| --- | --- |
| | Test and Fix Your Web Site |

265
(8)
266
(2)
268
(2)
268
(1)
268
(1)

| | |
| --- | --- |
| | Watch someone else browse your site |

269
(1)

| | |
| --- | --- |
| | Different browsers for different folks |

269
(1)
270
(1)
271
(1)
272
(1)

| | |
| --- | --- |
| | How to Upload and Update Your Site |

273
(10)
273
(1)
274
(2)
276
(2)
278
(2)
280
(2)

| | |
| --- | --- |
| | Additional web sites on your site |

280
(2)
282
(1)

| | |
| --- | --- |
| | How and Why to Register Your Site |

283
(21)
284
(2)

| | |
| --- | --- |
| | Submission services that do it for you |

284
(1)
284
(1)
285
(1)

| | |
| --- | --- |
| | Link to me, I'll link to you |

285
(1)
285
(1)

| | |
| --- | --- |
| | Find out who is linked to your site |

285
(1)

| | |
| --- | --- |
| | What search tools look for |

286
(2)
286
(1)

| | |
| --- | --- |
| | First paragraph of your home page |

286
(1)
286
(1)
287
(1)

| | |
| --- | --- |
| | Getting your site noticed |

288
(1)
288
(1)
288
(1)
289
(1)
289
(1)
289
(1)
290
(2)
The Stuff at the End
292
(1)
293
(11)

| | |
| --- | --- |
| | Chart of 216 browser-safe colors |

304