Note: Supplemental materials are not guaranteed with Rental or Used book purchases.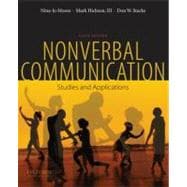 Questions About This Book?
What version or edition is this?
This is the 5th edition with a publication date of 12/22/2009.
What is included with this book?
The Used copy of this book is not guaranteed to include any supplemental materials. Typically, only the book itself is included.
Related Products
Summary
Providing a thoughtful balance of theory and practice, Nonverbal Communication: Studies and Applications, Fifth Edition, offers students an engaging, sophisticated, and up-to-date introduction to the field. Nina-Jo Moore, Mark Hickson, III, and Don W. Stacks, use examples from everyday life and television to help students understand how nonverbal communication affects the real world. The authors discuss many interesting topics that are not usually covered in nonverbal communication texts--including body alterations, biofeedback, and olfactics--and take a unique "sensory" approach to nonverbal communication (i.e., they examine how the five senses process nonverbal communication signals). They begin with a discussion of the sense of touch (rather than physical appearance, the typical starting point of most nonverbal communication texts) and then lead into the study of space, the sense of sight, the sense of hearing, the sense of smell, and finally, the use of time. Consistently demonstrating the applications of theory while emphasizing the research basis of nonverbal communication, Nonverbal Communication, Fifth Edition, is ideal for nonverbal communication courses in either communication or psychology departments. NEW TO THIS EDITION * Greater focus on individual applications of contemporary research findings * Updated research providing the most recent studies published in the field * Revised "Observational Studies" features that offer students the opportunity to apply what they are learning to a variety of contexts * Instructor's Companion Website (www.oup.com/us/nonverbal) with a full Instructor's Manual and interactive PowerPoint lecture slides
Author Biography

Nina-Jo Moore is Professor of Communication at Appalachian State University.
Don W. Stacks is Professor and Director of the University of Miami School of Communication Program in Advertising and Public Relations.
Mark Hickson, III, is Professor and Graduate Director of the Department of Communication Studies at the University of Alabama at Birmingham.

Table of Contents
Preface
About the Authors
Introduction
Foundations Of Nonverbal Communication
Basic Definitions
Considerations for Definitions
Approaches to Nonverbal Communication
Theoretical Approaches
Disciplinary Approaches
Methodological Approaches
Nonverbal Functions and Subcodes
Touch and Space
Physical Appearance
Body Movements and Gestures
Vocalics
Covert Body/Temporal Communication
Nonverbal Functions
Nonverbal Communication and Perception
Process Structure
Age
Culture and Race
Status
Gender
Methods Of Nonverbal Communication Research
Nonverbal Research
Review of Literature
Theoretical Perspective
Methodology
Data Collection
Data Analysis and Application
Limitations of Nonverbal Communication Research
An Example of Context
Studies And Subcodes
Haptics (Touch)
Animal Studies
Tactile Development and Humans
Types and Functions of Touch
Factors Influencing Touch
Frequency of Contact
Violations of Haptic Expectations
Substitutes for 'Real Touch'
Functional Approach to Touch
Proxemics (Personal Space)
Proxemics
Personal Space
Classification Schemes
Definitions and Need
Factors Influencing Distancing Expectations
Age Differences
Sex Differences
Cultural Differences
Racial Differences
Status, Personality, and Liking
Environmental Structuring
Violations of Personal Space
Other Violations
Functions of Personal Space
Proxemics (Territory And Environment)
Territory
Animal Correlates of Territoriality
Human Correlates of Territoriality
Territorial Claims
Purposes of Territory
Environment
Room Color and Aesthetic Appreciation
Room Size and Shape
Temperature and Humidity
Environmental Structuring
Architecture
Functions of Territory and the Environment
Physical Appearance: Impressions Of The Body
Physical Attractiveness
Social Interaction
Sex Appeal
The Body
Body Shape
Weight and Attitude
Body Image
Stigma
Functions
Body Alterations And Coverings
Body Alterations
Hair and Hairstyles
The Skin: Cosmetics and Colorings Additions
Tattoos, Body Piercing, and Branding
Clothing
Purposes of Clothing
Functions of Clothing
Clothing and Success
Accessories
Functions
Kinesics: The Study Of Human Body Movements
Principles
Putting Principles to Work
Categories in Kinesics
Birdwhistell's Linguistic Analogy
Morris' Derivation System
Mehrabian's Functional Approach
Ekman and Friesen's Cumulative Structure
Functions
A Practical Functional Approach To Kinesics
Variables that Influence Kinesics
Culture
Sex/Gender
Left- and Right-Handedness
Relationship with Language
Decoding
Functions
Identification and Self-Presentation
Control of the Interaction
Relationship of Interactants
Display of Cognitive Information
Display of Affective Information
Deception and Leakage
Vocalics (Paralanguage)
Definitions
Sound and Its Attributes
Paravocal Communication
Vocalic Functions
The 'Normal' Conversation
Identification and Self-Preservation
Controlling Interaction
Regulating the Conversation
Relationship of Interactants
Display of Cognitive Information
Display of Affective Information
Deception
Other Encoding and Decoding Aspects of Vocalics
The Covert Subcodes: Biofeedback, Olfaction, And Chronemics
Feedback Systems
Gustatory Systems
Biofeedback Systems
Mood and Emotion
Olfaction
What Is Olfaction?
Olfactory Processes
Olfactory Identification
Olfactory Influence
Olfactory Memory
Time (Chronemics)
The Structure of Time
Bruneau's Chronemic Structures
Culture and Time
Applications
Nonverbal Communication In Social Situations
Meeting Others
General Characteristics
Intimate Behavior
Environment, Proxemics, Chronemics
Cross-Sex Friendships
Same-Sex Relationships
Male-Male Nonverbal Communication
Female-Female Nonverbal Communication
Nonverbal Communication In The Family
The Home
Spatiotemporal Dimensions
Kinesic Factors
Vocalic Factors
Physical Appearance
Review
Nonverbal Communication in the Marriage and Committed Relationships
Environmental Factors
Space
Touch
Kinesics and Vocalics
Chronemics
Physical Appearance
The Expanding Family--Children and the Family Relationship
Nonverbal Communication in Children
Nonverbal Communication with the Elderly
Environment and Space
Touch
Vocalics
Physical Appearance
Kinesics
Chronemics and Olfaction
Review
Nonverbal Communication At Work
Nonverbal Relational Messages
General Nonverbal Considerations
Spatiotemporal Dimensions
Overt Body Dimensions
Physical Appearance
Impression Management
Review
The Performance Appraisal Interview
Nonverbal Interaction in Particular Professions
The Teacher in the Classroom
The Attorney in Court
The Business Person in a Leadership Position
The Future Of Nonverbal Communication
What We Know About Nonverbal Communication
Where is the Study of Nonverbal Communication Going?
General Review
References
Glossary
Author Index
Subject Index
Table of Contents provided by Publisher. All Rights Reserved.