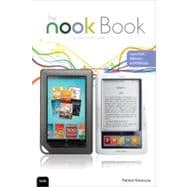 NOOK Book, The: Everything you need to know for the NOOK, NOOKcolor, and NOOKstudy
by
Kanouse, Patrick
Related Products
The NOOK Book An Unofficial Guide: Everything you need to know about the NOOK HD, NOOK HD+, NOOK SimpleTouch, and NOOK Reading Apps

The NOOK Book An Unofficial Guide: Everything you need to know about the NOOK Tablet, NOOK Color, and the NOOK Simple Touch
Summary
Make the Most of Your New B&N NOOKcolor or NOOK ebook Reader! #xA0; Read books, play media, get free content, uncover powerful, little-known features you#x19;ll love! #xA0; Do all this, and much more... #xB7;#xA0;#xA0;#xA0; Learn about the NOOKstudy capabilities #xB7;#xA0;#xA0;#xA0; Root your NOOKcolor and NOOK to add third-party apps from the Android Market #xB7;#xA0;#xA0;#xA0; Find and read free books on your NOOKcolor or NOOK #xB7;#xA0;#xA0;#xA0; Use B&N#x19;s unique LendMe" feature to lend and borrow books #xB7;#xA0;#xA0;#xA0; Play music, audiobooks, podcasts, even video #xB7;#xA0;#xA0;#xA0; Automatically download full-color book covers #xB7;#xA0;#xA0;#xA0; Use your NOOKcolor or NOOK to browse the web #xB7;#xA0;#xA0;#xA0; Add highlights and bookmarks #xB7;#xA0;#xA0;#xA0; Read B&N ebooks on your iPhone, iPad, computer, Android phone, or Blackberry #xB7;#xA0;#xA0;#xA0; Set up your own color wallpaper or screensaver #xB7;#xA0;#xA0;#xA0; Even publish your own ebooks with B&N PubIt
Author Biography
Patrick Kanouse is the structured authoring program manager for Pearson Education. Always a bookworm, he has gladly adopted ebook reading technologies, while still appreciating the printed book. Patrick also teaches business technical report writing at IUPUI. Outside of teaching about writing reading on his NOOKcolor, and writing about his NOOKcolor, he writes poetry and has published a Publt book at BN.com that you can read on your NOOKcolor or NOOK. His website is patrickkanouse.com.
Table of Contents
NOOKcolor
Getting Started with Your NOOKcolor
p. l
Customizing and Configuring Your NOOKcolor
p. 13
Reading on Your NOOKcolor and Beyond
p. 33
Lending and Borrowing Books with LendMe on Your NOOKcolor
p. 67
Using Highlights, Bookmarks, and Annotations
p. 77
Playing Music, Audiobooks, Podcasts, and Videos
p. 85
Using NOOKextras and Surfing the Web
p. 95
Using the Social Features of Your NOOKcolor
p. 119
Shopping and Visiting B&N on Your NOOKcolor
p. 129
Rooting Your NOOKcolor
p. 141
NOOK
Getting Started with Your NOOK
p. 153
Customizing and Configuring Your NOOK
p. 161
Reading on Your NOOK and Beyond
p. 173
Lending and Borrowing Books on Your NOOK Using LendMe
p. 187
Using Highlights, Bookmarks, and Annotations
p. 191
Playing Music, Audiobooks, and Podcasts
p. 195
Shopping and Visiting B&N on Your NOOK
p. 201
Browsing the Web on Your NOOK
p. 207
Rooting Your NOOK
p. 211
Beyond the NOOKs
Reading Beyond Your NOOK
p. 223
Managing Your ebooks with Calibre
p. 267
Using My NOOK Library
p. 277
Using Publt to Sell Your ebooks
p. 281
Understanding ebook Formats
p. 285
Sources for ebooks Other than B&N
p. 289
Sideloading Adobe Digital Editions
p. 291
Using Picasa to Create Wallpapers and Screensavers
p. 293
Can I Read This Here?
p. 297
Frequently Asked Questions
p. 299
Index
p. 301
Table of Contents provided by Ingram. All Rights Reserved.