Note: Supplemental materials are not guaranteed with Rental or Used book purchases.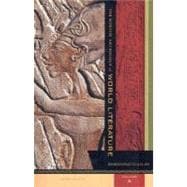 Norton Anthology of World Literature : Beginnings to A.D. 100
ISBN13:
9780393977554
by
LAWALL S (ED)
Questions About This Book?
What version or edition is this?
This is the 2nd edition with a publication date of 1/1/2001.
What is included with this book?
The New copy of this book will include any supplemental materials advertised. Please check the title of the book to determine if it should include any CDs, lab manuals, study guides, etc.
Related Products
Table of Contents
Preface
xv
Acknowledgments
xxi
Phonetic Equivalents
xxiii
MAP: THE ANCIENT MIDDLE EAST, CA. 1000 B.C.
2
(1)
The Invention of Writing and the Earliest Literatures
3
(5)
TIME LINE
8
(96)

| | |
| --- | --- |
| | Gilgamesh (Akkadian, ca. 2500--1500 B.C.) |

10
(31)

| | |
| --- | --- |
| | Ancient Egyptian Poetry (ca. 1500--ca. 1200 B.C.) |

41
(11)

| | |
| --- | --- |
| | Akhenaten's ``Hymn to the Sun'' |

42
(4)
46
(3)

| | |
| --- | --- |
| | [How splendid you ferry the skyways] |

46
(1)

| | |
| --- | --- |
| | [God is a master craftsman] |

47
(1)

| | |
| --- | --- |
| | [When Being began back in the days of the genesis] |

48
(1)

| | |
| --- | --- |
| | [The mind of God is perfect knowing] |

48
(1)
49
(3)

| | |
| --- | --- |
| | [My love is one and only, without peer] |

49
(1)

| | |
| --- | --- |
| | [I wish I were her Nubian girl] |

49
(1)

| | |
| --- | --- |
| | [Love, how I'd love to slip down to the pond] |

50
(1)

| | |
| --- | --- |
| | [Why, just now, must you question your heart?] |

50
(1)

| | |
| --- | --- |
| | [I was simply off to see Nefrus my friend] |

51
(1)

| | |
| --- | --- |
| | [I think I'll go home and lie very still] |

51
(1)

| | |
| --- | --- |
| | [Love of you is mixed deep in my vitals] |

52
(1)

| | |
| --- | --- |
| | The Bible: The Old Testament (Hebrew, ca. 1000--300 B.C.) |

52
(52)

| | |
| --- | --- |
| | Genesis 1--3 [The Creation---The Fall] |

56
(3)

| | |
| --- | --- |
| | Genesis 4 [The First Murder] |

59
(1)
60
(3)

| | |
| --- | --- |
| | Genesis 11 [The Origin of Languages] |

63
(1)

| | |
| --- | --- |
| | Genesis 22 [Abraham and Isaac] |

63
(1)

| | |
| --- | --- |
| | Genesis 25, 27 [Jacob and Easu] |

64
(2)

| | |
| --- | --- |
| | Genesis 37, 39--46 [The Story of Joseph] |

66
(11)
77
(16)
93
(1)
93
(1)
94
(1)
94
(2)
96
(1)
96
(5)
101
(3)
MAP: GREECE AND WESTERN ASIA MINOR, CA. FIFTH CENTURY B.C.
104
(1)
Ancient Greece and the Formation of the Western Mind
105
(7)
TIME LINE
112
(692)

| | |
| --- | --- |
| | Homer (Eighth century B.C.) |

114
(416)
120
(105)

| | |
| --- | --- |
| | Book I [The Rage of Achilles] |

120
(16)

| | |
| --- | --- |
| | From Book VI [Hector Returns to Troy] |

136
(11)

| | |
| --- | --- |
| | From Book VIII [The Tide of Battle Turns] |

147
(1)

| | |
| --- | --- |
| | Book IX [The Embassy to Achilles] |

147
(19)

| | |
| --- | --- |
| | From Book XVI [Patroclus Fights and Dies] |

166
(11)

| | |
| --- | --- |
| | Book XVIII [The Shield of Achilles] |

177
(15)

| | |
| --- | --- |
| | Book XXII [The Death of Hector] |

192
(13)

| | |
| --- | --- |
| | Book XXIV [Achilles and Priam] |

205
(20)
225
(1)

| | |
| --- | --- |
| | Book I [A Goddess Intervenes] |

225
(11)

| | |
| --- | --- |
| | Book II [A Hero's Son Awakens] |

236
(10)

| | |
| --- | --- |
| | Book III [The Lord of the Western Approaches] |

246
(12)

| | |
| --- | --- |
| | Book IV [The Red-Haired King and His Lady] |

258
(20)

| | |
| --- | --- |
| | Book V [Sweet Nymph and Open Sea] |

278
(11)

| | |
| --- | --- |
| | Book VI [The Princess at the River] |

289
(8)

| | |
| --- | --- |
| | Book VII [Gardens and Firelight] |

297
(8)

| | |
| --- | --- |
| | Book VIII [The Songs of the Harper] |

305
(14)

| | |
| --- | --- |
| | Book IX [New Coasts and Poseidon's Son] |

319
(13)

| | |
| --- | --- |
| | Book X [The Grace of the Witch] |

332
(15)

| | |
| --- | --- |
| | Book XI [A Gathering of Shades] |

347
(16)

| | |
| --- | --- |
| | Book XII [Sea Perils and Defeat] |

363
(13)

| | |
| --- | --- |
| | Book XIII [One More Strange Land] |

376
(12)

| | |
| --- | --- |
| | Book XIV [Hospitality in the Forest] |

388
(13)

| | |
| --- | --- |
| | Book XV [How They Came to Ithaka] |

401
(15)

| | |
| --- | --- |
| | Book XVI [Father and Son] |

416
(13)

| | |
| --- | --- |
| | Book XVII [The Beggar at the Manor] |

429
(18)

| | |
| --- | --- |
| | Book XVIII [Blows and a Queen's Beauty] |

447
(11)

| | |
| --- | --- |
| | Book XIX [Recognitions and a Dream] |

458
(16)

| | |
| --- | --- |
| | Book XX [Signs and a Vision] |

474
(9)

| | |
| --- | --- |
| | Book XXI [The Test of the Bow] |

483
(11)

| | |
| --- | --- |
| | Book XXII [Death in the Great Hall] |

494
(13)

| | |
| --- | --- |
| | Book XXIII [The Trunk of the Olive Tree] |

507
(9)

| | |
| --- | --- |
| | Book XXIV [Warriors, Farewell] |

516
(14)

| | |
| --- | --- |
| | Sappho of Lesbos (Born ca. 630 B.C.) |

530
(3)
531
(2)

| | |
| --- | --- |
| | [Throned in splendor, deathless, O Aphrodite] |

531
(1)

| | |
| --- | --- |
| | [Like the very gods in my sight is he] |

532
(1)

| | |
| --- | --- |
| | [Some there are who say that the fairest thing seen] |

532
(1)

| | |
| --- | --- |
| | Aeschylus (524?--456 B.C.) |

533
(79)
537
(75)
537
(45)
582
(1)
583
(29)

| | |
| --- | --- |
| | Sophocles (ca. 496--406 B.C.) |

612
(81)
617
(41)
658
(35)

| | |
| --- | --- |
| | Euripides (480--406 B.C.) |

693
(32)
695
(30)

| | |
| --- | --- |
| | Aristophanes (450?--385? B.C.) |

725
(54)
727
(52)
779
(20)

| | |
| --- | --- |
| | The Apology of Socrates (Greek) |

780
(19)

| | |
| --- | --- |
| | Aristotle (384--322 B.C.) |

799
(5)
800
(4)
MAP: CHINA DURING THE WARRING STATES PERIOD, CA. 250. B.C.
804
(1)
Poetry and Thought in Early China
805
(5)
TIME LINE
810
(70)

| | |
| --- | --- |
| | Classic of Poetry (Chinese, ca. 1000--600 B.C.) |

812
(8)
814
(1)
814
(1)
815
(1)
815
(1)
816
(1)
816
(1)
817
(1)

| | |
| --- | --- |
| | I Went Along the Broad Road |

817
(1)
817
(1)

| | |
| --- | --- |
| | Willows by the Eastern Gate |

818
(1)
818
(2)

| | |
| --- | --- |
| | Confucius (551--479 B.C.) |

820
(12)
823
(9)

| | |
| --- | --- |
| | Chuang Chou (ca. 369--286 B.C.) |

832
(26)
834
(24)
834
(4)

| | |
| --- | --- |
| | Discussion on Making All Things Equal |

838
(7)

| | |
| --- | --- |
| | The Secret of Caring for Life |

845
(1)

| | |
| --- | --- |
| | From Chapter 4. In the World of Men |

846
(2)

| | |
| --- | --- |
| | From Chapter 6. The Great and Venerable Teacher |

848
(3)

| | |
| --- | --- |
| | From Chapter 7. Fit for Emperors and Kings |

851
(1)

| | |
| --- | --- |
| | From Chapter 12. Heaven and Earth |

851
(1)

| | |
| --- | --- |
| | From Chapter 13. The Way of Heaven |

852
(1)

| | |
| --- | --- |
| | From Chapter 17. Autumn Floods |

853
(1)

| | |
| --- | --- |
| | From Chapter 18. Perfect Happiness |

854
(1)

| | |
| --- | --- |
| | From Chapter 19. Mastering Life |

854
(1)

| | |
| --- | --- |
| | From Chapter 20. The Mountain Tree |

855
(1)

| | |
| --- | --- |
| | From Chapter 21. Tien Tzu-fang |

856
(1)

| | |
| --- | --- |
| | From Chapter 22. Knowledge Wandered North |

857
(1)

| | |
| --- | --- |
| | From Chapter 24. Hsu Wu-Kuei |

858
(1)

| | |
| --- | --- |
| | SSU-MA Ch'Ien (ca. 145--ca. 85 B.C.) |

858
(22)

| | |
| --- | --- |
| | Letter in Reply to Jen An (Chinese) |

860
(6)

| | |
| --- | --- |
| | Historical Records (Chinese) |

866
(14)

| | |
| --- | --- |
| | The Biography of Po Yi and Shu Ch'i |

866
(3)
869
(7)

| | |
| --- | --- |
| | From The Schemes of the Warring States: Yu-Jang |

876
(1)

| | |
| --- | --- |
| | From Biographies of the Assassins: Nieh Cheng |

877
(3)
MAP: INDIA, 1200 B.C.--A.D. 100
880
(1)
India's Heroic Age
881
(7)
TIME LINE
888
(152)

| | |
| --- | --- |
| | The Ramayana of Valmiki (Sanskrit, ca. 550 B.C.) |

890
(63)
895
(8)
903
(19)
922
(4)
926
(20)
946
(7)

| | |
| --- | --- |
| | The Mahabharata (Sanskrit, ca. 400 B.C.--A.D. 400) |

953
(49)

| | |
| --- | --- |
| | From Book 1. Adi [Origins] |

959
(8)

| | |
| --- | --- |
| | From Book 2. Sabha [The Assemby Hall] |

967
(16)

| | |
| --- | --- |
| | From Book 5. Udyoga [The Preparation for War] |

983
(7)

| | |
| --- | --- |
| | From Book 8. Karna [The Book of Karna] |

990
(4)

| | |
| --- | --- |
| | From Book 9. Salya [The Book of Salya] |

994
(4)

| | |
| --- | --- |
| | From Book 11. Stri [The Book of the Women] |

998
(2)

| | |
| --- | --- |
| | From Book 12. Santi [The Book of Peace] |

1000
(2)

| | |
| --- | --- |
| | The Jataka (Pali, fourth century B.C.) |

1002
(8)
1004
(1)

| | |
| --- | --- |
| | The Hare's Self-Sacrifice |

1005
(3)

| | |
| --- | --- |
| | The Monkey's Heroic Self-Sacrifice |

1008
(2)

| | |
| --- | --- |
| | The Bhagavad-Gita (Sanskrit, first Century B.C.) |

1010
(19)

| | |
| --- | --- |
| | From The First Teaching [Arjuna's Dejection] |

1014
(2)

| | |
| --- | --- |
| | From The Second Teaching [Philosophy and Spiritual Discipline] |

1016
(4)

| | |
| --- | --- |
| | From The Third Teaching [Discipline of Action] |

1020
(3)

| | |
| --- | --- |
| | From The Sixth Teaching [The Man of Discipline] |

1023
(2)

| | |
| --- | --- |
| | From The Eleventh Teaching [The Vision of Krishna's Totality] |

1025
(4)

| | |
| --- | --- |
| | The Tamil Anthologies (Tamil, ca. 100--250) |

1029
(11)
1031
(1)
1032
(1)
1032
(1)
1032
(1)
1033
(1)

| | |
| --- | --- |
| | What her Girl-Friend Said |

1033
(1)
1033
(1)
1034
(1)
1034
(1)
1035
(1)
1035
(1)
1036
(1)
1037
(1)
1037
(3)
MAP: THE ROMAN EMPIRE, CA. 117
1040
(1)
The Roman Empire
1041
(3)
TIME LINE
1044
1046
1047

| | |
| --- | --- |
| | [Lesbia, let us live only for loving] |

1047

| | |
| --- | --- |
| | [Sparrow, you darling pet of my beloved] |

1047

| | |
| --- | --- |
| | [To me that man seems like a god in heaven] |

1047

| | |
| --- | --- |
| | [Many find Quintia stunning. I find her attractive] |

1048

| | |
| --- | --- |
| | [No other woman can truthfully say she was cherished] |

1048

| | |
| --- | --- |
| | [Darling, we'll both have equal shares in the sweet love you offer] |

1048

| | |
| --- | --- |
| | [Lesbia hurls abuse at me in front of her husband] |

1049

| | |
| --- | --- |
| | [My woman says there is no one whom she'd rather marry] |

1049

| | |
| --- | --- |
| | [You used to say that you wished to know only Catullus] |

1049

| | |
| --- | --- |
| | [I hate & love. And if you should ask how I can do both] |

1049

| | |
| --- | --- |
| | [To such a state I have been brought by your mischief, my Lesbia] |

1049

| | |
| --- | --- |
| | [Wretched Catullus! You have to stop this nonsense] |

1050

| | |
| --- | --- |
| | [Lesbia, Caelius---yes, our darling] |

1050

| | |
| --- | --- |
| | [Aurelius & Furius, true comrades] |

1050

| | |
| --- | --- |
| | [If any pleasure can come to a man through recalling] |

1051
1052
1055
1055
1055

| | |
| --- | --- |
| | [Aeneas Arrives in Carthage] |

1056
1063
1063
1085

| | |
| --- | --- |
| | [The Passion of the Queen] |

1085
1106

| | |
| --- | --- |
| | [Aeneas in the Underworld] |

1106
1125
1125
1129
1129
1134
1138
1138
1138
1138
1141
1147
1147
1149
1149
1161
1161
1166
1166
1167
1174
1182
1183
1183
A Note on Translation
A1
Permissions Acknowledgments
A13
Index
A15