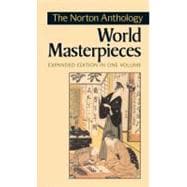 List Price: $66.67
Usually Ships in 2-3 Business Days

More New and Used
from Private Sellers
Questions About This Book?
What version or edition is this?
This is the 1st edition with a publication date of 1/1/1997.
What is included with this book?
The Used copy of this book is not guaranteed to include any supplemental materials. Typically, only the book itself is included.
Related Products
Summary
This groundbreaking Norton Anthology offers the best of the literatures of India, China, Japan, the Middle East, Africa, and native America alongside the masterpieces of the Western tradition.
Table of Contents
PREFACE
xxiii
(8)
ACKNOWLEDGMENTS
xxxi
(4)
PHONETIC EQUIVALENTS
xxxv
PART I BEGINNINGS TO A.D. 100
3
(700)
The Invention of Writing and the Earliest Literatures
3
(84)

| | |
| --- | --- |
| | MAP: THE ANCIENT MIDDLE EAST, CA. 1000 B.C. TIMELINE |

8
(2)

| | |
| --- | --- |
| | GILGAMESH (Akkadian, ca. 2500-1300 B.C.) |

10
(32)

| | |
| --- | --- |
| | ANCIENT EGYPTIAN POETRY (Egyptian, ca. 1500-ca. 1200 B.C.) |

42
(6)
44
(1)

| | |
| --- | --- |
| | [How splendid you ferry the skyways] |

44
(1)

| | |
| --- | --- |
| | [God is a master craftsman] |

45
(1)

| | |
| --- | --- |
| | [When Being began back in days of the genesis] |

45
(1)
45
(3)

| | |
| --- | --- |
| | [My love is one and only, without peer] |

45
(1)

| | |
| --- | --- |
| | [Love, how I'd love to slip down to the pond] |

46
(1)

| | |
| --- | --- |
| | [Why, just now, must you question your heart?] |

47
(1)

| | |
| --- | --- |
| | [I was simply off to see Nefrus my friend] |

47
(1)

| | |
| --- | --- |
| | [I think I'll go home and lie very still] |

48
(1)

| | |
| --- | --- |
| | THE BIBLE: THE OLD TESTAMENT (Hebrew, ca. 1000-300 B.C.) |

48
(39)

| | |
| --- | --- |
| | Genesis 1-3 [The Creation--The Fall] |

52
(4)

| | |
| --- | --- |
| | Genesis 4 [The First Murder] |

56
(1)
56
(4)

| | |
| --- | --- |
| | Genesis 11 [The Origin of Languages] |

60
(1)

| | |
| --- | --- |
| | Genesis 37, 39-46 [The Story of Joseph] |

60
(11)
71
(11)
82
(1)
83
(1)
83
(1)
84
(1)

| | |
| --- | --- |
| | Isaiah 52-53 [The Song of the Suffering Servant] |

84
(3)
Ancient Greece and the Formation of the Western Mind
87
(440)

| | |
| --- | --- |
| | MAP: GREECE AND WESTERN ASIA MINOR, CA. FIFTH CENTURY B.C. TIMELINE |

94
(2)

| | |
| --- | --- |
| | HOMER (eighth century B.C.) |

96
(240)
100
(236)

| | |
| --- | --- |
| | Book V [Sweet Nymph and Open Sea] |

101
(10)

| | |
| --- | --- |
| | Book VI [The Princess at the River] |

111
(7)

| | |
| --- | --- |
| | Book VII [Gardens and Firelight] |

118
(8)

| | |
| --- | --- |
| | Book VIII [The Songs of the Harper] |

126
(13)

| | |
| --- | --- |
| | Book IX [New Coasts and Poseidon's Son] |

139
(12)

| | |
| --- | --- |
| | Book X [The Grace of the Witch] |

151
(14)

| | |
| --- | --- |
| | Book XI [A Gathering of Shades] |

165
(16)

| | |
| --- | --- |
| | Book XII [Sea Perils and Defeat] |

181
(11)

| | |
| --- | --- |
| | Book XIII [One More Strange Island] |

192
(12)

| | |
| --- | --- |
| | Book XIV [Hospitality in the Forest] |

204
(12)

| | |
| --- | --- |
| | Book XV [How They Came to Ithaka] |

216
(14)

| | |
| --- | --- |
| | Book XVI [Father and Son] |

230
(12)

| | |
| --- | --- |
| | Book XVII [The Beggar at the Manor] |

242
(17)

| | |
| --- | --- |
| | Book XVIII [Blows and a Queen's Beauty] |

259
(11)

| | |
| --- | --- |
| | Book XIX [Recognitions and a Dream] |

270
(14)

| | |
| --- | --- |
| | Book XX [Signs and a Vision] |

284
(9)

| | |
| --- | --- |
| | Book XXI [The Test of the Bow] |

293
(10)

| | |
| --- | --- |
| | Book XXII [Death in the Great Hall] |

303
(12)

| | |
| --- | --- |
| | Book XXIII [The Trunk of the Olive Tree] |

315
(9)

| | |
| --- | --- |
| | Book XXIV [Warriors, Farewell] |

324
(12)

| | |
| --- | --- |
| | SAPPHO OF LESBOS (born ca. 630 B.C.) |

336
(3)
337
(2)

| | |
| --- | --- |
| | [Throned in splendor, deathless, O Aphrodite] |

337
(1)

| | |
| --- | --- |
| | [Like the very gods in my sight is he] |

338
(1)

| | |
| --- | --- |
| | [Some there are who say that the fairest things seen] |

338
(1)

| | |
| --- | --- |
| | AESCHYLUS (524?-456 B.C.) |

339
(49)
344
(44)
344
(44)

| | |
| --- | --- |
| | SOPHOCLES (ca. 496-406 B.C.) |

388
(45)
392
(41)
433
(33)
435
(31)

| | |
| --- | --- |
| | ARISTOPHANES (450?-385? B.C.) |

466
(33)
467
(32)
499
(21)

| | |
| --- | --- |
| | The Apology of Socrates (Greek) |

500
(20)
520
(7)
521
(6)
Poetry and Thought in Early China
527
(40)

| | |
| --- | --- |
| | MAP: CHINA DURING THE "WARRING STATES" PERIOD, CA. 250 B.C. TIMELINE |

532
(2)

| | |
| --- | --- |
| | BOOK OF SONGS (Chinese, ca. 1000-600 B.C.) |

534
(11)

| | |
| --- | --- |
| | 17 ("Plop fall the plums; but there are still seven") |

536
(1)

| | |
| --- | --- |
| | 18 ("She threw a quince to me") |

536
(1)

| | |
| --- | --- |
| | 22 ("Of fair girls the loveliest") |

537
(1)

| | |
| --- | --- |
| | 24 ("I beg of you, Chung Tzu") |

537
(1)

| | |
| --- | --- |
| | 25 ("The lady says: `The cock has crowed'") |

538
(1)

| | |
| --- | --- |
| | 28 ("Cold blows the northern wind") |

538
(1)

| | |
| --- | --- |
| | 54 ("HE: The gourd has bitter leaves") |

538
(1)

| | |
| --- | --- |
| | 56 ("If along the highroad") |

539
(1)

| | |
| --- | --- |
| | 57 ("By the willows of the Eastern Gate") |

539
(1)

| | |
| --- | --- |
| | 63 ("In the wilds there is a dead doe") |

539
(1)

| | |
| --- | --- |
| | 75 ("Tossed is that cypress boat") |

540
(1)

| | |
| --- | --- |
| | 131 ("We plucked the bracken, plucked the bracken") |

540
(1)

| | |
| --- | --- |
| | 157 ("They clear away the grass, the trees") |

541
(1)

| | |
| --- | --- |
| | 238 ("She who in the beginning gave birth to the people") |

542
(2)
544
(1)

| | |
| --- | --- |
| | 278 ("Kio' sings the oriole") |

544
(1)
545
(10)
548
(7)

| | |
| --- | --- |
| | CHUANG CHOU (ca. 369-286 B.C.) |

555
(12)
557
(10)

| | |
| --- | --- |
| | Chapter 2. Discussion on Making All Things Equal |

557
(10)
India's Heroic Age
567
(60)

| | |
| --- | --- |
| | MAP: INDIA, 1200 B.C.-100 A.D. TIMELINE |

574
(2)

| | |
| --- | --- |
| | THE RAMAYANA OF VALMIKI (Sanskrit, ca. 550 B.C.) |

576
(36)
581
(31)

| | |
| --- | --- |
| | THE BHAGAVAD-GITA (Sanskrit, first century B.C.) |

612
(15)

| | |
| --- | --- |
| | From The Second Teaching [Philosophy and Spiritual Discipline] |

616
(3)

| | |
| --- | --- |
| | From The Third Teaching [Discipline of Action] |

619
(2)

| | |
| --- | --- |
| | From The Sixth Teaching [The Man of Discipline] |

621
(2)

| | |
| --- | --- |
| | From The Eleventh Teaching [The Vision of Krishna's Totality] |

623
(4)
The Roman Empire
627
(76)

| | |
| --- | --- |
| | MAP: THE ROMAN EMPIRE, CA. 117 TIMELINE |

630
(2)
632
(4)
632
(4)

| | |
| --- | --- |
| | 5 ("Come, Lesbia, let us live and love") |

632
(1)

| | |
| --- | --- |
| | 87 ("No woman, if she is honest") |

633
(1)

| | |
| --- | --- |
| | 107 ("When at last after long despair, our hopes ring true again") |

633
(1)

| | |
| --- | --- |
| | 109 ("My life, my love, you say our love will last forever") |

633
(1)

| | |
| --- | --- |
| | 83 ("Lesbia speaks evil of me") |

633
(1)

| | |
| --- | --- |
| | 70 ("My woman says that she would rather wear the wedding-veil for me") |

633
(1)

| | |
| --- | --- |
| | 72 ("There was a time, O Lesbia") |

634
(1)
634
(1)

| | |
| --- | --- |
| | 8 ("Poor damned Catullus, here's no time for nonsense") |

634
(1)

| | |
| --- | --- |
| | 11 ("Furius, Aurelius, bound to Catullus") |

635
(1)

| | |
| --- | --- |
| | 76 ("If man can find rich consolation") |

635
(1)
636
(47)
639
(44)
639
(9)
639
(1)

| | |
| --- | --- |
| | [Aeneas Arrives in Carthage] |

640
(8)

| | |
| --- | --- |
| | Book IV [The Passion of the Queen] |

648
(20)

| | |
| --- | --- |
| | From Book VI [Aeneas in the Underworld] |

668
(6)

| | |
| --- | --- |
| | From Book VIII [The Shield of Aeneas] |

674
(4)

| | |
| --- | --- |
| | From Book XII [The Death of Turnus] |

678
(5)
683
(20)
684
(19)
684
(1)
684
(2)
686
(1)
687
(1)
688
(2)
690
(1)
691
(3)
694
(2)

| | |
| --- | --- |
| | From Book IV [Pyramus and Thisbe] |

696
(7)
PART II 100 TO 1500
703
(772)
From Roman Empire to Christian Europe
703
(36)

| | |
| --- | --- |
| | MAP: THE SPREAD OF CHRISTIANITY, 30-600 TIMELINE |

706
(2)

| | |
| --- | --- |
| | THE BIBLE: THE NEW TESTAMENT (Greek, ca. first century) |

708
(14)

| | |
| --- | --- |
| | Luke 2 [The Birth and Youth of Jesus] |

709
(2)

| | |
| --- | --- |
| | Matthew 5-7 [The Teaching of Jesus: The Sermon on the Mount] |

711
(4)

| | |
| --- | --- |
| | Luke 15 [The Teaching of Jesus: Parables] |

715
(1)

| | |
| --- | --- |
| | Matthew 26 [The Betrayal of Jesus] |

716
(3)

| | |
| --- | --- |
| | Matthew 27 [The Trial and Crucifixion of Jesus] |

719
(2)

| | |
| --- | --- |
| | Matthew 28 [The Resurrection] |

721
(1)
722
(17)
723
(16)
723
(4)

| | |
| --- | --- |
| | From Book II [The Pear Tree] |

727
(2)

| | |
| --- | --- |
| | From Book III [Student at Carthage] |

729
(2)

| | |
| --- | --- |
| | From Book VI [Worldly Ambitions] |

731
(3)

| | |
| --- | --- |
| | From Book VIII [Conversion] |

734
(5)
India's Classical Age
739
(212)

| | |
| --- | --- |
| | MAP: INDIA, 100-1200 TIMELINE |

744
(2)

| | |
| --- | --- |
| | KALIDASA (fourth century) |

746
(205)

| | |
| --- | --- |
| | Sakuntala and the Ring of Recollection (Sanskrit) |

750
(201)
The Formation of a Western Literature
951
(324)

| | |
| --- | --- |
| | MAP: EUROPE, CA. 1360 TIMELINE |

954
(2)

| | |
| --- | --- |
| | From THE SONG OF ROLAND (French, twelfth century) |

956
(40)

| | |
| --- | --- |
| | MARIE DE FRANCE (twelfth century) |

996
(14)
998
(12)

| | |
| --- | --- |
| | DANTE ALIGHIERI (1265-1321) |

1010
(132)

| | |
| --- | --- |
| | The Divine Comedy (Italian) |

1017
(1)
1017
(125)

| | |
| --- | --- |
| | GIOVANNI BOCCACCIO (1313-1375) |

1142
(23)
1144
(21)
1144
(12)

| | |
| --- | --- |
| | The Second Tale of the Fourth Day |

1156
(6)

| | |
| --- | --- |
| | The Ninth Tale of the Fifth Day |

1162
(3)

| | |
| --- | --- |
| | GEOFFREY CHAUCER (1340?-1400) |

1165
(52)

| | |
| --- | --- |
| | The Canterbury Tales (Middle English) |

1171
(46)
1171
(18)

| | |
| --- | --- |
| | The Miller's Prologue and Tale |

1189
(15)
1189
(1)
1190
(14)

| | |
| --- | --- |
| | The Pardoner's Prologue and Tale |

1204
(13)
1204
(3)
1207
(10)

| | |
| --- | --- |
| | SIR GAWAIN AND THE GREEN KNIGHT (Middle English, fourteenth century) |

1217
(58)
The Golden Age of Japanese Culture
1275
(136)

| | |
| --- | --- |
| | MAP: JAPAN, SEVENTH-SIXTEENTH CENTURIES TIMELINE |

1278
(2)

| | |
| --- | --- |
| | THE MAN'YOSHU (Japanese, eighth century) |

1280
(12)

| | |
| --- | --- |
| | 29-31. Poem written by Kakinomoto Hitomaro when he passed the ruined capital at Omi |

1284
(1)

| | |
| --- | --- |
| | 135-137. Poem written by Kakinomoto Hitomaro when he parted from his wife in the land of Iwami and came up to the capital |

1285
(1)

| | |
| --- | --- |
| | 220-222. Poem written by Kakinomoto Hitomaro upon seeing a dead man lying among the rocks on the island of Samine in Sanuki |

1286
(2)

| | |
| --- | --- |
| | 338-350. Thirteen poems in praise of wine by Lord Otomo Tabito, the Commander of the Dazaifu |

1288
(1)

| | |
| --- | --- |
| | 804-805. Poem sorrowing on the impermanence of life in this world |

1289
(1)

| | |
| --- | --- |
| | 892-893. Dialog of the Destitute |

1290
(2)

| | |
| --- | --- |
| | MURASAKI SHIKIBU (ca. 973-1016) |

1292
(101)

| | |
| --- | --- |
| | The Tale of Genji (Japanese) |

1301
(92)

| | |
| --- | --- |
| | Chapter 2. The Broom Tree |

1301
(23)
1324
(20)
1344
(20)
1364
(19)
1383
(10)
NO DRAMA
1393
(18)

| | |
| --- | --- |
| | KANZE KOJIRO NOBUMITSU (1435-1516) |

1400
(11)
1400
(11)
Medieval India: The Age of the Devotional Lyric
1411
(20)

| | |
| --- | --- |
| | MAP: INDIA, 1200-1650 TIMELINE |

1416
(2)
POEMS OF THE VIRASAIVA SAINTS (KANNADA)
1418
(3)

| | |
| --- | --- |
| | MAHADEVIYAKKA (twelfth century) |

1419
(2)

| | |
| --- | --- |
| | 17 ("Like a silkworm weaving") |

1419
(1)

| | |
| --- | --- |
| | 114 ("Husband inside, /lover outside") |

1419
(1)

| | |
| --- | --- |
| | 119 ("What's to come tomorrow") |

1419
(1)

| | |
| --- | --- |
| | 124 ("You can confiscate / money in hand") |

1420
(1)

| | |
| --- | --- |
| | 283 ("I love the Handsome One") |

1420
(1)

| | |
| --- | --- |
| | 294 ("O brothers, why do you talk") |

1420
(1)

| | |
| --- | --- |
| | 336 ("Look at / love's marvellous / ways") |

1421
(1)
THE BENGALI VAISNAVA SAINTS' SONGS OF DEVOTION TO KRISHNA (BENGALI)
1421
(10)

| | |
| --- | --- |
| | GOVINDADASA (fifteenth century) |

1423
(2)

| | |
| --- | --- |
| | [O Madhava, how shall I tell you of my terror?] |

1423
(1)

| | |
| --- | --- |
| | [When they had made love] |

1424
(1)

| | |
| --- | --- |
| | [Let the earth of my body be mixed with the earth] |

1424
(1)

| | |
| --- | --- |
| | MIRABAI (sixteenth century; Brajbhasa, Gujerati) |

1425
(6)

| | |
| --- | --- |
| | 37 ("I'm colored with the color of dusk, oh rana") |

1426
(1)

| | |
| --- | --- |
| | 42 ("Life without Hari is no life, friend") |

1427
(1)

| | |
| --- | --- |
| | 82 ("I saw the dark clouds burst") |

1427
(1)

| | |
| --- | --- |
| | 84 ("Hey love bird, crying cuckoo") |

1427
(1)

| | |
| --- | --- |
| | 153 ("Go to where my loved one lives") |

1428
(1)

| | |
| --- | --- |
| | 166 ("Murali sounds on the banks of the Jumna") |

1428
(1)

| | |
| --- | --- |
| | 193 ("Let us go to a realm beyond going") |

1429
(2)
Africa: The Mali Epic of Son-Jara
1431
(44)

| | |
| --- | --- |
| | MAP: WESTERN AFRICA, 1200-1400 TIMELINE |

1436
(1)

| | |
| --- | --- |
| | From THE EPIC OF SON-JARA (Maninka, late thirteenth-early fourteenth century) |

1437
(38)
PART III 1500 TO 1650
1475
(288)
The Renaissance in Europe
1475
(254)

| | |
| --- | --- |
| | MAP: WESTERN EUROPE, CA. 1560 TIMELINE |

1482
(2)

| | |
| --- | --- |
| | FRANCIS PETRARCH (1304-1374) |

1484
(4)
1486
(2)

| | |
| --- | --- |
| | 3 ("It was the morning of that blessed day") |

1486
(1)

| | |
| --- | --- |
| | 61 ("Blest be the day, and blest the month and year") |

1486
(1)

| | |
| --- | --- |
| | 90 ("She used to let her golden hair fly free") |

1487
(1)

| | |
| --- | --- |
| | 292 ("The eyes that drew from me such fervent praise") |

1487
(1)

| | |
| --- | --- |
| | 333 ("Go, grieving rimes of mine, to that hard stone") |

1487
(1)

| | |
| --- | --- |
| | NICCOLO MACHIAVELLI (1469-1527) |

1488
(14)
1491
(11)
1491
(6)
1497
(2)
1499
(3)

| | |
| --- | --- |
| | MICHEL DE MONTAIGNE (1533-1592) |

1502
(21)
1506
(17)
1506
(1)
1506
(10)

| | |
| --- | --- |
| | Of the Inconsistency of Our Actions |

1516
(5)
1521
(2)

| | |
| --- | --- |
| | MIGUEL DE CERVANTES (1547-1616) |

1523
(106)
1527
(102)
1527
(51)

| | |
| --- | --- |
| | ["I Know Who I Am, and Who I May Be, If I Choose"] |

1527
(21)

| | |
| --- | --- |
| | [Fighting the Windmills and a Choleric Biscayan] |

1548
(16)

| | |
| --- | --- |
| | ["To Right Wrongs and Come to the Aid of the Wretched"] |

1564
(8)

| | |
| --- | --- |
| | ["Set Free at Once That Lovely Lady"] |

1572
(6)
1578
(51)
1578
(6)
1584
(26)

| | |
| --- | --- |
| | ["For I Well Known the Meaning of Valor"] |

1610
(7)
1617
(4)
1621
(8)

| | |
| --- | --- |
| | WILLIAM SHAKESPEARE (1564-1616) |

1629
(100)

| | |
| --- | --- |
| | Hamlet, Prince of Denmark |

1633
(96)
Native America and Europe in the New World
1729
(34)

| | |
| --- | --- |
| | MAP: THE AMERICAS, 1500-1600 TIMELINE |

1734
(2)

| | |
| --- | --- |
| | FLORENTINE CODEX (Nahuatl and Spanish, 1547-1579) |

1736
(3)

| | |
| --- | --- |
| | [The Midwife Addresess the Woman Who Has Died in Childbirth] |

1737
(2)

| | |
| --- | --- |
| | [The Midwife Addresses the Newly Delivered Woman] |

1739
(1)

| | |
| --- | --- |
| | CANTARES MEXICANOS (Nahuatl, 1550-1581) |

1739
(3)

| | |
| --- | --- |
| | Song IV. Mexican Otomi Song |

1741
(1)

| | |
| --- | --- |
| | Song XII. Song for Admonishing Those Who Seek No Honor in War |

1742
(1)

| | |
| --- | --- |
| | POPUL VUH (Quiche Mayan, 1554-1558) |

1742
(21)

| | |
| --- | --- |
| | From Part 1 [Prologue, Creation] |

1746
(2)

| | |
| --- | --- |
| | From Part 2 [The Twins Defeat Seven Macaw] |

1748
(2)

| | |
| --- | --- |
| | From Part 3 [Victory over the Underworld] |

1750
(5)

| | |
| --- | --- |
| | From Part 4 [Origin of Humanity, First Dawn] |

1755
(4)

| | |
| --- | --- |
| | From Part 5 [Prayer for Future Generations] |

1759
(4)
PART IV 1650 TO 1800
1763
(374)
Vernacular Literature in China
1763
(126)

| | |
| --- | --- |
| | MAP: CHINA, CA. 1645 TIMELINE |

1766
(2)

| | |
| --- | --- |
| | CAO XUEQIN (Ts`ao Hsueh-ch`in) (1715-1763) |

1768
(121)

| | |
| --- | --- |
| | The Story of the Stone (Chinese) |

1770
(1)
1770
(21)
1770
(6)

| | |
| --- | --- |
| | Summary. Chapters 1 to 25 |

1776
(1)
1777
(14)
1791
(98)
1791
(12)
1803
(18)
1821
(17)
1838
(10)
1848
(12)
1860
(9)
1869
(9)
1878
(11)
The Enlightenment in Europe
1889
(214)

| | |
| --- | --- |
| | MAP: EUROPE, CA. 1740 TIMELINE |

1896
(2)

| | |
| --- | --- |
| | JEAN-BAPTISTE POQUELIN MOLIERE (1622-1673) |

1898
(58)
1900
(56)
1956
(42)
1956
(39)

| | |
| --- | --- |
| | SOR JUANA INES DE LA CRUZ (1648-1695) |

1998
(29)

| | |
| --- | --- |
| | Reply to Sor Filotea de la Cruz (Spanish) |

2000
(27)

| | |
| --- | --- |
| | JONATHAN SWIFT (1667-1745) |

2027
(7)
2028
(6)

| | |
| --- | --- |
| | FRANCOIS-MARIE AROUET DE VOLTAIRE (1694-1778) |

2034
(69)

| | |
| --- | --- |
| | Candide, or Optimism (French) |

2037
(66)
The Rise of Popular in Premodern Japan
2103
(34)

| | |
| --- | --- |
| | MAP: JAPAN, SEVENTEENTH-NINETEENTH CENTURIES TIMELINE |

2106
(2)
2108
(29)

| | |
| --- | --- |
| | The Narrow Road of the Interior (Japanese) |

2112
(25)
PART V 1800 TO 1900
2137
(442)
Revolution and Romanticism in Europe and America
2137
(188)

| | |
| --- | --- |
| | MAP: EUROPE AND EASTERN AMERICA, CA. 1866 TIMELINE |

2146
(2)

| | |
| --- | --- |
| | JEAN-JACQUES ROUSSEAU (1712-1778) |

2148
(11)

| | |
| --- | --- |
| | From Confessions, Part I (French) |

2150
(9)

| | |
| --- | --- |
| | JOHANN WOLFGANG VON GOETHE (1749-1832) |

2159
(105)
2162
(102)
2162
(2)

| | |
| --- | --- |
| | The First Part of the Tragedy |

2164
(100)

| | |
| --- | --- |
| | WILLIAM BLAKE (1757-1827) |

2264
(9)
2266
(3)
2266
(1)
2267
(1)
2267
(1)
2268
(1)
2268
(1)
2269
(3)
2269
(1)
2269
(1)
2270
(1)
2271
(1)
2271
(1)
2271
(1)

| | |
| --- | --- |
| | Mock on, Mock on, Voltaire, Rousseau |

2272
(1)
2272
(1)

| | |
| --- | --- |
| | WILLIAM WORDSWORTH (1770-1850) |

2273
(11)

| | |
| --- | --- |
| | Lines Composed a Few Miles Above Tintern Abbey |

2275
(4)

| | |
| --- | --- |
| | Ode on Intimations of Immortality |

2279
(4)

| | |
| --- | --- |
| | Composed upon Westiminster Bridge, September 3, 1802 |

2283
(1)

| | |
| --- | --- |
| | The World Is Too Much with Us |

2284
(1)

| | |
| --- | --- |
| | ALEXANDER SERGEYEVICH PUSHKIN (1799-1837) |

2284
(21)

| | |
| --- | --- |
| | The Queen of Spades (Russian) |

2286
(19)
2305
(8)
2308
(5)

| | |
| --- | --- |
| | EMILY DICKINSON (1830-1886) |

2313
(12)

| | |
| --- | --- |
| | 216 ("Safe in their Alabaster Chambers--") |

2315
(1)

| | |
| --- | --- |
| | 258 ("There's a certain Slant of light") |

2315
(1)

| | |
| --- | --- |
| | 303 ("The Soul selects her own Society--") |

2315
(1)

| | |
| --- | --- |
| | 328 ("A Bird came down the Walk--") |

2316
(1)

| | |
| --- | --- |
| | 341 ("After great pain, a formal feeling comes--") |

2316
(1)

| | |
| --- | --- |
| | 435 ("Much Madness is divinest Sense--") |

2317
(1)

| | |
| --- | --- |
| | 449 ("I died for Beauty--but was scarce") |

2317
(1)

| | |
| --- | --- |
| | 465 ("I heard a Fly buzz--when I died--") |

2317
(1)

| | |
| --- | --- |
| | 519 ("'Twas warm--at first--like Us--") |

2318
(1)

| | |
| --- | --- |
| | 585 ("I like to see it lap the Miles--") |

2318
(1)

| | |
| --- | --- |
| | 632 ("The Brain--is wider than the Sky--") |

2318
(1)

| | |
| --- | --- |
| | 657 ("I dwell in Possibility--") |

2319
(1)

| | |
| --- | --- |
| | 712 ("Because I could not stop for Death--" |

2319
(1)

| | |
| --- | --- |
| | 754 ("My Life had stood--a Loaded Gun--") |

2320
(1)

| | |
| --- | --- |
| | 1084 ("At Half past Three, a single Bird") |

2320
(1)

| | |
| --- | --- |
| | 1129 ("Tell all the Truth but tell it slant--") |

2321
(1)

| | |
| --- | --- |
| | 1207 ("He preached upon `Breadth' till it argued him narrow--") |

2321
(1)

| | |
| --- | --- |
| | 1564 ("Pass to thy Rendezvous of Light") |

2321
(1)

| | |
| --- | --- |
| | 1593 ("There came a Wind like a Bugle--") |

2321
(4)
Realism, Symbolism, and European Realities
2325
(254)

| | |
| --- | --- |
| | MAP: EUROPE, CA. 1870 TIMELINE |

2336
(2)

| | |
| --- | --- |
| | GUSTAVE FLAUBERT (1821-1880) |

2338
(25)
2341
(22)

| | |
| --- | --- |
| | FYODOR DOSTOEVSKY (1821-1881) |

2363
(57)

| | |
| --- | --- |
| | From Notes from Underground (Russian) |

2369
(51)

| | |
| --- | --- |
| | CHARLES BAUDELAIRE (1821-1867) |

2420
(12)

| | |
| --- | --- |
| | The Flowers of Evil (French) |

2425
(6)
2425
(1)
2426
(1)
2426
(1)
2426
(1)
2427
(1)
2428
(1)
2429
(1)
2430
(1)
2430
(1)
2431
(1)

| | |
| --- | --- |
| | Anywhere out of the World |

2431
(1)
2432
(44)

| | |
| --- | --- |
| | The Death of Ivan Ilyich (Russian) |

2436
(40)
2476
(61)
2480
(57)

| | |
| --- | --- |
| | ANTON CHEKHOV (1860-1904) |

2537
(42)

| | |
| --- | --- |
| | The Cherry Orchard (Russian) |

2541
(38)
PART VI The Twentieth Century: Self and Other in Global Context
2579
(452)

| | |
| --- | --- |
| | MAPS: THE WORLD, CA. 1913 THE WORLD TODAY, A WESTERN VIEW THE WORLD TODAY, AN EASTERN VIEW TIMELINE |

2608
(6)

| | |
| --- | --- |
| | THE NIGHT CHANT (Navajo, ca. 1897-1902) |

2614
(4)
2615
(2)
2617
(1)

| | |
| --- | --- |
| | RABINDRANATH TAGORE (1861-1941) |

2618
(9)
2621
(6)

| | |
| --- | --- |
| | LUIGI PIRANDELLO (1867-1936) |

2627
(47)

| | |
| --- | --- |
| | Six Characters in Search of an Author (Italian) |

2632
(42)

| | |
| --- | --- |
| | MARCEL PROUST (1871-1922) |

2674
(40)

| | |
| --- | --- |
| | Remembrance of Things Past (French) |

2679
(35)
2679
(35)

| | |
| --- | --- |
| | RAINER MARIA RILKE (1875-1926) |

2714
(9)
2717
(2)
2717
(1)

| | |
| --- | --- |
| | Archaischer Torso Apollos |

2718
(1)
2718
(1)
2719
(1)
2719
(1)
2719
(4)
2719
(3)
2722
(1)

| | |
| --- | --- |
| | LU XUN (Lu Hsun) (1881-1936) |

2723
(12)

| | |
| --- | --- |
| | Diary of a Madman (Chinese) |

2726
(9)

| | |
| --- | --- |
| | VIRGINIA WOOLF (1882-1941) |

2735
(11)
2738
(8)
2746
(38)

| | |
| --- | --- |
| | The Metamorphosis (German) |

2749
(35)
2784
(18)

| | |
| --- | --- |
| | The Love Song of J. Alfred Prufrock |

2787
(3)
2790
(12)

| | |
| --- | --- |
| | ANNA AKHMATOVA (1889-1966) |

2802
(11)
2806
(7)

| | |
| --- | --- |
| | BERTOLT BRECHT (1898-1956) |

2813
(58)

| | |
| --- | --- |
| | Mother Courage and Her Children |

2817
(54)

| | |
| --- | --- |
| | JORGE LUIS BORGES (1899-1986) |

2871
(10)

| | |
| --- | --- |
| | The Garden of Forking Paths (Spanish) |

2874
(7)

| | |
| --- | --- |
| | NAGUIB MAHFOUZ (born 1911) |

2881
(12)
2885
(8)
2893
(26)

| | |
| --- | --- |
| | The American School (Japanese) |

2896
(23)

| | |
| --- | --- |
| | NADINE GORDIMER (born 1923) |

2919
(12)
2923
(8)

| | |
| --- | --- |
| | CHINUA ACHEBE (born 1930) |

2931
(100)
2936
(95)
A NOTE ON TRANSLATION
3031
(12)
PERMISSIONS ACKNOWLEDGMENTS
3043
(4)
INDEX
3047