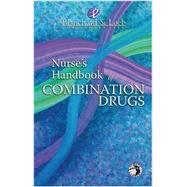 Summary
Using one formulation to administer two or more medications simultaneously can simplify, a patient's drug regimen and even improve compliance. For the nurse, however, the convenience of combination drugs is linked with the added responsibility to provide safe, effective drug therapy and complete patient teaching about the medications.
Table of Contents
Reviewers and Clinical Consultants
p. iv
How to Use This Book
p. v
FDA Pregnancy Risk Categories
p. viii
Controlled Substance Schedules
p. ix
Teaching About Combination Drug Therapy
p. x
Foreword
p. xii
Chapters
Anti-Infective Drugs
p. 1
Cardiovascular Drugs
p. 55
Central Nervous System Drugs
p. 189
Dermatologic Drugs
p. 295
Endocrine Drugs
p. 331
Eye and Ear Drugs
p. 407
Gastrointestinal Drugs
p. 457
Genitourinary Drugs
p. 475
Respiratory Drugs
p. 493
Antineoplastic Combination Therapy for Selected Common Cancers
p. 707
Combination Oral Contraceptives
p. 710
Compatible Drugs in a Syringe
p. 716
Drug Formulas and Calculations
p. 718
Weights and Equivalents
p. 725
Abbreviations
p. 727
Index
p. 731
Table of Contents provided by Ingram. All Rights Reserved.