Note: Supplemental materials are not guaranteed with Rental or Used book purchases.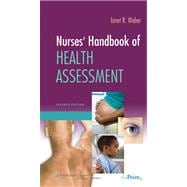 Nurses' Handbook of Health Assessment
ISBN13:
9780781795760
by
Weber, Janet R.
Summary
Renowned for its holistic perspective and "see and do" approach, this full-color, pocket-sized handbook offers step-by-step guidance on every phase of the nursing assessmentfor adults, children, and special populations. The focus is on what nurses need to know to assess clients: the health history, physical examination, normal and abnormal findings, nursing interventions, and nursing diagnoses. This edition presents a complete update of all content and references, and contains new chapters on mental status and assessing frail elderly clients.
Table of Contents
Chapter 1 Obtaining a Nursing Health History Chapter 2 Collecting Objective and Subjective Data Chapter 3 Performing Physical Assessment Skills Chapter 4 Assessing Mental Health Status Chapter 5 Assessing General Status & Vital Signs Chapter 6 Assessing Pain: The 5th Vital Sign Chapter 7 Assessing Victims of Violence Chapter 8 Assessing Nutrition Chapter 9 Skin, Hair, and Nails Chapter 10 Head and Neck Chapter 11 Eyes Chapter 12 Ears Chapter 13 Mouth, Throat, Nose, and Sinuses Chapter 14 Thorax and Lungs Chapter 15 Breasts Chapter 16 Heart Chapter 17 Peripheral Vascular System Chapter 18 Abdomen Chapter 19 Female Genitalia and Urinary System Chapter 20 Male Genitalia and Urinary System Chapter 21 Musculoskeletal System Chapter 22 Nervous System Chapter 23 Assessing Childbearing Women Chapter 24 Assessing Newborns and Infants Chapter 25 Assessing Frail Elderly Clients