Note: Supplemental materials are not guaranteed with Rental or Used book purchases.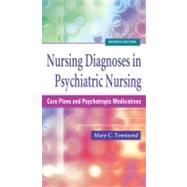 Summary
Here's the 7th Edition of the most complete, easy-to-use resource on how to develop practical, individual care plans! It's really 2 books in 1. The first half provides the diagnostic information needed to create a care plan; the second half covers the safe prescription and administration of psychotropic medications. And, the concepts can be applied to a variety of healthcare settings.from inpatient hospitalization and the outpatient clinic.to home health and private practice.
Author Biography
Mary C. Townsend is a Former Assistant Professor and Coordinator, Mental Health Nursing at Oklahoma City University, Oklahoma City, Oklahoma.
Table of Contents
Index of Client Behaviors
Index of DSM-IV-TR Psychiatric Diagnoses
NANDA Nursing Diagnoses
The Foundation for Planning Psychiatric Nursing Care
Nursing Process: One Step to Professionalism
p. 1
Alterations in Psychosocial Adaptation
Disorders Usually First Diagnosed in Infancy, Childhood, Or Adolescence
p. 12
Delirium, Dementia, and Amnestic Disorders
p. 49
Substance-Related Disorders
p. 65
Schizophrenia and Other Psychotic Disorders
p. 97
Mood Disorders
p. 114
Anxiety Disorders
p. 145
Somatoform and Sleep Disorders
p. 159
Dissociative Disorders
p. 178
Sexual and Gender Identity Disorders
p. 187
Eating Disorders
p. 203
Adjustment Disorder
p. 219
Impulse Control Disorders
p. 237
Psychological Factors Affecting Medical Condition
p. 244
Personality Disorders
p. 254
Special Topics in Psychiatric/Mental Health Nursing
Problems Related to Abuse Or Neglect
p. 286
Premenstrual Dysphoric Disorder
p. 295
HIV Disease
p. 303
Homelessness
p. 314
Psychiatric Home Nursing Care
p. 320
Forensic Nursing
p. 330
Complementary Therapies
p. 342
Loss and Bereavement
p. 361
Psychotropic Medications
Antianxiety Agents
p. 375
Antidepressants
p. 386
Mood-Stabilizing Drugs
p. 411
Antipsychotic Agents
p. 430
Antiparkinsonian Agents
p. 455
Sedative-Hypnotics
p. 463
Agents Used to Treat Attention-Deficit/Hyperactivity Disorder
p. 472
Bibliography
p. 485
Comparison of Developmental Theories
p. 493
Ego Defense Mechanisms
p. 497
Levels of Anxiety
p. 500
Stages of Grief: A Comparison of Models by Elisabeth Kubler-Ross, John Bowlby, George Engel, and William Worden
p. 502
Relationship Development and Therapeutic Communication
p. 505
Psychosocial Therapies
p. 514
Electroconvulsive Therapy
p. 523
Medication Assessment Tool
p. 526
Cultural Assessment Tool
p. 529
The DSM-IV-TR Multiaxial Evaluation System
p. 531
Global Assessment of Functioning (GAF) Scale
p. 533
DSM-IV-TR Classification: Axes I and II Categories and Codes
p. 535
Mental Status Assessment
p. 549
Assigning Nursing Diagnoses to Client Behaviors
p. 553
Brief Mental Status Evaluation
p. 556
FDA Pregnancy Categories
p. 558
DEA Controlled Substances Schedules
p. 559
Subject Index
p. 561
Drug Index
p. 603
Nursing Diagnoses Index
p. 611
Table of Contents provided by Blackwell. All Rights Reserved.