Note: Supplemental materials are not guaranteed with Rental or Used book purchases.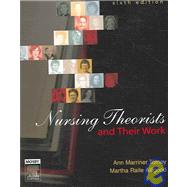 Summary
A classic in the field of nursing theory! This renowned textbook guides the reader through in-depth descriptions and analyses of 31 specific nursing theories - many reviewed and validated by the theorists themselves - in a logical, consistent chapter organization that makes information easy to follow. Its comprehensive and thorough approach, objective critiques, and clear writing style make it ideal for the study of theory at all levels of nursing. Twelve new chapters and updated material throughout this edition provide a wealth of information on the most current and cutting-edge ideas in nursing theory today.
Table of Contents
Evolution of Nursing Theories
Introduction to Nursing Theory: Its History, Significance and Analysis
History and Philosophy of Science
Logical Reasoning
Theory Development Process
Nursing Theorists of Historical Significance
Philosophies
Florence Nightingale: Modern Nursing
Jean Watson: Philosophy and Science of Caring
Marilyn Anne Ray: Theory of Bureaucratic Caring
Patricia Benner: From Novice to Expert: Excellence and Power in Clinical Nursing Practice
Kari Martinsen: Philosophy of Caring
Katie Eriksson: Theory of Caritative Caring
Nursing Models
Myra Estrin Levine: The Conservation Model
Martha E. Rogers: Unitary Human Beings
Dorothea E. Orem: Self-Care Deficit Theory of Nursing
Imogene King: Interacting Systems Framework and Middle Range Theory of Goal Attainment
Betty Neuman: Systems Model
Sister Callista Roy: Adaptation Model
Dorothy E. Johnson: Behavioral Systems Model
Anne Boykin and Savina O. Schoenhofer: Nursing as Caring: A Model for Transforming Practice
Nursing Theories
Ida Jean Orlando (Pelletier): Nursing Process Theory
Nola J. Pender: Health Promotion Model
Madeleine Leininger: Culture Care Theory of Diversity and Universality
Margaret A. Newman: Health as Expanding Consciousness
Rosemarie Rizzo Parse: Human Becoming
Helen C. Erickson, Evelyn M. Tomlin, and Mary Ann P. Swain: Modeling and Role-Modeling
Gladys L. Husted and James H. Husted: Symphonological Bioethical Theory
Middle Range Theories
Ramona T. Mercer: Maternal Role Attainment Becoming a Mother
Merle H. Mishel: Uncertainty in Illness Theory
Pamela G. Reed: Self-Transcendence Theory
Carolyn L. Wiener and Marylin J. Dodd: Theory of Illness Trajectory
Georgene Gaskill Eakes, Mary Lermann Burke, and Margaret A. Hainsworth: Theory of Chronic Sorrow
Phil Barker: The Tidal Model of Mental Health Recovery
Katharine Kolcaba: Theory of Comfort
Cheryl Tatano Beck: Postpartum Depression Theory
Kristen M. Swanson: Theory of Caring
Cornelia M. Ruland and Shirley M. Moore: Peaceful End of Life Theory
Future of Nursing Theory
State of the Art and Science of Nursing Theory
Table of Contents provided by Publisher. All Rights Reserved.