Note: Supplemental materials are not guaranteed with Rental or Used book purchases.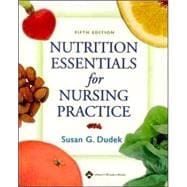 Nutrition Essentials For Nursing Practice
ISBN13:
9780781753821
by
Dudek, Susan G.
Related Products
Summary
The Fifth Edition of this nursing-focused nutrition text has been updated and streamlined to reflect the latest science-based practice. Maintaining its nursing process focus and emphasis on patient teaching, this edition includes new features to help readers integrate nutrition into nursing care. Quick Bites spotlight short, compelling food details and research findings. A Career Connection feature shows students how they will use nutrition in real-world nursing. Close attention is given to current consumer issues, including food safety, holistic health practices, and packaged foods. Websites are listed at the end of each chapter.
Table of Contents
UNIT ONE Principles of Nutrition
1
(174)
3
(16)
19
(25)
44
(21)
65
(27)
92
(33)
125
(28)
153
(22)
UNIT TWO Nutrition in Health Promotion
175
(194)

| | |
| --- | --- |
| | 8 Guidelines for Healthy Eating |

177
(29)
206
(35)

| | |
| --- | --- |
| | 10 Cultural, Ethnic, and Religious Influences on Food and Nutrition |

241
(28)

| | |
| --- | --- |
| | 11 Healthy Eating for Healthy Babies |

269
(40)

| | |
| --- | --- |
| | 12 Nutrition for Infants, Children, and Adolescents |

309
(35)

| | |
| --- | --- |
| | 13 Nutrition for Adults and Older Adults |

344
(25)
UNIT THREE Nutrition in Clinical Practice
369
(294)

| | |
| --- | --- |
| | 14 Obesity and Eating Disorders |

371
(42)

| | |
| --- | --- |
| | 15 Feeding Patients: Hospital Food and Enteral and Parenteral Nutrition |

413
(40)

| | |
| --- | --- |
| | 16 Critical Illness and Hypermetabolic Conditions |

453
(20)

| | |
| --- | --- |
| | 17 Nutrition for Patients With Gastrointestinal Disorders |

473
(52)

| | |
| --- | --- |
| | 18 Nutrition for Patients With Cardiovascular Disorders |

525
(41)

| | |
| --- | --- |
| | 19 Nutrition for Patients With Diabetes Mellitus |

566
(35)

| | |
| --- | --- |
| | 20 Nutrition for Patients With Renal Disorders |

601
(29)

| | |
| --- | --- |
| | 21 Nutrition for Patients With Cancer or HIV/AIDS |

630
(33)
APPENDICES

| | |
| --- | --- |
| | 1 Dietary Reference Intakes (DRIs): Recommended Intakes for Individuals, Vitamins |

663
(3)

| | |
| --- | --- |
| | 2 Dietary Reference Intakes (DRIs): Recommended Intakes for Individuals, Elements |

666
(2)

| | |
| --- | --- |
| | 3 Dietary Reference Intakes (DRIs): Recommended Intakes for Individuals, Macronutrients |

668
(2)

| | |
| --- | --- |
| | 4 Acceptable Macronutrient Distribution Ranges |

670
(1)
671
(11)
682
(13)
Index
695