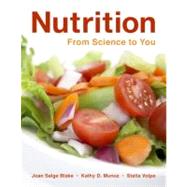 Questions About This Book?
What version or edition is this?
This is the 1st edition with a publication date of 9/6/2009.
What is included with this book?
The Used copy of this book is not guaranteed to include any supplemental materials. Typically, only the book itself is included.
Related Products
Summary
Key Message:Nutrition: From Science to Youbuilds on the strengths of its sister book Nutrition & You and takes a personal approach to introductory nutrition in the majors market. This book is geared towards visual learners and aids readers in applying the material they learn to themselves and their future clients and patients. Key Topics:What Is Nutrition?, Tools for Healthy Eating, Digestion, Absorption, and Transport , Carbohydrates: Sugars, Starches, and Fiber, Fats, Oils, and Other Lipids, Proteins and Amino Acids, Alcohol, Metabolism, Fat-soluble Vitamins, Water Soluble Vitamins, Water, Major Minerals, Trace Minerals, Energy Balance and Body Composition, Weight Management, Nutrition and Fitness, Life Cycle Nutrition: Pregnancy through Infancy, Life Cycle Nutrition: Toddlers through Adolescence, Life Cycle Nutrition: Adults through the Later Years, Food Safety and Technology, Hunger at Home and Abroad Market:Intended for those interested in learning the basics of introductory nutrition.
Author Biography
Joan Salge Blake, MS, RD, LDN, Boston University
Joan Salge Blake is a Clinical Associate Professor and Dietetics Internship Director at Boston University's Sargent College of Health and Rehabilitation Sciences. She teaches both graduate and undergraduate nutrition courses. She received her MS from Boston University.
Joan is a member of the American Dietetic Association and the Massachusetts Dietetic Association (MDA). She has been a presenter and Presiding Officer at both the ADA Annual Meeting and MDA Annual Convention and is a guest lecturer at the Boston University Goldman School of Dental Medicine. She was previously named MDA's "Young Dietitian Of The Year" and is the past Director of Education and Nominating Committee Chairperson for the MDA. She is currently serves on the MDA board. Joan has received the Whitney Powers Excellence in Teaching Award from Boston University and the Annie Galbraith Outstanding Dietitian award from the Massachusetts Dietetic Association.
In addition to teaching and writing, Joan has a private practice specializing in weight management and lifestyle changes. Joan is often asked to translate complex nutritional issues in popular terms, as a member of the ABC News Medical Expert Network and a contributor of articles to a variety of magazines.
Kathy D. Munoz, EdD, RD, Humboldt State University
Kathy D. Munoz is a professor of nutrition and Chair of the Department of Kinesiology and Recreation Administration at Humboldt State University. She teaches graduate and undergraduate nutrition courses, and graduate level research methods and statistics. She received her EdD from the University of Southern California in curriculum design and a MS in Foods and Nutrition with a minor in exercise physiology from Oregon State University. Kathy has published research in the areas of nutrition and exercise, weight management, and body composition.
Kathy is a member of the American Dietetic Association and the California Dietetic Association. She has published articles in Research Quarterly for Exercise and Sport, Children's Health Care, Journal of Nutrition Education,and theInternational Journal of Sport Nutrition and Exercise, and has co-authored a series of curriculum guides for elementary teachers. Kathy has also been recognized for her research in, and development of, asynchronous learning.
Stella L. Volpe, PhD, RD, LDN, University of Pennsylvania
Stella Volpe is the Miriam Stirl Term Associate Professor of Nutrition in the School of Nursing at University of Pennsylvania. She is a nutritionist and exercise physiologist whose research is on obesity prevention, body composition, bone mineral density, and mineral metabolism and exercise. Stella's current research revolves around the effects of the environment on obesity. Stella teaches introductory courses on nutrition and on nutrition, exercise, and fitness. She received her PhD from Virginia Tech.
Stella is a Core Member of the Biobehavioral Research Center, an Associated Faculty Member of the Center for Health Disparities in the School of Nursing, an Associate Scholar in the Center for Clinical Epidemiology and Biostatistics, an Associate Faculty Member in the Graduate Program in Public Health, a co-Director in Excellence in Partnerships for Community Outreach, Research on Health Disparities, and Training (EXPORT), and a Member of the Penn Diabetes Center, all in the School of Medicine.

Among her professional memberships, Stella is a Fellow of the American College of Sports Medicine and a member of the American College of Nutrition, the American Society for Nutritional Sciences, the American Society of Clinical Nutrition, the American Dietetic Association, Community-Campus Partnerships for Health, and Sigma Xi.
Table of Contents
What Is Nutrition?
Tools for Healthy Eating
Digestion, Absorption, and Transport
Carbohydrates: Sugars, Starches, and Fiber
Fats, Oils, and Other Lipids
Proteins and Amino Acids
Alcohol
Metabolism
Fat-soluble Vitamins
Water-soluble Vitamins
Water
Major Minerals
Trace Minerals
Energy Balance and Body Composition
Weight Management
Nutrition and Fitness
Life Cycle Nutrition: Pregnancy through Infancy
Life Cycle Nutrition: Toddlers through Adolescence
Life Cycle Nutrition: Adults through the Later Years
Food Safety and Technology
Hunger at Home and Abroad