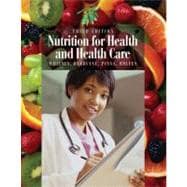 Nutrition for Health and Health Care (with InfoTrac 1-Semester Printed Access Card)
by
Whitney,Ellie
Questions About This Book?
What version or edition is this?
This is the 3rd edition with a publication date of 7/25/2006.
What is included with this book?
The New copy of this book will include any supplemental materials advertised. Please check the title of the book to determine if it should include any CDs, lab manuals, study guides, etc.
The Used copy of this book is not guaranteed to include any supplemental materials. Typically, only the book itself is included.
Summary
NUTRITION FOR HEALTH AND HEALTH CARE, Third Edition is designed for the clinical nutrition and/or diet therapy nutrition course, taught at both two- and four-year colleges and universities, in departments of Nursing, Nutrition, and Dietetics. It covers both the basic "normal" nutrition concepts, including metabolism, vitamins, minerals, carbohydrates, and life cycle, followed by chapters on "clinical" topics organized by organ systems, linking nutrition to different disease states, such as diabetes, renal disease, and liver disorders. The text is full of supportive pedagogy, from review sections to case studies and quantitative activities. There are also new review questions to help students prepare for the NCLEX exam. Plus, beyond the text, there are a number of supplementary materials, including the Instructor Resource CD-ROM with PowerPoint lecture slides and text images, Diet Analysis+ 8.0, and Web support for online teaching.
Table of Contents
Preface
xxi

| | |
| --- | --- |
| | Overview of Nutrition and Health |

1
(37)
2
(4)
6
(2)
8
(4)

| | |
| --- | --- |
| | Dietary Reference Intakes |

8
(2)

| | |
| --- | --- |
| | Acceptable Macronutrient Distribution Ranges (AMDR) |

10
(1)
10
(2)

| | |
| --- | --- |
| | Dietary Guidelines and Food Guides |

12
(12)
13
(1)

| | |
| --- | --- |
| | Dietary Guidelines for Americans |

14
(1)
14
(2)
16
(7)
23
(1)
24
(6)
30
(5)

| | |
| --- | --- |
| | Nutrition in Practice Finding the Truth About Nutrition |

35
(3)
38
(22)

| | |
| --- | --- |
| | Anatomy of the Digestive Tract |

39
(6)
39
(3)

| | |
| --- | --- |
| | The Involuntary Muscles and the Glands |

42
(3)
45
(3)
46
(1)
46
(1)

| | |
| --- | --- |
| | Digestion in the Small and Large Intestines |

46
(2)
48
(2)
48
(1)
48
(2)
50
(2)
50
(1)
50
(1)

| | |
| --- | --- |
| | Transport of Lipids: Lipoproteins |

51
(1)
52
(4)

| | |
| --- | --- |
| | Nutrition in Practice Hunger and Community Nutrition |

56
(4)
60
(24)

| | |
| --- | --- |
| | The Chemist's View of Carbohydrates |

61
(3)
61
(1)
62
(1)
63
(1)

| | |
| --- | --- |
| | Health Effects of Sugars and Alternative Sweeteners |

64
(9)
65
(4)

| | |
| --- | --- |
| | Alternative Sweeteners: Sugar Alcohols |

69
(1)

| | |
| --- | --- |
| | Alternative Sweeteners: Artificial Sweeteners |

70
(3)

| | |
| --- | --- |
| | Health Effects of Starch and Dietary Fibers |

73
(9)

| | |
| --- | --- |
| | Carbohydrates: Disease Prevention and Recommendations |

73
(3)

| | |
| --- | --- |
| | Carbohydrates: Food Sources |

76
(2)

| | |
| --- | --- |
| | Carbohydrates: Food Labels and Health Claims |

78
(4)

| | |
| --- | --- |
| | Nutrition in Practice Nutrition and Dental Health |

82
(2)
84
(26)
85
(1)

| | |
| --- | --- |
| | The Chemist's View of Lipids |

86
(5)
86
(1)
86
(3)
89
(1)
90
(1)

| | |
| --- | --- |
| | Health Effects and Recommended Intakes of Fats |

91
(4)
91
(3)
94
(1)
95
(9)

| | |
| --- | --- |
| | Finding the Fats in Foods |

95
(2)

| | |
| --- | --- |
| | Cutting Fat Intake and Choosing Unsaturated Fats |

97
(7)

| | |
| --- | --- |
| | Nutrition in Practice Figuring Out Fats |

104
(6)
110
(20)

| | |
| --- | --- |
| | The Chemist's View of Proteins |

111
(2)

| | |
| --- | --- |
| | The Structure of Proteins |

111
(1)
112
(1)
113
(4)
117
(5)

| | |
| --- | --- |
| | Protein-Energy Malnutrition |

117
(2)
119
(1)
120
(1)

| | |
| --- | --- |
| | Protein Recommendations and Nitrogen Balance |

121
(1)
122
(4)
122
(1)
123
(3)

| | |
| --- | --- |
| | Nutrition in Practice Vegetarian Diets |

126
(4)

| | |
| --- | --- |
| | Energy Balance and Body Composition |

130
(26)
131
(3)

| | |
| --- | --- |
| | The Economics of Feasting |

131
(1)
132
(2)
134
(5)
134
(1)
135
(1)

| | |
| --- | --- |
| | Estimating Energy Requirements |

136
(3)

| | |
| --- | --- |
| | Body Weight and Body Composition |

139
(4)

| | |
| --- | --- |
| | Defining Healthy Body Weight |

139
(2)
141
(2)

| | |
| --- | --- |
| | How Much Body Fat Is Too Much? |

143
(1)

| | |
| --- | --- |
| | Risks of Overweight and Obesity |

143
(6)

| | |
| --- | --- |
| | Nutrition in Practice Fad Diets |

149
(7)

| | |
| --- | --- |
| | Weight Management: Overweight and Underweight |

156
(30)
157
(4)

| | |
| --- | --- |
| | Obesity Treatment: Who Should Lose? |

161
(1)

| | |
| --- | --- |
| | Inappropriate Obesity Treatments |

162
(2)

| | |
| --- | --- |
| | Over-the-Counter Weight-Loss Supplements and Drugs |

162
(1)

| | |
| --- | --- |
| | Herbal Products and Dietary Supplements |

162
(2)
164
(1)

| | |
| --- | --- |
| | Aggressive Treatments of Obesity |

164
(1)
164
(1)
165
(1)

| | |
| --- | --- |
| | Reasonable Strategies for Weight Loss |

165
(7)
166
(3)
169
(1)
170
(2)
172
(2)

| | |
| --- | --- |
| | Strategies for Weight Gain |

174
(5)

| | |
| --- | --- |
| | Nutrition in Practice Eating Disorders |

179
(7)
186
(37)

| | |
| --- | --- |
| | The Vitamins---An Overview |

187
(1)
188
(11)

| | |
| --- | --- |
| | Vitamin A and Beta-Carotene |

188
(5)
193
(2)
195
(2)
197
(2)

| | |
| --- | --- |
| | The Water-Soluble Vitamins |

199
(17)
199
(2)
201
(1)
201
(1)
202
(1)

| | |
| --- | --- |
| | Pantothenic Acid and Biotin |

202
(1)
203
(1)
204
(2)
206
(1)
207
(1)
207
(9)

| | |
| --- | --- |
| | Nutrition in Practice Phytochemicals and Functional Foods |

216
(7)
223
(33)
224
(3)
224
(2)

| | |
| --- | --- |
| | Fluid and Electrolyte Balance |

226
(1)
227
(1)
227
(10)
228
(2)
230
(1)
230
(1)
231
(4)
235
(1)
236
(1)
236
(1)
237
(15)
237
(5)
242
(3)
245
(1)
245
(1)
246
(1)
246
(1)
247
(1)
247
(1)
248
(4)

| | |
| --- | --- |
| | Nutrition in Practice Vitamin and Mineral Supplements |

252
(4)

| | |
| --- | --- |
| | Nutrition through the Life Span: Pregnancy and Infancy |

256
(41)

| | |
| --- | --- |
| | Pregnancy: The Impact of Nutrition on the Future |

257
(18)

| | |
| --- | --- |
| | Nutrition Prior to Pregnancy |

257
(1)
257
(1)
258
(1)
259
(2)

| | |
| --- | --- |
| | Nutrient Needs during Pregnancy |

261
(6)
267
(1)
267
(1)
268
(1)

| | |
| --- | --- |
| | Common Nutrition-Related Concerns of Pregnancy |

269
(2)
271
(1)
272
(3)
275
(1)
275
(3)

| | |
| --- | --- |
| | Nutrition during Lactation |

276
(1)

| | |
| --- | --- |
| | Contraindications to Breastfeeding |

277
(1)
278
(16)

| | |
| --- | --- |
| | Nutrient Needs during Infancy |

279
(1)
280
(3)
283
(1)

| | |
| --- | --- |
| | The Transition to Cow's Milk |

284
(1)
285
(2)
287
(1)
288
(6)

| | |
| --- | --- |
| | Nutrition in Practice Encouraging Successful Breastfeeding |

294
(3)

| | |
| --- | --- |
| | Nutrition through the Life Span: Childhood and Adolescence |

297
(31)

| | |
| --- | --- |
| | Early and Middle Childhood |

298
(10)

| | |
| --- | --- |
| | Energy and Nutrient Needs |

298
(3)
301
(2)

| | |
| --- | --- |
| | Lead Poisoning in Children |

303
(1)
304
(3)
307
(1)

| | |
| --- | --- |
| | Food Choices and Eating Habits of Children |

308
(5)
308
(3)
311
(2)
313
(10)

| | |
| --- | --- |
| | Growth and Development during Adolescence |

313
(1)

| | |
| --- | --- |
| | Energy and Nutrient Needs |

313
(2)

| | |
| --- | --- |
| | Food Choices and Health Habits |

315
(1)

| | |
| --- | --- |
| | Problems Adolescents Face |

316
(7)

| | |
| --- | --- |
| | Nutrition in Practice Childhood Obesity and the Early Development of Chronic Diseases |

323
(5)

| | |
| --- | --- |
| | Nutrition through the Life Span: Later Adulthood |

328
(25)
329
(3)

| | |
| --- | --- |
| | Slowing the Aging Process |

330
(2)

| | |
| --- | --- |
| | Nutrition and Disease Prevention |

332
(1)

| | |
| --- | --- |
| | Nutrition-Related Concerns during Late Adulthood |

332
(4)

| | |
| --- | --- |
| | Cataracts and Macular Degeneration |

332
(1)
333
(1)
334
(2)

| | |
| --- | --- |
| | Energy and Nutrient Needs during Late Adulthood |

336
(5)

| | |
| --- | --- |
| | Energy and Energy Nutrients |

336
(2)
338
(1)
338
(1)

| | |
| --- | --- |
| | Nutrient Supplements for Older Adults |

339
(1)

| | |
| --- | --- |
| | The Effects of Drugs on Nutrients |

339
(2)

| | |
| --- | --- |
| | Food Choices and Eating Habits of Older Adults |

341
(8)

| | |
| --- | --- |
| | Nutrition in Practice Disease Prevention |

349
(4)

| | |
| --- | --- |
| | Nutrition Care and Assessment |

353
(24)
354
(4)

| | |
| --- | --- |
| | How Illness Affects Nutrition Status |

354
(1)

| | |
| --- | --- |
| | Responsibility for Nutrition Care |

355
(1)

| | |
| --- | --- |
| | Identifying Risk for Malnutrition |

356
(1)

| | |
| --- | --- |
| | The Nutrition Care Process |

357
(1)
358
(15)
359
(1)

| | |
| --- | --- |
| | Dietary Assessment Methods |

359
(3)
362
(4)
366
(2)
368
(1)

| | |
| --- | --- |
| | Integrating Assessment Data |

369
(4)

| | |
| --- | --- |
| | Nutrition in Practice Nutritional Genomics |

373
(4)

| | |
| --- | --- |
| | Nutrition Intervention and Diet-Drug Interactions |

377
(21)

| | |
| --- | --- |
| | Implementing Nutrition Care |

378
(3)
378
(1)

| | |
| --- | --- |
| | Approaches to Nutrition Care |

378
(3)
381
(5)
381
(1)
381
(3)

| | |
| --- | --- |
| | Alternative Feeding Routes |

384
(1)
385
(1)
386
(9)

| | |
| --- | --- |
| | Drug Effects on Food Intake |

387
(1)

| | |
| --- | --- |
| | Drug Effects on Nutrient Absorption |

388
(1)

| | |
| --- | --- |
| | Dietary Effects on Drug Absorption |

389
(1)

| | |
| --- | --- |
| | Drug Effects on Nutrient Metabolism |

389
(1)

| | |
| --- | --- |
| | Dietary Effects on Drug Metabolism |

390
(1)

| | |
| --- | --- |
| | Drug Effects on Nutrient Excretion |

391
(1)

| | |
| --- | --- |
| | Dietary Effects on Drug Excretion |

391
(1)

| | |
| --- | --- |
| | Diet-Drug Interactions and Toxicity |

391
(4)

| | |
| --- | --- |
| | Nutrition in Practice Food and Foodservice |

395
(3)

| | |
| --- | --- |
| | Enteral and Parenteral Nutrition Support |

398
(29)

| | |
| --- | --- |
| | Enteral Nutrition Support |

399
(12)
399
(2)

| | |
| --- | --- |
| | Enteral Nutrition in Medical Care |

401
(3)

| | |
| --- | --- |
| | Administration of Tube Feedings |

404
(5)

| | |
| --- | --- |
| | Delivering Medications through Feeding Tubes |

409
(1)

| | |
| --- | --- |
| | Complications of Tube Feeding |

409
(2)

| | |
| --- | --- |
| | Parenteral Nutrition Support |

411
(7)

| | |
| --- | --- |
| | Indications for Parenteral Support |

411
(1)
412
(1)
412
(2)

| | |
| --- | --- |
| | Administering Parenteral Nutrition |

414
(2)

| | |
| --- | --- |
| | Managing Metabolic Complications |

416
(2)

| | |
| --- | --- |
| | Nutrition Support at Home |

418
(6)

| | |
| --- | --- |
| | Candidates for Home Nutrition Support |

418
(1)

| | |
| --- | --- |
| | Planning Home Nutrition Care |

418
(1)
419
(5)

| | |
| --- | --- |
| | Nutrition in Practice Ethical Issues in Nutrition Care |

424
(3)

| | |
| --- | --- |
| | Nutrition in Metabolic and Respiratory Stress |

427
(19)

| | |
| --- | --- |
| | The Body's Responses to Stress and Injury |

428
(3)

| | |
| --- | --- |
| | Hormonal Responses to Stress |

428
(1)

| | |
| --- | --- |
| | The Inflammatory Response |

429
(2)

| | |
| --- | --- |
| | Nutrition Treatment of Acute Stress |

431
(4)

| | |
| --- | --- |
| | Determining Nutritional Requirements |

431
(3)

| | |
| --- | --- |
| | Approaches to Nutrition Care |

434
(1)

| | |
| --- | --- |
| | Nutrition and Respiratory Stress |

435
(8)

| | |
| --- | --- |
| | Chronic Obstructive Pulmonary Disease |

435
(3)
438
(5)

| | |
| --- | --- |
| | Nutrition in Practice Multiple Organ Failure |

443
(3)

| | |
| --- | --- |
| | Nutrition and Upper Gastrointestinal Disorders |

446
(23)

| | |
| --- | --- |
| | Conditions Affecting the Mouth and Esophagus |

447
(6)
447
(1)
447
(3)

| | |
| --- | --- |
| | Gastroesophageal Reflux Disease |

450
(3)

| | |
| --- | --- |
| | Conditions Affecting the Stomach |

453
(4)
453
(1)
454
(1)
455
(1)
455
(2)
457
(8)
457
(3)
460
(5)

| | |
| --- | --- |
| | Nutrition in Practice Inborn Errors of Metabolism |

465
(4)

| | |
| --- | --- |
| | Nutrition and Lower Gastrointestinal Disorders |

469
(26)

| | |
| --- | --- |
| | Common Problems of the Lower Intestine |

470
(6)
470
(1)
471
(1)
472
(1)
472
(1)
473
(3)
476
(9)
476
(1)
477
(1)
478
(1)
478
(1)

| | |
| --- | --- |
| | Inflammatory Bowel Diseases |

479
(3)
482
(3)

| | |
| --- | --- |
| | Disorders of the Large Intestine |

485
(7)
485
(1)

| | |
| --- | --- |
| | Diverticular Disease of the Colon |

486
(1)
487
(5)

| | |
| --- | --- |
| | Nutrition in Practice Mental Health and Nutrition Status |

492
(3)

| | |
| --- | --- |
| | Nutrition and Liver Diseases |

495
(18)

| | |
| --- | --- |
| | Fatty Liver and Hepatitis |

496
(2)
496
(1)
497
(1)
498
(7)

| | |
| --- | --- |
| | Consequences of Cirrhosis |

499
(2)
501
(1)

| | |
| --- | --- |
| | Medical Nutrition Therapy for Cirrhosis |

502
(3)
505
(5)

| | |
| --- | --- |
| | Nutrition in Practice Alcohol in Health and Disease |

510
(3)

| | |
| --- | --- |
| | Nutrition and Diabetes Mellitus |

513
(25)

| | |
| --- | --- |
| | Overview of Diabetes Mellitus |

514
(4)
514
(1)
514
(1)
515
(1)

| | |
| --- | --- |
| | Acute Complications of Diabetes |

516
(1)

| | |
| --- | --- |
| | Chronic Complications of Diabetes |

517
(1)

| | |
| --- | --- |
| | Treatment of Diabetes Mellitus |

518
(11)
518
(1)

| | |
| --- | --- |
| | Evaluating Diabetes Treatment |

519
(1)
520
(1)

| | |
| --- | --- |
| | Medical Nutrition Therapy: Nutrient Recommendations |

520
(2)

| | |
| --- | --- |
| | Medical Nutrition Therapy: Meal-Planning Strategies |

522
(3)
525
(2)
527
(1)

| | |
| --- | --- |
| | Physical Activity and Diabetes Management |

527
(2)
529
(1)

| | |
| --- | --- |
| | Diabetes Management in Pregnancy |

529
(6)

| | |
| --- | --- |
| | Pregnancy in Type 1 or Type 2 Diabetes |

530
(1)
530
(5)

| | |
| --- | --- |
| | Nutrition in Practice Metabolic Syndrome |

535
(3)

| | |
| --- | --- |
| | Nutrition and Disorders of the Heart and Blood Vessels |

538
(27)
539
(2)

| | |
| --- | --- |
| | Consequences of Atherosclerosis |

540
(1)

| | |
| --- | --- |
| | Causes of Atherosclerosis |

540
(1)

| | |
| --- | --- |
| | Coronary Heart Disease (CHD) |

541
(9)

| | |
| --- | --- |
| | Evaluating Risk for Coronary Heart Disease |

541
(3)

| | |
| --- | --- |
| | Therapeutic Lifestyle Changes for Lowering CHD Risk |

544
(4)

| | |
| --- | --- |
| | Lifestyle Changes for Hypertriglyceridemia |

548
(1)

| | |
| --- | --- |
| | Vitamin Supplementation and CHD Risk |

548
(1)

| | |
| --- | --- |
| | Drug Therapies for CHD Prevention |

548
(2)

| | |
| --- | --- |
| | Treatment for Heart Attack |

550
(1)
550
(5)

| | |
| --- | --- |
| | Factors That Influence Blood Pressure |

550
(1)

| | |
| --- | --- |
| | Contributing Factors for Hypertension |

551
(1)

| | |
| --- | --- |
| | Treatment of Hypertension |

552
(3)
555
(1)

| | |
| --- | --- |
| | Consequences of Congestive Heart Failure |

555
(1)

| | |
| --- | --- |
| | Medical Management of Congestive Heart Failure |

556
(1)
556
(5)
557
(1)
557
(4)

| | |
| --- | --- |
| | Nutrition in Practice Helping People with Feeding Disabilities |

561
(4)

| | |
| --- | --- |
| | Nutrition and Renal Diseases |

565
(25)
566
(2)

| | |
| --- | --- |
| | Consequences of the Nephrotic Syndrome |

567
(1)

| | |
| --- | --- |
| | Treatment of the Nephrotic Syndrome |

567
(1)
568
(4)

| | |
| --- | --- |
| | Causes of Acute Renal Failure |

568
(2)

| | |
| --- | --- |
| | Consequences of Acute Renal Failure |

570
(1)

| | |
| --- | --- |
| | Treatment of Acute Renal Failure |

571
(1)
572
(8)

| | |
| --- | --- |
| | Consequences of Chronic Renal Failure |

573
(1)

| | |
| --- | --- |
| | Treatment of Chronic Renal Failure |

574
(3)
577
(3)
580
(7)

| | |
| --- | --- |
| | Formation of Kidney Stones |

580
(2)

| | |
| --- | --- |
| | Consequences of Kidney Stones |

582
(1)

| | |
| --- | --- |
| | Prevention and Treatment of Kidney Stones |

582
(5)

| | |
| --- | --- |
| | Nutrition in Practice Dialysis |

587
(3)

| | |
| --- | --- |
| | Nutrition, Cancer, and HIV Infection |

590
591
(9)
591
(1)

| | |
| --- | --- |
| | Nutrition and Cancer Risk |

591
(3)
594
(2)
596
(2)

| | |
| --- | --- |
| | Medical Nutrition Therapy for Cancer |

598
(2)
600
(11)

| | |
| --- | --- |
| | Consequences of HIV Infection |

602
(2)

| | |
| --- | --- |
| | Treatments for HIV Infection |

604
(1)

| | |
| --- | --- |
| | Medical Nutrition Therapy for HIV Infection |

605
(6)

| | |
| --- | --- |
| | Nutrition in Practice Alternative Therapies |

611

| | |
| --- | --- |
| | APPENDIX A Table of Food Composition |

3

| | |
| --- | --- |
| | APPENDIX B WHO: Nutrition Recommendations Canada: Guidelines and Meal Planning |

1
(1)

| | |
| --- | --- |
| | Nutrition Recommendations from WHO |

| | |
| --- | --- |
| | Canada's Food Guide to Healthy Eating |

| | |
| --- | --- |
| | Canada's Meal Planning for Healthy Eating |

| | |
| --- | --- |
| | APPENDIX C United States: Exchange Lists |

| | |
| --- | --- |
| | The Exchange Groups and Lists |

| | |
| --- | --- |
| | APPENDIX D Physical Activity and Energy Requirements |

1
(1)

| | |
| --- | --- |
| | Calculating Your Physical Activity Level |

| | |
| --- | --- |
| | Guesstimating Your Physical Activity Level |

| | |
| --- | --- |
| | Using a Shortcut to Estimate Total Energy Expenditure |

| | |
| --- | --- |
| | APPENDIX E Nutrition Assessment: Supplemental Information |

1
(1)

| | |
| --- | --- |
| | Weight Gain during Pregnancy |

| | |
| --- | --- |
| | Measures of Body Fat and Lean Tissue |

| | |
| --- | --- |
| | APPENDIX F Aids to Calculation |

1
(1)

| | |
| --- | --- |
| | APPENDIX G Enteral Formulas |

1
(1)

| | |
| --- | --- |
| | APPENDIX H Answers to Self Check Questions |

Glossary
1