Note: Supplemental materials are not guaranteed with Rental or Used book purchases.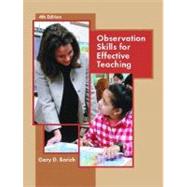 Observation Skills for Effective Teaching
ISBN13:
9780130618979
by
Borich, Gary D.
Related Products
Summary
For courses in student teaching or general methods. The author presents observation skills according to eight areas related to positive outcomes in learners which include: learning climate, classroom management, lesson clarity, instructional variety, task orientation, student engagement, student success, and higher thought processes. Observation skills are combined with patterns of effective teaching practice for each of the eight areas to help students observe what happens in the classroom and use what is learned to improve their own teaching. This book can be used as a companion volume to Borich's Effective Teaching Methods, fourth edition, as a stand-alone text for an observation course taken before or during a methods course, and as a resource during student teaching.
Table of Contents
1
(8)

| | |
| --- | --- |
| | Goal 1: To Achieve Empathy |

4
(1)

| | |
| --- | --- |
| | Goal 2: To Establish Cooperative Relationships |

4
(1)

| | |
| --- | --- |
| | Goal 3: To Become Realistic |

5
(1)

| | |
| --- | --- |
| | Goal 4: To Establish Direction |

5
(1)

| | |
| --- | --- |
| | Goal 5: To Attain Confidence |

5
(1)

| | |
| --- | --- |
| | Goal 6: To Express Enthusiasm |

6
(1)

| | |
| --- | --- |
| | Goal 7: To Become Flexible |

6
(1)

| | |
| --- | --- |
| | Goal 8: To Become Self-Reliant |

6
(1)
7
(1)
7
(2)
9
(14)

| | |
| --- | --- |
| | What Real Classrooms Are Like |

11
(2)
11
(1)
11
(1)
12
(1)
12
(1)

| | |
| --- | --- |
| | Becoming Aware of Classroom Behavior: Lenses for Self-Improvement |

13
(2)

| | |
| --- | --- |
| | To Become Aware of Your Own Behavior |

14
(1)

| | |
| --- | --- |
| | To Discover Alternative Instructional Practices and New Solutions to Instructional Problems |

14
(1)

| | |
| --- | --- |
| | To Determine Your Personal Teaching Strengths |

15
(1)

| | |
| --- | --- |
| | To Focus Your Reflections on Important Areas of Teacher Effectiveness |

15
(1)

| | |
| --- | --- |
| | Eight Areas, or Lenses, to Focus Classroom Observation |

15
(2)

| | |
| --- | --- |
| | Area 1: Consider the Learning Climate |

15
(1)

| | |
| --- | --- |
| | Area 2: Focus on Classroom Management |

16
(1)

| | |
| --- | --- |
| | Area 3: Look for Lesson Clarity |

16
(1)
16
(1)

| | |
| --- | --- |
| | Area 5: Observe Task Orientation |

16
(1)

| | |
| --- | --- |
| | Area 6: Examine Engagement |

16
(1)

| | |
| --- | --- |
| | Area 7: Measure Student Success |

16
(1)

| | |
| --- | --- |
| | Area 8: Look for Higher Thought Processes and Performance Outcomes |

16
(1)

| | |
| --- | --- |
| | Challenges to Observing in Classrooms |

17
(1)

| | |
| --- | --- |
| | Sources of Influence on Observations from Outside Ourselves |

18
(2)

| | |
| --- | --- |
| | Student Ability and Achievement |

18
(1)

| | |
| --- | --- |
| | Classroom Characteristics |

18
(1)

| | |
| --- | --- |
| | Participatory and Cooperative Student Behavior |

19
(1)

| | |
| --- | --- |
| | Experience and Education of the Teacher |

19
(1)

| | |
| --- | --- |
| | School, Grade, and Subject Matter |

19
(1)

| | |
| --- | --- |
| | Individual and Cultural Diversity |

19
(1)

| | |
| --- | --- |
| | Sources of Influence on Observations from Within Ourselves |

20
(1)

| | |
| --- | --- |
| | Your Own Experiences in School |

20
(1)

| | |
| --- | --- |
| | Recent Influences and Training |

20
(1)

| | |
| --- | --- |
| | Who May Be Watching; Who May Find Out |

21
(1)

| | |
| --- | --- |
| | Choosing a Useful Lens: The Need to Structure Observations |

21
(1)
21
(2)
23
(18)
24
(2)

| | |
| --- | --- |
| | Reactions from Observing Ms. Koker's Classroom |

26
(1)

| | |
| --- | --- |
| | Observing the Learning Climate |

27
(1)

| | |
| --- | --- |
| | Observing Classroom Management |

27
(1)
28
(1)

| | |
| --- | --- |
| | Observing Instructional Variety |

28
(1)

| | |
| --- | --- |
| | Observing the Teacher's Task Orientation |

29
(1)

| | |
| --- | --- |
| | Observing Students' Engagement in the Learning Process |

29
(1)

| | |
| --- | --- |
| | Observing Student Success |

30
(1)

| | |
| --- | --- |
| | Observing Higher Thought Processes and Performance Outcomes |

31
(1)

| | |
| --- | --- |
| | Preparing to Observe in Real Classrooms |

31
(1)

| | |
| --- | --- |
| | Activities Before the Observation |

32
(2)
32
(1)
32
(1)

| | |
| --- | --- |
| | Identifying Your Goals for the Observation |

33
(1)

| | |
| --- | --- |
| | Finding Out the Day's Lesson |

33
(1)

| | |
| --- | --- |
| | Finding Out About the Students |

33
(1)
33
(1)
33
(1)

| | |
| --- | --- |
| | Activities During the Observation |

34
(1)

| | |
| --- | --- |
| | Activities After the Observation |

34
(1)
35
(6)

| | |
| --- | --- |
| | ``Seeing'' Beyond Personal Experiences and Expectations: Learning to Observe Systematically |

41
(22)

| | |
| --- | --- |
| | Why Observe Systematically? |

42
(1)

| | |
| --- | --- |
| | Methods for Observing and Recording |

43
(15)

| | |
| --- | --- |
| | Method 1: Narrative Reports |

44
(6)
50
(4)

| | |
| --- | --- |
| | Method 3: Classroom Coding Systems |

54
(4)
58
(5)

| | |
| --- | --- |
| | Considering the Learning Climate |

63
(30)

| | |
| --- | --- |
| | Dimensions of Learning Climate |

65
(1)
66
(6)

| | |
| --- | --- |
| | A Teacher Concerns Instrument |

68
(1)

| | |
| --- | --- |
| | Observing Teacher Concerns in the Classroom |

69
(3)
72
(3)

| | |
| --- | --- |
| | Dimensions of Warmth and Control |

73
(1)

| | |
| --- | --- |
| | Behavioral Signs of Warmth and Control |

74
(1)
75
(5)

| | |
| --- | --- |
| | Dimensions of Social Environment |

76
(2)

| | |
| --- | --- |
| | Observing the Social Environment of the Classroom |

78
(1)

| | |
| --- | --- |
| | Cultural Diversity and the Learning Climate |

79
(1)
80
(1)
80
(13)

| | |
| --- | --- |
| | Focusing on Classroom Management |

93
(28)

| | |
| --- | --- |
| | Dimensions of Classroom Management |

96
(1)

| | |
| --- | --- |
| | Practice Observing Classroom Management: A Dialogue |

96
(2)

| | |
| --- | --- |
| | Reactions to the Dialogue |

98
(15)

| | |
| --- | --- |
| | Arranging the Classroom to Meet Instructional Goals |

98
(2)

| | |
| --- | --- |
| | Observing the Classroom Arrangement |

100
(1)

| | |
| --- | --- |
| | Preestablishing and Communicating Classroom Rules |

101
(2)

| | |
| --- | --- |
| | Observing Classroom Rules |

103
(1)

| | |
| --- | --- |
| | Developing and Communicating Instructional Routines |

103
(2)

| | |
| --- | --- |
| | Observing Instructional Routines |

105
(1)

| | |
| --- | --- |
| | Establishing a System of Incentives and Consequences |

106
(2)

| | |
| --- | --- |
| | Observing Incentives and Consequences |

108
(1)

| | |
| --- | --- |
| | Using Low-Profile Classroom Management |

109
(2)

| | |
| --- | --- |
| | Observing Low-Profile Classroom Management |

111
(1)

| | |
| --- | --- |
| | Cultural Diversity and Classroom Management |

112
(1)
113
(1)
113
(8)

| | |
| --- | --- |
| | Looking for Lesson Clarity |

121
(28)

| | |
| --- | --- |
| | Dimensions of Lesson Clarity |

122
(13)

| | |
| --- | --- |
| | Informing Learners of Lesson Objectives |

123
(1)

| | |
| --- | --- |
| | Observing Lesson Objectives |

124
(1)

| | |
| --- | --- |
| | Providing Advance Organizers |

124
(1)

| | |
| --- | --- |
| | Observing Advance Organizers |

125
(1)

| | |
| --- | --- |
| | Connecting Task-Relevant Prior Knowledge to New Topics |

126
(1)

| | |
| --- | --- |
| | Observing Connections Between Task-Relevant Prior Knowledge and New Topics |

127
(1)

| | |
| --- | --- |
| | Giving Directives Clearly |

127
(1)

| | |
| --- | --- |
| | Observing Clarity of Directives |

128
(1)

| | |
| --- | --- |
| | Knowing Students' Previous Performance Levels and Teaching to Them |

129
(2)

| | |
| --- | --- |
| | Observing Level of Instruction |

131
(1)

| | |
| --- | --- |
| | Using Examples, Illustrations, and Demonstrations |

132
(1)

| | |
| --- | --- |
| | Observing Use of Examples, Illustrations, and Demonstrations |

133
(1)

| | |
| --- | --- |
| | Reviewing and Summarizing |

133
(1)

| | |
| --- | --- |
| | Observing Review and Summary Techniques |

134
(1)

| | |
| --- | --- |
| | Cultural Diversity and Lesson Clarity |

134
(1)

| | |
| --- | --- |
| | Practice Observing Lesson Clarity: A Dialogue |

135
(3)

| | |
| --- | --- |
| | Reactions to the Dialogue |

138
(3)
141
(8)

| | |
| --- | --- |
| | Verifying Instructional Variety |

149
(32)

| | |
| --- | --- |
| | Dimensions of Instructional Variety |

150
(1)

| | |
| --- | --- |
| | Practice Observing Instructional Variety: A Dialogue |

150
(3)

| | |
| --- | --- |
| | Reactions to the Dialogue |

153
(16)

| | |
| --- | --- |
| | Using Attention-Gaining Devices |

153
(1)

| | |
| --- | --- |
| | Observing Attention-Gaining Devices |

154
(1)

| | |
| --- | --- |
| | Showing Enthusiasm and Animation |

154
(1)

| | |
| --- | --- |
| | Observing Enthusiasm and Animation |

155
(1)

| | |
| --- | --- |
| | Variation in Instructional Activities and Media |

156
(1)

| | |
| --- | --- |
| | Observing the Variation in Instructional Activities and Media |

156
(4)

| | |
| --- | --- |
| | Mixing Rewards and Reinforcers |

160
(1)

| | |
| --- | --- |
| | Observing the Use of Rewards and Reinforcers |

161
(1)

| | |
| --- | --- |
| | Varying Types of Questions and Probes |

161
(2)

| | |
| --- | --- |
| | Observing Types of Questions and Probes |

163
(2)
165
(2)

| | |
| --- | --- |
| | Observing the Use of Student Ideas |

167
(1)

| | |
| --- | --- |
| | Cultural Diversity and Instructional Variety |

167
(2)
169
(1)
169
(2)

| | |
| --- | --- |
| | ERIC Digests and Internet Resources for Enhancing Instructional Variety |

171
(10)

| | |
| --- | --- |
| | Observing Task Orientation |

181
(28)

| | |
| --- | --- |
| | Dimensions of Task Orientation |

182
(1)

| | |
| --- | --- |
| | Practice Observing Task Orientation: A Dialogue |

182
(3)

| | |
| --- | --- |
| | Reactions to the Dialogue |

185
(16)

| | |
| --- | --- |
| | Preparing Unit and Lesson Plans That Reflect the Curriculum |

185
(1)

| | |
| --- | --- |
| | Observing How Unit and Lesson Plans Reflect the Curriculum |

186
(1)

| | |
| --- | --- |
| | Performing Administrative and Clerical Tasks Efficiently |

187
(2)

| | |
| --- | --- |
| | Observing Administrative and Clerical Tasks |

189
(1)

| | |
| --- | --- |
| | Preventing and Correcting Misbehavior |

190
(1)

| | |
| --- | --- |
| | Observing the Prevention and Correction of Misbehavior |

191
(2)

| | |
| --- | --- |
| | Selecting the Most Appropriate Strategy for the Objectives Taught |

193
(3)

| | |
| --- | --- |
| | Observing the Most Appropriate Strategy for the Objectives Taught |

196
(1)

| | |
| --- | --- |
| | Establishing Cycles of Review, Feedback, and Testing |

197
(1)

| | |
| --- | --- |
| | Observing Cycles of Review, Feedback, and Testing |

198
(1)

| | |
| --- | --- |
| | Cultural Diversity and Task Orientation |

199
(2)
201
(8)

| | |
| --- | --- |
| | Examining Engagement in the Learning Process |

209
(24)

| | |
| --- | --- |
| | Dimensions of Student Engagement in the Learning Process |

211
(1)

| | |
| --- | --- |
| | Practice Observing Student Engagement in the Learning Process: A Dialogue |

211
(2)

| | |
| --- | --- |
| | Reactions to the Dialogue |

213
(14)

| | |
| --- | --- |
| | Eliciting Desired Behavior |

213
(2)

| | |
| --- | --- |
| | Observing Eliciting Activities |

215
(1)

| | |
| --- | --- |
| | Providing Feedback in a Noncritical Atmosphere |

215
(2)
217
(1)

| | |
| --- | --- |
| | Using Individual and Self-Regulated Learning Activities |

217
(1)

| | |
| --- | --- |
| | Observing Individual and Self-Regulated Learning Activities |

218
(1)

| | |
| --- | --- |
| | Using Meaningful Verbal Praise |

218
(2)

| | |
| --- | --- |
| | Observing Meaningful Verbal Praise |

220
(1)
221
(2)

| | |
| --- | --- |
| | Observing Monitoring and Checking |

223
(2)

| | |
| --- | --- |
| | Cultural Diversity and Student Engagement |

225
(2)
227
(6)

| | |
| --- | --- |
| | Measuring Student Success |

233
(28)

| | |
| --- | --- |
| | Dimensions of Student Success |

234
(1)

| | |
| --- | --- |
| | Practice Observing Student Success: A Dialogue |

235
(2)

| | |
| --- | --- |
| | Reactions to the Dialogue |

237
(16)

| | |
| --- | --- |
| | Planning Unit and Lesson Content That Reflects Prior Learning |

237
(2)

| | |
| --- | --- |
| | Observing Unit and Lesson Content That Reflects Prior Learning |

239
(1)

| | |
| --- | --- |
| | Providing Mediated Feedback to Extend and Enhance Learning |

240
(3)

| | |
| --- | --- |
| | Observing Mediated Feedback to Extend and Enhance Learning |

243
(2)

| | |
| --- | --- |
| | Planning Units and Lessons at, or Slightly Above, Students' Current Level of Understanding |

245
(1)

| | |
| --- | --- |
| | Observing Instruction at, or Slightly Above, the Learners' Current Level of Understanding |

246
(1)

| | |
| --- | --- |
| | Transitions Between Lesson Content |

247
(2)

| | |
| --- | --- |
| | Observing Transitions Between Lesson Content |

249
(1)

| | |
| --- | --- |
| | Establishing Momentum That Engages Learners in the Learning Process |

249
(1)
250
(1)

| | |
| --- | --- |
| | Cultural Diversity and Student Success |

251
(2)
253
(8)

| | |
| --- | --- |
| | Looking for Higher Thought Processes and Performance Outcomes |

261
(24)

| | |
| --- | --- |
| | Dimensions of Higher Thought Processes and Performance Outcomes |

262
(1)

| | |
| --- | --- |
| | Practice Observing Higher Thought Processes and Performance Outcomes: A Dialogue |

262
(3)

| | |
| --- | --- |
| | Reactions to the Dialogue |

265
(12)

| | |
| --- | --- |
| | Using Collaborative and Group Activities |

265
(2)

| | |
| --- | --- |
| | Observing Collaborative and Group Activities |

267
(1)

| | |
| --- | --- |
| | Demonstrating Mental Models and Strategies for Learning |

267
(2)

| | |
| --- | --- |
| | Observing Mental Models and Strategies for Learning |

269
(1)

| | |
| --- | --- |
| | Arranging for Student Projects and Demonstrations |

269
(1)

| | |
| --- | --- |
| | Observing Student Projects and Demonstrations |

270
(1)

| | |
| --- | --- |
| | Engaging Students in Oral Performance |

270
(1)

| | |
| --- | --- |
| | Observing Students in Oral Performance |

271
(1)

| | |
| --- | --- |
| | Providing Opportunities for Students to Learn from Their Mistakes |

271
(1)

| | |
| --- | --- |
| | Observing Consequential Learning Activities |

272
(1)

| | |
| --- | --- |
| | Using Portfolios and Performance Assessments of Learning |

273
(2)

| | |
| --- | --- |
| | Observing Portfolios and Performance Assessments |

275
(1)

| | |
| --- | --- |
| | Cultural Diversity and Performance Outcomes |

275
(2)
277
(1)
277
(8)
Appendix: How to Determine Percentage of Observer Agreement for a Counting Observation System
285
(2)
Glossary of Key Concepts
287
(4)
References
291
(8)
Author Index
299
(3)
Subject Index
302
(2)
Instrument Index
304
Excerpts
People in all walks of life want to know how they can acquire the skills and competencies to become a professional in their field. All of us want to become experts orprofessionals,but we know that it requires more than simply a desire to be good at what we do. This book focuses on one of the primary means by which you can become a professional--by observing others and incorporating what you see and hear into your own behavior. To be sure, this process requires more than simply watching others who are competent in their jobs. To become competent at teaching, you must know what to look for, and you must have a framework or structure by which what is observed can be made meaningful for your own behavior. Other skills are needed, too. You must be psychologically ready and physically prepared to observe, have tools for categorizing and recording what you see, and have a knowledge of content and methods. But even this is not enough: To become a professional, you must understand the patterns and sequences of effective teaching that make all of the parts work as a whole. Where do effective teachers learn to make the parts work as a whole? How do they bring their natural abilities, knowledge of content and teaching methods, and professional goals together into a harmonious pattern of intelligent behavior to become a professional? It isn't from books or training sessions alone--these can focus on only a small number of activities. It isn't from teaching experience, either--the hectic pace of the classroom makes it impossible for many teachers to reflect on their own patterns of behavior. Only through observing more experienced teachers can all of these ingredients be brought together into a meaningful pattern to be modeled in your own classroom. These patterns of practice--not individual techniques, strategies, or methods alone--make teachers effective. As we will see in this text, the purpose of observation is to improve yourself. Plans for self-improvement are realistic when they are based on your own unique strengths and challenges and on the school context in which they are to occur. The importance of this latter point is not always recognized: A teaching activity that is effective in one school or classroom may not be effective in another. No amount of student teaching, experience or formal instruction can prepare you to teach in every classroom context. Although student teaching and instruction can point you in the right direction to maximize your growth, the realities of a specific classroom and the students within it will determinewhatandhow muchyou learn and grow as a teacher. This is the unique function of classroom observation: to understand teaching within specific classrooms of learners, and to develop a program of self-improvement based on that understanding. In short, the dimensions of effective teaching ultimately must be defined by the qualities and characteristics of those who must be taught. This is why classroom observation is so important: It reveals the patterns of practice by which real teachers--professionals--refine and match the dimensions of effective teaching most appropriate to a specific population of learners. To accomplish this goal, this book presents effective teaching practices that can be observed during three stages of your career-preteaching, student teaching, and induction- (first-) year teaching. At each of these stages this text provides competencies for preparing you to observe, learning how to . observe, and knowing what to observe. ORGANIZATION OF THIS TEXT Chapter 1 focuses on the close and necessary relationship between personal attributes for successful living and professional competence. It explores the characteristics that make an individual successful as a person as well as a professional--characteristics that you will learn from classroom observation. Chapt