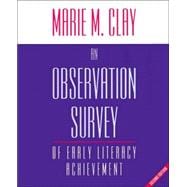 An Observation Survey: Of Early Literacy Achievement
by
Clay, Marie M.
List Price: $27.00
Usually Ships in 3-5 Business Days

More New and Used
from Private Sellers
Questions About This Book?
What version or edition is this?
This is the 2nd edition with a publication date of 7/1/2002.
What is included with this book?
The New copy of this book will include any supplemental materials advertised. Please check the title of the book to determine if it should include any CDs, lab manuals, study guides, etc.
Summary
The first edition of An Observation Surveyhas been used in educational systems worldwide. It has introduced thousands of teachers to ways of observing children's progress in the early years of learning about literacy. It has also helped them determine which children need supplementary teaching.Thoroughly revised and updated, this second edition includes several new features: Theoretical discussions are reflected in a careful balance between reading and writing processes, in the ways each task is introduced, and in new examples of children's responses and teachers' record keeping. Consistency with the accompanying video makes administration of the Observation Survey easier and more effective. New stanine tables relate to today's children. Tables for four groups start at age five. Ohio stanines are provided for Fall, mid-year, and Spring assessing. Half-yearly assessments allow more rapid identification of children whose progress is falling behind their classmates. Appendixes feature more technical details of the statistical characteristics of the subtasks and the Survey and include correlations of the tasks, one with another. Graphs and box plots show how surges of progress occur at different times on different tasks. A new separate booklet of Copymasters provides official recording forms and summary sheets to administer the Survey.The new second edition requires no retraining, but offers teachers the opportunity to refresh their understanding of standard assessment practices. The Survey is indispensable for teachers who work individually with children having temporary difficulties with literacy learning. It also allows teachers to give administrators an easy-to-understand account of an individual child's progress between two points in time. And for students of emerging literacy behaviors, observation procedures like these are essential to training.Also available: An Observation Survey: The Video .
Table of Contents
Introduction
1
(1)
For whom is this book written?
1
(1)
Behind these observations there are theoretical rationales
2
(2)

| | |
| --- | --- |
| | Observing change in early literacy behaviours |

4
(10)

| | |
| --- | --- |
| | An introduction to systematic observation |

4
(7)

| | |
| --- | --- |
| | Observation in classrooms |

4
(1)

| | |
| --- | --- |
| | Observing individual progress |

4
(1)
5
(1)
6
(1)

| | |
| --- | --- |
| | Assessments that guide our teaching |

7
(1)
8
(1)

| | |
| --- | --- |
| | Observing emerging literacy |

8
(1)

| | |
| --- | --- |
| | Observing school entrants |

9
(2)

| | |
| --- | --- |
| | Standardised tests are poor measures of slow progress |

11
(1)
12
(1)

| | |
| --- | --- |
| | Characteristics of observation tasks |

13
(1)

| | |
| --- | --- |
| | Reading and writing: processing the information in print |

14
(9)
14
(4)
18
(3)
21
(1)

| | |
| --- | --- |
| | Seeing print from two vantage points |

22
(1)

| | |
| --- | --- |
| | Assisting young children making slow progress |

23
(14)
23
(3)
26
(3)

| | |
| --- | --- |
| | The sensitive observation of reading behaviour |

29
(2)

| | |
| --- | --- |
| | The early detection of literacy learning difficulties |

31
(4)

| | |
| --- | --- |
| | A teacher's observation of one child's progress |

35
(2)
37
(12)

| | |
| --- | --- |
| | Revealing what children know |

38
(1)
38
(1)

| | |
| --- | --- |
| | How much do children need to know about print? |

39
(1)
40
(1)
40
(1)

| | |
| --- | --- |
| | Using the Concepts About Print observation task |

41
(6)
41
(5)
46
(1)

| | |
| --- | --- |
| | The interpretation of Concepts About Print scores |

47
(1)

| | |
| --- | --- |
| | Achia's critique of this task |

48
(1)

| | |
| --- | --- |
| | Taking records of reading continuous texts |

49
(33)
49
(1)
49
(1)

| | |
| --- | --- |
| | Records are taken to guide teaching |

50
(1)

| | |
| --- | --- |
| | Records are taken to assess text difficulty |

51
(1)

| | |
| --- | --- |
| | Records are taken to capture progress |

51
(1)

| | |
| --- | --- |
| | Compare two Running Records on the same text |

51
(1)
52
(4)

| | |
| --- | --- |
| | What does skilled record-taking look like? |

53
(1)
53
(1)

| | |
| --- | --- |
| | Select children who will make practising easier |

54
(1)

| | |
| --- | --- |
| | Select some texts for practising |

54
(2)

| | |
| --- | --- |
| | How to record what you see and hear |

56
(1)
56
(1)

| | |
| --- | --- |
| | Why use standard procedures? |

57
(6)

| | |
| --- | --- |
| | Conventions for recording |

58
(3)

| | |
| --- | --- |
| | Check directional movement |

61
(1)

| | |
| --- | --- |
| | Describe the reading behaviour recorded |

61
(1)

| | |
| --- | --- |
| | Assessment and comprehension |

61
(1)
62
(1)

| | |
| --- | --- |
| | How to score errors and self-corrections |

63
(3)

| | |
| --- | --- |
| | Some conventions for scoring the records |

63
(2)

| | |
| --- | --- |
| | Some other good practices |

65
(1)

| | |
| --- | --- |
| | How to quantify the Running Record |

66
(1)

| | |
| --- | --- |
| | Records for two competent readers |

67
(2)
67
(1)
68
(1)

| | |
| --- | --- |
| | Interpreting the Running Record |

69
(3)

| | |
| --- | --- |
| | Think about the errors in the record |

69
(1)

| | |
| --- | --- |
| | Scan the record to answer two other questions |

70
(1)

| | |
| --- | --- |
| | Now look at the self-corrections |

70
(1)

| | |
| --- | --- |
| | Consider the pattern of responses |

70
(1)
70
(2)

| | |
| --- | --- |
| | Understanding the reading process |

72
(1)

| | |
| --- | --- |
| | In older readers look for different signs of progress |

73
(1)

| | |
| --- | --- |
| | Records of individual and group progress |

74
(4)

| | |
| --- | --- |
| | Many uses for Running Records |

78
(4)
78
(1)
78
(1)
79
(1)

| | |
| --- | --- |
| | Evidence of emphasis: what things get attention in your programme? |

79
(3)

| | |
| --- | --- |
| | Observation tasks for Letter Identification, Word Reading, Writing Vocabulary, and Hearing and Recording Sounds in Words |

82
(39)
82
(9)
83
(1)
84
(3)

| | |
| --- | --- |
| | Interpreting Letter Identification scores |

87
(1)

| | |
| --- | --- |
| | Limited prediction from Letter Identification |

88
(1)

| | |
| --- | --- |
| | Cautions about assessing letter-sound relationships |

89
(1)

| | |
| --- | --- |
| | An early awareness of alphabetic knowledge |

90
(1)
91
(6)
91
(4)

| | |
| --- | --- |
| | What the Word Reading task does not do |

95
(1)

| | |
| --- | --- |
| | Other `first' word reading tests (Canberra, Ohio, Duncan) |

95
(1)

| | |
| --- | --- |
| | Other reading tests (Burt, Neale, STAR) |

96
(1)
97
(14)

| | |
| --- | --- |
| | Beginning writing in school |

98
(1)
99
(2)

| | |
| --- | --- |
| | The Writing Vocabulary task |

101
(3)
104
(1)

| | |
| --- | --- |
| | Scoring Writing Vocabulary |

105
(2)

| | |
| --- | --- |
| | Interpreting the Writing Vocabulary observation |

107
(1)

| | |
| --- | --- |
| | Keeping records of writing progress |

107
(3)

| | |
| --- | --- |
| | Running records of writing progress |

110
(1)
110
(1)
111
(1)

| | |
| --- | --- |
| | Hearing and Recording Sounds in Words |

111
(10)

| | |
| --- | --- |
| | Going from phonemic awareness to letter-sound relationships |

111
(2)
113
(1)
114
(1)

| | |
| --- | --- |
| | Scoring standards for scoring the child's record |

114
(5)

| | |
| --- | --- |
| | Observing change over time |

119
(2)

| | |
| --- | --- |
| | Summarising the Observation Survey results |

121
(17)

| | |
| --- | --- |
| | Change over time in early literacy learning: using stanines to follow individual or group progress |

121
(2)

| | |
| --- | --- |
| | Making a summary of the Observation Survey results |

123
(1)

| | |
| --- | --- |
| | Text reading and other observation tasks |

123
(1)

| | |
| --- | --- |
| | Think about strategic activity (in-the-head activity) |

123
(7)

| | |
| --- | --- |
| | A guide to analysing the child's problem-solving |

126
(2)

| | |
| --- | --- |
| | Useful strategic activity on text |

128
(1)

| | |
| --- | --- |
| | Useful strategic activity with words |

129
(1)

| | |
| --- | --- |
| | Useful strategic activity with letters |

130
(1)

| | |
| --- | --- |
| | A completed summary sheet for an individual child |

130
(2)

| | |
| --- | --- |
| | A shorter summary might help a classroom teacher |

132
(4)
132
(1)
133
(1)

| | |
| --- | --- |
| | Two examples of Survey summaries |

134
(2)
136
(2)

| | |
| --- | --- |
| | The teacher and the observations |

138
(9)

| | |
| --- | --- |
| | The utility of observing reading behaviours |

138
(2)

| | |
| --- | --- |
| | The utility of monitoring writing behaviours |

140
(1)

| | |
| --- | --- |
| | Information for the education system |

140
(2)

| | |
| --- | --- |
| | Information to support an early intervention for some children |

142
(2)
144
(3)
Appendices
147
(25)

| | |
| --- | --- |
| | Appendix 1 New Zealand norms for the Observation Survey |

148
(15)
148
(1)
149
(4)

| | |
| --- | --- |
| | Graphs of score distributions by age group |

153
(1)

| | |
| --- | --- |
| | Box-and-whisker plots for tasks by age group |

154
(2)

| | |
| --- | --- |
| | Observation Survey age group profiles across tasks: Percentile ranks and stanines |

156
(2)

| | |
| --- | --- |
| | Inter-correlations among tasks by age group |

158
(1)

| | |
| --- | --- |
| | Validity and reliability reports for tasks |

159
(4)

| | |
| --- | --- |
| | Appendix 2 Historical notes on An Observation Survey |

163
(3)

| | |
| --- | --- |
| | Appendix 3 Ohio Word Test---Administration Sheet |

166
(6)

| | |
| --- | --- |
| | Ohio Word Test Score Sheet |

167
(1)

| | |
| --- | --- |
| | Summary of Ohio Stanine Scores |

168
(2)

| | |
| --- | --- |
| | Duncan Word Test --- Administration Sheet |

170
(1)

| | |
| --- | --- |
| | Duncan Word Test Score Sheet |

171
(1)
References
172
(4)
Index
176
(2)
List of children's examples
178