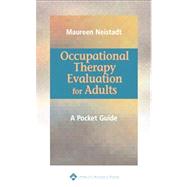 Occupational Therapy Evaluation for Adults : A Pocket Guide
by
Neistadt, Maureen E.
Lippincott Williams & Wilkins
Summary
This quick reference guide helps occupational therapy students and practitioners perform efficient and comprehensive evaluations for adults with disabilities. Designed to fit in the lab coat pocket, this book guides readers through the process of an evaluation. For easy reading, information in this spiralbound volume is organized into tables, boxes, and schematics. Features include: detailed appendices about standardized assessments and formal evaluation procedures; illustrated evaluation procedures; an evaluation checklist to help readers track each client's evaluation; suggestions for sequencing and abbreviating different evaluation procedures; and advice on meeting third-party payers' reimbursement requirements.
Table of Contents
| | |
| --- | --- |
| | Occupational Therapy Evaluation |

| | |
| --- | --- |
| | Relation Between Evaluation, Theory, and Frame of Reference |

1
(1)

| | |
| --- | --- |
| | Evaluation and Clinical Reasoning |

2
(1)

| | |
| --- | --- |
| | Demands of the Healthcare Marketplace |

3
(3)

| | |
| --- | --- |
| | Information Needed From Screening and Evaluation |

6
(1)

| | |
| --- | --- |
| | Suggestions for Use of the Rest of the Book |

6
(3)

| | |
| --- | --- |
| | Review the client's medical record and/or other pre-evaluation information |

9
(1)

| | |
| --- | --- |
| | Collect your evaluation materials |

10
(3)

| | |
| --- | --- |
| | Check with nursing to see if the client can be seen |

13
(1)

| | |
| --- | --- |
| | Stop before entering the client's space, take a deep breath, clear your mind, and focus on taking in everything you will see and hear during your evaluation |

13
(1)

| | |
| --- | --- |
| | Knock before entering the client's room, home, or space |

13
(17)

| | |
| --- | --- |
| | Read any signs posted in the client's environment about medical precautions or care procedures |

30
(1)

| | |
| --- | --- |
| | Introduce yourself, ask the client how he or she would like to be addressed, and make sure the client is physically comfortable |

30
(1)

| | |
| --- | --- |
| | Interview the client and/or his or her caregivers |

31
(2)

| | |
| --- | --- |
| | Observe functional performance and record observations |

33
(8)

| | |
| --- | --- |
| | Evaluate component skills contributing to functional performance problems and record evalution results |

41
(41)

| | |
| --- | --- |
| | Note type and amount of cuing client needs for activity performance |

82
(1)

| | |
| --- | --- |
| | Synthesize and summarize the data; make discharge projections---project and record rehabilitation objectives and interventions planned to reach discharge projections |

82
(1)

| | |
| --- | --- |
| | Synthesize and Summarize Data |

82
(3)
85
(1)

| | |
| --- | --- |
| | Rehabilitation Objectives |

85
(1)
86
(4)

| | |
| --- | --- |
| | Suggested Evaluation Sequences for Different Time Limits |

| | |
| --- | --- |
| | 20- to 30-Minute Screenings |

90
(13)

| | |
| --- | --- |
| | 30- to 40-Minute Evaluations |

103
(4)

| | |
| --- | --- |
| | 40- to 60-Minute Evaluations |

107
(3)

| | |
| --- | --- |
| | Doing an Evaluation During the Course of Several Intervention Sessions |

110
(5)
APPENDICES

| | |
| --- | --- |
| | A. Interview Assessments of Client Priorities |

115
(10)

| | |
| --- | --- |
| | Activity Index and Meaningfulness of Activity Scale |

115
(1)

| | |
| --- | --- |
| | Adolescent Leisure Interest Profile (ALIP) |

116
(1)

| | |
| --- | --- |
| | Adolescent Role Assessment (ARA) |

117
(1)
118
(1)

| | |
| --- | --- |
| | Occupational Self-Assessment (OSA) |

119
(2)

| | |
| --- | --- |
| | The Canadian Occupational Performance Measure (COMP) |

121
(2)

| | |
| --- | --- |
| | The Occupational Questionnaire (OQ) |

123
(1)
124
(1)

| | |
| --- | --- |
| | B. Basic and Instrumental Activity of Daily Living Assessments |

125
(14)

| | |
| --- | --- |
| | Assessments of Basic and Instrumental Activities of Daily Living |

125
(5)

| | |
| --- | --- |
| | Assessments of Basic Activities of Daily Living |

130
(3)

| | |
| --- | --- |
| | Assessments of Instrumental Activities of Daily Living |

133
(6)

| | |
| --- | --- |
| | C. Somatic Sensory Evaluation Procedures |

139
(6)

| | |
| --- | --- |
| | General Methodology Principles |

139
(1)
140
(1)

| | |
| --- | --- |
| | Discriminative Somatic System |

141
(1)
142
(1)
143
(2)

| | |
| --- | --- |
| | D. Cognitive/Perceptual Assessments |

145
(12)

| | |
| --- | --- |
| | Behavioral Inattention Test (BIT) |

145
(1)

| | |
| --- | --- |
| | Contextual Memory Test (CMT) |

146
(1)

| | |
| --- | --- |
| | Lowenstein Occupational Therapy Cognitive Assessment (LOTCA) |

147
(1)

| | |
| --- | --- |
| | Lowenstein Occupational Therapy Cognitive Assessment for Geriatric Population (LOTCA-G) |

148
(1)
149
(1)

| | |
| --- | --- |
| | Stroop Color and Word Test (STROOP) |

150
(1)

| | |
| --- | --- |
| | Test of Everyday Attention (TEA) |

151
(1)

| | |
| --- | --- |
| | The Hooper Visual Organization Test (VOT) |

152
(1)

| | |
| --- | --- |
| | Wisconsin Card Sorting Test (WCST) |

153
(4)

| | |
| --- | --- |
| | E. Motor Evaluation Procedures |

157
(44)
157
(8)
165
(2)
167
(13)
180
(9)
189
(3)
192
(3)
195
(1)

| | |
| --- | --- |
| | Fine Coordination/Dexterity |

196
(5)

| | |
| --- | --- |
| | F. Psychosocial Skills Assessments |

201
(6)

| | |
| --- | --- |
| | Allen Cognitive Level Test-90 (ACLS-90) |

201
(1)

| | |
| --- | --- |
| | Role Activity Performance Scale (RAPS) |

202
(1)

| | |
| --- | --- |
| | The Assessment of Occupational Functioning (AOF) |

203
(1)

| | |
| --- | --- |
| | The Occupational Case Analysis and Interview Rating Scale (OCAIRS) |

204
(1)

| | |
| --- | --- |
| | The Occupational Performance History Interview II (OPHI II) |

205
(2)

| | |
| --- | --- |
| | G. Discharge Situation Assessments |

207
(6)
213
(16)
213
(2)

| | |
| --- | --- |
| | Examples of Use in Practice |

215
(3)

| | |
| --- | --- |
| | Person--Activity--Environment Fit |

218
(1)

| | |
| --- | --- |
| | Uniform Terminology for Occupational Therapy--Third Edition |

219
(10)

| | |
| --- | --- |
| | I. International Classification of Impairments, Activities, and Participation |

229
(2)
229
(1)
230
(1)
230
(1)
230
(1)
230
(1)
References
231
(12)
Index
243