Note: Supplemental materials are not guaranteed with Rental or Used book purchases.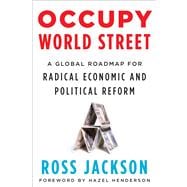 Summary
" Breakawayis both visionary and profoundly practical in facing and dismantling the destructive rules and practices of today's globalization." --Hazel Henderson, author of Ethical Markets: Growing the Green EconomyOverpopulation. Unsustainable growth. Species extinction. Inequality. Desertification. Water Shortages. Climate Change. Peak Oil.Civilization is in the midst of a global collapse. Worse, the dominant political and economic paradigm not only fails to address the major crises of our time, it perpetuates them.In Breakaway, Ross Jackson argues that it is not politically possible to address the global crises we face under the dominant Neoclassical economic system-a system that champions endless growth on a finite planet, wreaks havoc on developing nations with exploitative trade policies, and is destroying the planet in a mad race for natural resources. A systemic problem, Jackson argues, must be addressed at a systemic level.Nor is it realistic, however, to imagine a wholesale return to local, self-sufficient communities after the die of globalization has already been cast.Instead, the initiative for change must come from a small group of minor nations that are prepared to "break away" from the current system that revolves around the IMF, World Bank, UN, and WTO. These nations must then form a new set of international institutions-detailed in the book-that are designed to serve the global community in a decentralized, democratic, and just society consisting of diverse and self-reliant nations in control of their own economies and priorities.
Table of Contents
About the Author
p. viii
Foreword
p. ix
Acknowledgments
p. xiii
Introduction
p. xv
Planet Under Siege
The Assault on Nature
p. 3
Energy Descent
p. 17
The Collapse of Civilizations
p. 33
Drivers of Destruction
The Evolution of Economic Beliefs
p. 49
The Neoliberal Project
p. 76
Financial Crises
p. 103
The Empire
The Kennan Doctrine
p. 125
Who Is in Charge?
p. 145
New Values, New Beliefs
The Emergent Worldview
p. 163
Learning from Nature
p. 184
Gaian Economics
p. 193
Toward a Gaian World Order
Designing a Gaian World
p. 205
The Gaian Trade Organization
p. 210
The Gaian Clearing Union
p. 224
The Gaian Development Bank
p. 242
A Gaian World
p. 259
Getting There
The Breakaway Strategy
p. 275
Afterword
p. 297
Notes
p. 298
Index
p. 307
Table of Contents provided by Ingram. All Rights Reserved.
Excerpts
Amazing! Ross Jackson's proposal for post-collapse strategy is the first plausible, constructive scenario I have seen.--Dennis Meadows, co-author, The Limits to Growth