Note: Supplemental materials are not guaranteed with Rental or Used book purchases.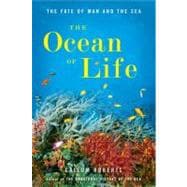 Summary
A Silent Spring for oceans, written by "the Rachel Carson of the fish world" ( The New York Times) Who can forget the sense of wonder with which they discovered the creatures of the deep? In this vibrant hymn to the sea, Callum Roberts-one of the world's foremost conservation biologists-leads readers on a fascinating tour of mankind's relationship to the sea, from the earliest traces of water on earth to the oceans as we know them today. In the process, Roberts looks at how the taming of the oceans has shaped human civilization and affected marine life. We have always been fish eaters, from the dawn of civilization, but in the last twenty years we have transformed the oceans beyond recognition. Putting our exploitation of the seas into historical context, Roberts offers a devastating account of the impact of modern fishing techniques, pollution, and climate change, and reveals what it would take to steer the right course while there is still time. Like Four Fish and The Omnivore's Dilemma, The Ocean of Life takes a long view to tell a story in which each one of us has a role to play.
Author Biography
Callum Roberts is the author of The Unnatural History of the Sea, a Washington Post Book of the Year and winner of the Rachel Carson Environment Book Award. Professor of marine conservation at the University of York. He has appeared in several documentaries, including "America Before Columbus" and "The End of the Line," and is a board member of Seaweb, a U.S.-based environmental group. He lives in England.
Table of Contents
Prologue
p. 1
Changing Seas
Four and a Half Billion Years
p. 11
Food from the Sea
p. 27
Fewer Fish in the Sea
p. 42
Winds and Currents
p. 58
Life on the Move
p. 80
Rising Tides
p. 90
Corrosive Seas
p. 105
Dead Zones and the World's Great Rivers
p. 119
Unwholesome Waters
p. 132
The Age of Plastic
p. 149
The Not So Silent World
p. 165
Aliens, Invaders, and the Homogenization of Life
p. 181
Pestilence and Plague
p. 198
Mare Incognitum
p. 213
Ecosystems at Your Service
p. 229
Changing Course
Farming the Sea
p. 243
The Great Cleanup
p. 263
Can We Cool Our Warming World?
p. 273
A New Deal for the Oceans
p. 287
Life Renewed
p. 307
Saving the Giants of the Sea
p. 319
Preparing for the Worst
p. 334
Epilogue: The Sea Ahead
p. 347
Seafood with a Clear Conscience
p. 351
Conservation Charities Working to Protect Ocean Life
p. 355
Notes
p. 361
Acknowledgments
p. 393
Index
p. 395
Table of Contents provided by Ingram. All Rights Reserved.