Note: Supplemental materials are not guaranteed with Rental or Used book purchases.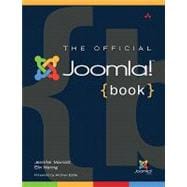 Questions About This Book?
What version or edition is this?
This is the 1st edition with a publication date of 12/17/2010.
What is included with this book?
The eBook copy of this book is not guaranteed to include any supplemental materials. Typically only the book itself is included.
Summary
The Official Joomla! Bookis the authoritative, and comprehensive Joomla! reference for every administrator, developer, designer, and content manager. Distilling the unsurpassed experience of two long-time Joomla! contributors, it teaches exactly what you need to know, through practical example sites and crystal-clear explanations. If yours"re new to Joomla!, yours"ll learn how to quickly create usable, effective sites. If yours"re an experienced Joomla! user, yours"ll learn how to make your sites more flexible, feature-rich, visually attractive, and useful. And whether new or experienced, yours"ll learn how Joomla! really works, so you can fully leverage its power whenever yours"re ready. You'll also get to know the Joomla! community by hearing from twelve community members through in-depth interviews, and yours"ll learn how to participate in the Joomla! project in ways that make sense for you. The Official Joomla! Bookcovers everything from installation to usability, templates to extensions. The authors explain each key concept conversationally, helping you learn to help yourself and confidently gain control over Joomla! and the sites you build with it. They also present chapter-length application case studies for business, non-profits, and education. You will learn how to Plan sites effectively before you start building them Create production sites quickly while avoiding common mistakes Install and configure Joomla! for maximum efficiency Create and edit content for your Joomla! site Customize and work with Joomla! templates Work with extensions: components, modules, plugins, and languages Efficiently administer Joomla! sites Participate in the Joomla! community as a user and contributor
Author Biography
Jennifer Marriott
owns Marpo Multimedia, a Web development company specializing in Joomla!-powered Web sites. She joined the Joomla! community in 2005, began volunteering as a forum moderator soon afterwards, and has played roles ranging from Joomla! Bug Squad member and Joomla! Google Summer of Code co-administrator/mentor to trademark and licensing team leader.
Elin Waring, a longtime Joomla! user, served as president of Open Source Matters, the nonprofit organization that supports the Joomla! Project. An active member of the Joomla! Bug Squad, she is also professor of sociology at Lehman College.
Table of Contents
Foreword xvii
Joomla! Press Mission Statement xviii
Preface xix
Acknowledgments xxi
About the Authors xxiii
Chapter 1: All About Joomla! 1
A Brief History of Joomla! 1
Joomla! the Content Management System 4
Joomla! the Framework 4
The Joomlasphere 5
Conclusion 16
Chapter 2: What Now and Where Do I Begin: Before You Install Joomla! 17
Identifying Your Purpose 17
Domain Names: Registering Your Domain Name 18
Trademarks, Licensing, Copyright, and Legalities 19
The Basics of Branding 23
Identifying Your Target Audience: The Who, What, Where, and Why 28
Wireframes, Storyboarding, and Visualization 32
Creating Great Content 33
Mission Critical: Why Choosing a Good Host Matters 34
Conclusion 36
Chapter 3: Installing and Configuring Joomla! 37
Downloading Joomla! 37
Creating a Database 38
Using File Manager to Upload Joomla! 43
Joomla! Web Installation 45
Basic Configuration Steps for Your New Site 52
Conclusion 60
Chapter 4: Working with and Creating Content for Your Joomla! Site 61
Defining Content 61
Managing Content 66
Working with the Media Manager and Inserting Images 72
Menus and Menu Items 75
Conclusion 82
Chapter 5: Customizing Templates and the Basics of Templates for Joomla! 83
Customizing the Default Template Beez 84
The Basics of Joomla! Templates 96
Conclusion 101
Chapter 6: The Basics of Joomla! Extensions: Components, Modules, Plugins, and Languages 103
Core Joomla! Extensions 103
Components 103
Modules 112
Plugins 114
How to Choose Extensions 115
Using the Joomla! Extension Directory 116
Installing Extensions and Viewing Extension Information 117
Popular Extensions 119
Conclusion 120
Chapter 7: Caring for Your Joomla! Web Site and Helpful Tips 123
First Impressions Count: What Your Home Page Says About You 123
Search Engines, SEO, Getting Listed, and Staying There 125
Using Navigation 129
Engaging Your Visitors and Keeping Your Content Fresh 137
Marketing Basics and Social Networking 138
Why You Need to Keep Your Web Site Up to Date 139
Conclusion 140
Chapter 8: Practical Application: Joomla! for Business 141
Basic Planning of Business Sites 141
Brochure Sites 142
Extending Joomla!: Some Extensions to Consider for
Business 142
E-commerce Web Sites 143
Other Business Site Extensions 145
Joomla! Authentication Tools 146
Business Web Site Demo 146
Conclusion 169
Chapter 9: Practical Application: Joomla! for NGOs/NPOs, Groups, Clubs, and Organizations 171
Basic Planning of Group Sites 171
Leveraging Your Site to Raise Awareness and Gain Momentum 172
Creating a Community Portal 176
Fund-Raising 177
Nonprofit Web Site Demo 178
Modifying the Template 184
Conclusion 192
Chapter 10: Practical Application: Joomla! for Education 193
Basic Planning of Educational Sites 193
Extensions to Consider for Education 194
Additional Tools 198
School Web Site Demo 201
Conclusion 223
Chapter 11: A Look at Joomla! 1.6 and the Future 225
Changes in Minimum Requirements 225
User Interface Changes 226
No More Sections, Only Categories 228
Templates 229
Access Control (ACL) 231
Languages 234
Extension Manager 234
Updating Joomla! 234
New Extensions 234
Conclusion 236
Chapter 12: Interviews with Experts 237
Expert Q&A with Andrew Eddie: Owner of NewLifeInIT and Lead Developer of Joomla! 237
Expert Q&A with Mark Dexter and Sam Moffatt: The Joomla! Bug Squad 241
Expert Q&A with Ian MacLennan: Joomla! Production Leadership Team and Joomla! Security Strike Team 246
Expert Q&A with Elin Waring: Professor, Author, and Joomla! Contributor—Trademark and Licensing 247
Expert Q&A with Wendy Robinson: Rochen Ltd.—Creating Your Brand 252
Expert Q&A with Brad Baker: Rochen Ltd.—Joomla! Hosting 254
Expert Q&A with Chris Davenport: Joomla! Production Leadership Team—Finding and Editing Templates 255
Expert Q&A with Vic Drover: Owner of Anything Digital—Extending Joomla! 258
Expert Q&A with Gary Brooks: President of CloudAccess.net—Benefits of Joomla! for Business 261
Expert Q&A with Ryan Ozimek: President of Open Source Matters, and CEO and Founder of PICnet Inc.—Joomla! In the NPO/NGO Sector 265
Expert Q&A with Jennifer Marriott: Owner of Marpo Multimedia and Joomla! Contributor—Sites for Education 268
Expert Q&A with Louis Landry: Lead Architect of Joomla! and Joomla! Professional 272
Appendix A: Common Problems and Solutions 275
Lost Administrator Password 275
File Permissions and Ownership Problems 279
"Location not found" When Using an Extension 280
Editor Background Has a Color or Looks Strange 280
Template Disappears When Turning On SEF URLs 281
Site Displays Differently or Incorrectly in a Certain Browser 281
Appendix B: Resources 283
Basic Joomla! Resources 283
Tools for Webmasters and Site Developers 284
Search Engines 285
Learn HTML and CSS Skills 286
Improve the Design of Your Site 287
Web Standards, Usability, and Accessibility 288
Underlying Software 289
Other Resources for Business 290
Other Resources for Nonprofits and Organizations 290
Other Resources for Schools and Education 291
Appendix C: A Look at Joomla! 1.6 ACL 293
Controlling What People Can Do 293
Controlling What People Can See 301
Appendix D: Managing Content in Joomla! 1.6 305

Category Manager 305
Conclusion 314
Appendix E: Working with Templates in Joomla! 1.6 315
Template Manager 315
Conclusion 323
Appendix F: Creating Menus in Joomla! 1.6 325

Menu Manager 325
Menu Items 326
Menu Item Type Layouts 332
Appendix G: Joomla! 1.6 Education Site 339

Creating a School or Education Site 339
Changing the Template 356
Glossary 361
Index 371