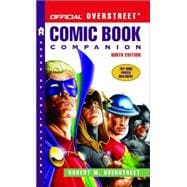 Related Products
Summary
KNOW HOW MUCH YOUR COMICS ARE WORTH ULTRA-ACCURATE LISTINGS FOR SUPERHEROES! BATMAN, SPIDER-MAN, TEEN TITANS, X-MEN, OUTSIDERS, WOLVERINE, AND MUCH MORE! America's leading expert on comic book prices presents an all-newComic Book Companion. This compact edition gives current values for all the new comics and a complete record of contemporary comic books and graphic novels. THE INDISPENSABLE, PORTABLE, AND AFFORDABLEcompanion for young and new collectors. WRITTEN BY THE EXPERT: Robert M. Overstreet, America's #1 authority on comics and comic book collecting. LATEST PRICE INFORMATIONon your favorite comics, from the 1950s to today's latest issues. SPECIAL TOY RINGS GUIDE: an illustrated, up-to-date price guide to the highly collectible comic character toy rings! ORIGINAL COVER ART: Justice Society of America by Mark Sparacio BUY IT USE IT BECOME AN EXPERT
Author Biography
A trained typologist, Robert M. Overstreet is also the author of the bestselling Official® Overstreet Comic Book Price Guide, Official® Overstreet Comic Book Grading Guide, and Official® Overstreet Identification and Price Guide to Indian Arrowheads. He is a dedicated collector of both comic books and arrowheads, and his books are recognized as the most important resources in both hobbies.
Table of Contents
Acknowledgments
p. 4
About This Book
p. 5
Comics
p. 5
Toy Rings
p. 5
Collecting Comic Books
p. 6
Collecting on a Budget
p. 6
Collecting Artists or Companies
p. 7
Collecting #1 Issues
p. 7
Back Issues
p. 7
Grading
p. 8
How To Grade
p. 8
Grading Definitions
p. 9
Scarcity Of Comics
p. 11
Preservation & Storage
p. 12
Buying & Selling Comics
p. 13
Selling Your Comics
p. 13
Comic Conventions
p. 15
Feature Article: ...and Justice for All
p. 16
Comic Book Pricing
p. 22
How to Use This Book
p. 22
Comic Book Values
p. 22
How Comics Are Listed
p. 22
Comic Book Price Guide
Main Listings
p. 23
Promotional Comics Listings
p. 413
Toy Rings Guide
p. 427
Introduction
p. 427
Grading Toy Rings
p. 428
History of Toy Rings
p. 429
Using This Book
p. 431
Starting a Collection
p. 432
Most Valuable Rings
p. 432
About Ring Prices
p. 434
Toy Ring Listings
p. 435
Related Collectibles
p. 495
Foreign Edition Comics
p. 495
Newspaper Strips
p. 495
Original Art
p. 495
Toys and More
p. 495
Table of Contents provided by Ingram. All Rights Reserved.