Note: Supplemental materials are not guaranteed with Rental or Used book purchases.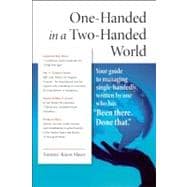 One-Handed in a Two-Handed World Your Complete Guide to Managing Single-Handedly
ISBN13:
9780982321980
by
Mayer, Tommye-Karen
Summary
Tommye-Karen Mayer survived a stroke at the age of 23 and has been managing single-handedly in a two-handed world for three decades. After a period of wondering whether she would ever again live independently, she began developing a system for how to accomplish a wide range of everyday activities of daily living one-handedly — dressing, eating, cooking, doing household chores, traveling, and much more.

One-Handed in a Two-Handed World is known as the "bible" for occupational therapists and other healthcare and rehabilitation professionals who work with patients who are temporarily or permanently one-handed. This is the only book of practical advice for managing activities of daily living one-handedly. It may be used by individuals who have experienced strokes or traumatic brain injury, had shoulder surgery, were born without an arm or hand, need to rest an arm for repetitive strain injuries, or have lost the use of an arm or hand as the result of injury.

It is a practical guide to a wide variety of useful devices and technology, and provides step-by-step instructions on how to accomplish each task discussed. Numerous figures show useful tools to make the tasks easier.

Author Biography
Tommye-Karen Mayer suffered a stroke at the age of 23, and has been managing with the use of one hand in a two-handed world for three decades. After a period of wondering whether she would ever again live independently, she began developing a system for how to do a wide range of everyday tasks ("Activities of Daily Living" or ADLs) with one hand - dressing, eating, cooking, doing household chores, traveling, and much more. In this book, Mayer shares her vast experience, with detailed instructions for hundreds of daily tasks and a guide to the equipment and technology that make them possible to accomplish one-handedly. Mayer is also the author of Teaching Me to Run, now in its second edition.
Table of Contents
FOREWORD: THE THREE SECRETS

PERSONAL CARE
BATHING
CONTACT LENSES
HAIR
NAIL CARE
SKIN CARE
SHAVING
TEETH
DENTURE CARE
BANDAGING

DRESSING
UNDERGARMENTS
TOPS
BOTTOMS
ACCESSORIES
FOOTWEAR
COLD-WEATHER CLOTHES
WARM-WEATHER CLOTHES

EATING
BEVERAGES
BREADS
DESSERT
FRUITS & VEGETABLES
MAIN COURSES
PASTA
STAYING NEAT
UTENSILS

DINING OUT
INDIVIDUAL BUTTER TUBS
BUFFETS & SALAD BARS
FUN FOOD & SNACKS

COOKING
CUTTING AND SLICING
GRATING
STIRRING & MIXING
OPENING
ICE CUBE TRAYS
SPECIAL TRICKS

CLEANING UP
COUNTERTOPS AND TABLES
DISHES, & PLATTERS
FLATWARE
SERVING UTENSILS
PLASTIC PLACE MATS
POTS & PANS
LEFTOVER FOOD STORAGE

HOUSEHOLD CHORES
LAUNDRY
FITTED SHEETS
PILLOWCASES:
HANGING CLOTHES
HAND SEWING
MOVING FURNITURE
SETTING THE TABLE
SWEEPING
DUSTPAN
VACUUMING
WRAPPING GIFTS
CARDBOARD BOXES WITH FLAPS

CHILD AND INFANT CARE

OFFICEWORK
MANAGING PAPER
ORGANIZATION
PHONES (LAND LINES)
OTHER STUFF

TECHNOLOGY
COMPUTERS
DIGITAL CAMERAS
DIGITAL VOICE RECORDERS
MOBILE/CELL PHONES
DIGITAL MUSIC PLAYERS (IPODS, ETC.)
PDAS

TRAVELING
AIR
CAR
TRAIN AND BUS

HOUSEHOLD REPAIRS
THE RIGHT STUFF
HANDLING EQUIPMENT
PAINTING

THE ULTIMATE ONE-HANDER HOME
CLEAR UNCLUTTERED HORIZONTAL SPACE
MAKING TIMELY EXITS AND ENTRANCES
PUTTING IT ON THE WALL
ONE-HANDED KITCHEN IDEAS
CLOSET ORGANIZATION

OUTSIDE HOME
CARRYING THINGS
COVERING YOUR EARS
MAILBOXES
CHECKBOOKS
SPRING-LOADED FAUCETS
SERVING BOARD
UMBRELLAS

LEISURE ACTIVITIES
CARDS
HAND CRAFTS
READING
POOL

SPORTS
DISABLED SPORTS USA
BASEBALL
BOATING
BOWLING
FISHING
GOLF
RUNNING
SKIING
SWIMMING
TABLE TENNIS
TENNIS
VOLLEYBALL

TAKING CARE OF YOUR ONE HAND

SEXUALITY

Excerpts
Fruits & Vegetables

Eaten raw, most fruits and vegetables are one-handable. Choices known as "finger food" are intended to be picked up with the fingers of one hand—but you've already figured that out, haven't you?

Bananas
They're known as "the perfect food. But not so perfect, you might say, as you contemplate a banana single-handedly. Use your cutting board to score the stem end of the skin. Then, leaving your banana lying on the cutting board or resting on a plate, peel away the skin section-by-section. You may find it more comfortable to eat your banana off the plate and using a fork after you've removed the skin.

Grapefruit
Prepare grapefruit for breakfast with the help of your cutting board. Impale the grapefruit on the cutting board nails so your sharp serrated knife slices between the nails when you cut the grapefruit in half, cutting across the grapefruit sections. Pick each grapefruit half off your cutting board. Select one, and impale it on your cutting board, skin side down, fruit side up. Now, with a steak knife or, if you have one, a true grapefruit knife, slice the sections, cutting between the membrane and the pulp meat of the fruit. Then, with an up and down sawing motion, cut around the inside of the outside skin, separating it from the fruit.

Try serving grapefruit to yourself in a cereal bowl — the sides make scooping the fruit easier..

Melon
It fascinated me, as a kid, when my grandmother served melon. She festively re-filled the melon skin wedges with marble-sized round balls of melon—a marvelously playful way for a kid to eat melon. We just pricked each ball with a fork.

I was much older when my mother explained that melon balls were a device Gram used to enable my grandfather to enjoy melon after he lost his hand.

The first post-hemorrhage melon I faced frustrated me so much that I didn't know whether to cry or heave it at someone. I just knew everyone was laughing at me struggling with the damn thing or — worse yet — feeling sorry for me. They served it to me on a flat dessert plate, tastefully decorated with an orange sliver, a parsley sprig, and three grapes. The melon sat balanced evenly on its rind, in front of me, like a pastel orange grin.

It looked so good. I could almost taste its scent. I'd picked up my spoon — Dad always told me melon was properly eaten with a spoon — and proceeded to dig into the tip closest to the hand I use. Melons tend to be juicy, and naturally, this one was no exception. As I poked at it with my spoon, the melon slid around my plate and rocked away.

Since I couldn't grab the thing with my one hand and cut into it with the spoon at the same time, or trap it with a fork, like some of my dining companions were, I was out of luck. Even tipping the wedge over on its side didn't work. It still skidded around the plate each time I tried to spoon-cut a piece.
It was a rather formal affair, and neither the time nor place to experiment with single-handing solutions, so I just pushed the plate away, and waited for the next and hopefully more manageable, course.

While living with my folks, post-hemorrhage, Mom prepared my melon wedge by separating the melon fruit from its skin with a knife and slicing the fruit into bite-sized chunks.

Not to worry, you can eat melon without waiting for someone to prepare it. Use your cutting board (see page xx) and fix a melon for yourself, for breakfast maybe.

Impale the melon on the nails. Slice the whole melon in half. Now cut each half in half by turning the cut-side (flat-edge) of each down on the cutting board, so the melon is skin-side up—this stabilizes the melon so you won't have to impale it on the nails again—a bit of a time-saver. Now slice.

If you want, you can cut the quarter slices in half again. Just impale each quarter slice on the cutting board nails and slice. Once you have the serving sizes of your choice,, impale each, with the nails protruding near the center (measuring tip to tip) of the slice. Starting from one tip, slide the knife between the skin and the melon fruit. Repeat this cut from the other tip. Once the fruit is separated from the skin, cut the fruit into bite-sized chunks.

Oranges
You might have thought you could no longer enjoy an orange unless it came in a can or someone peeled it you. Not so! you can fix oranges for yourself with the help of your cutting board.

Impale the orange on your cutting board so the nails straddle the navel. Using a serrated knife, cut the orange in half. Pull the halves off the nails. Lay the halves on the cutting board, cut side down, then cut each in half.
You may be tempted — after all this time without tasting an orange you prepared for yourself — to bite into the whole orange quarters just the way they are, while standing over the kitchen sink, the juice dribbling down your chin and into the sink. Oranges taste great that way!

But if you're serving company, or if you feel like sitting down and more decorously enjoying your orange, cut each quarter cross-wise, in thirds, making orange chunks with a bit of rind on each chunk. The rind is perfect for holding onto when you bite into the orange fruit.

Only recently have I discovered loose-skinned oranges such as mineolas. If you impale the mineola orange on the nails of your cutting board and then pierce the skin with an inch long cut with a paring knife, you can work your index fingernail into the cut and single-handedly peel an orange. After you've cut the 1" slit, use the cutting board nails to leverage the orange and work your fingers under the skin. With practice, you'll get better and better at this, eventually tackling more tightly skinned oranges and even grapefruit.

Pineapple
I long balked at the idea of single-handedly going at a pineapple armed with a sharp knife. It just frightened me—that tough skin, the large cylindricalness, and one hand. Surely this was one good way to get myself into a whole lot of trouble.

"Oh but pineapple is so good for you," my friend Rebecca argued. "It helps ease arthritis. It's good for your bone health, it has beta carotene which is important for eye health, and it's good for your blood." She just wouldn't give up. "And you can pick up a pineapple really inexpensively at The Haymarket." (The Haymarket is the weekend open-air produce market in downtown Boston—the oldest in the country—less than half a mile from my home and where I've shopped just about every Saturday for nearly thirty years.)

Finally, after thinking about how to safely cut into one, I did bring home a pineapple and now it's a year-round staple in my refrigerator.

I usually ask the vendor to break the green stem from the pineapple before I bring it home since sometimes, even with the pineapple firmly gripped between my thighs, that stem just doesn't snap away easily. After thirty years of this single-handed stuff, I've grown more protective of my one hand.

When you're ready to cut into your pineapple — I usually leave mine on the kitchen counter a day or two to ripen — lay it on your cutting board impaled on the nails. Cut a half inch round slice off the bottom and the top and discard those ends. Now, with the pineapple still impaled on your cutting board nails, slice the body into four or five 1-2" rounds.

Stack the rounds on the kitchen counter or on your cutting board away from the nails. Impale one round with one nail through the center of the core of that round. The tougher fibrous core will hold the round more secure, allowing you to cut around between the fruit flesh edge of the round and the tough skin with a paring knife. Once I've cut the full circumference of the round, I usually cut through the skin, making it easier to lift it away from that round. You can then cut the now skin-free round in half, then in quarter and into smaller wedges if you like. I typically do not cut away the core because I both like the taste and I find its less juicy texture makes the core point of each wedge a convenient way to hold the pineapple for a delicious right-out-of-the-refrigerator snack. Yum!

Tossed Salad
Once you learn this trick for managing wooden salad utensils single-handedly, you'll find you can also easily manage chopsticks at Chinese restaurants — even rice! So why not use the chopsticks even at a table also set with Western flatware?

Pick up both serving utensils together, half way down the handles, just as you'd hold a pen, and so that the fork tines and the spoon bowl press together. Slip your middle finger between the handles so the top handle, either spoon or fork, is pinched between your index and ring fingers, and resting on your thumb. The bottom utensil is pinched between your pinkie and ring fingers and pressed into the webbing between your thumb and index finger by the length of your thumb. Operate the top utensil by pressing and relaxing your index finger.

Tongs
A quick and easy solution for serving tossed salad to yourself while at the table is to use your stainless steel kitchen tongs—the same ones you use to pick hot corn on the cob, asparagus, or lobster out of the pot.

If you look, you can find decorative tongs more suitable for the dining room table than the utilitarian-style kitchen tongs pictured to the side, but in a pinch, these will do the trick.

Scissor Salad Tong
One style is the scissor salad tong. These are infinitely single-handed and far more tasteful for the dining table than are your kitchen ones. They're so easy to use, and good-looking you might even start a trend among your friends.