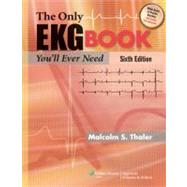 List Price: $66.08
Usually Ships in 2-3 Business Days

More New and Used
from Private Sellers
Questions About This Book?
What version or edition is this?
This is the 6th edition with a publication date of 8/19/2009.
What is included with this book?
The Used copy of this book is not guaranteed to include any supplemental materials. Typically, only the book itself is included.
Related Products
Summary
This popular and practical text presents all the information clinicians need to use the EKG in everyday practice and interpret hypertrophy and enlargement, arrhythmias, conduction blocks, pre-excitation syndromes, and myocardial infarction. It is an ideal reference for medical students in ICM courses, house officers, or anyone directly involved in patient care, whether student, teacher, or practitioner.
Table of Contents
Getting Started Chapter 1: THE BASICSElectricity and the Heart The Cells of the Heart Time and Voltage P Waves, QRS Complexes, T Waves, and Some Straight Lines Naming the Straight Lines Summary: The Waves and Straight Lines of the EKG Making Waves The 12 Views of the Heart A Word About Vectors The Normal 12-Lead EKG Summary: Orientation of the Waves of the Normal EKG Coming Attractions Chapter 2: HYPERTROPHY AND ENLARGEMENT OF THE HEART Definitions Axis Summary: Axis Axis Deviation, Hypertrophy, and Enlargement Atrial Enlargement Summary: Atrial Enlargement Ventricular Hypertrophy Secondary Repolarization Abnormalities of Ventricular Hypertrophy Summary: Ventricular Hypertrophy CASE 1 CASE 2 Chapter 3: ARRHYTHMIAS The Clinical Manifestations of Arrhythmias Why Arrhythmias Happen Rhythm Strips How to Determine the Heart Rate from the EKG The Five Basic Types of Arrhythmias Arrhythmias of Sinus Origin Ectopic Rhythms Reentrant Rhythms The Four Questions Supraventricular Arrhythmias Summary: Supraventricular Arrhythmias Ventricular Arrhythmias Summary: Ventricular Arrhythmias Summary: Rules of Malignancy for PVCs Supraventricular Versus Ventricular Arrhythmias Summary: Ventricular Tachycardia (VT) Versus Paroxysmal Supraventricular Tachycardia (PSVT) with Aberrancy Programmed Electrical Stimulation Implantable Defibrillators External Defibrillators CASE 3 CASE 4 CASE 5 Chapter 4: CONDUCTION BLOCKS What Is a Conduction Block? AV Blocks Summary: AV Blocks Bundle Branch Block Summary: Bundle Branch Block Hemiblocks Summary: Criteria for Hemiblock Combining Right Bundle Branch Block and Hemiblocks Summary: Criteria for Bifascicular Block Blocks That Underachieve The Ultimate in Playing With Blocks: Combining AV Blocks, Right Bundle Branch Block, and Hemiblocks Pacemakers CASE 6 Chapter 5: PREEXCITATION SYNDROMES What Is Preexcitation? Wolff-Parkinson-White Syndrome Lown-Ganong-Levine Syndrome Associated Arrhythmias Summary: Preexcitation CASE 7 Chapter 6: MYOCARDIAL ISCHEMIA AND INFARCTION What Is a Myocardial Infarction? How To Diagnose a Myocardial Infarction Summary: The EKG Changes of an Evolving Myocardial Infarction Localizing the Infarct Non-Q Wave Myocardial Infarctions Angina Summary: The ST Segment in Ischemic Cardiac Disease Limitations of the EKG in Diagnosing an Infarction Stress Testing CASE 8 Chapter 7: FINISHING TOUCHES Electrolyte Disturbances Hypothermia Drugs Other Cardiac Disorders Pulmonary Disorders Central Nervous System Disease The Athlete's Heart Summary: Miscellaneous Conditions CASE 9 Chapter 8: PUTTING IT ALL TOGETHER The 11-Step Method for Reading EKGs Review Charts Chapter 9: HOW DO YOU GET TO CARNEGIE HALL? (Practice, Practice, Practice!) Practice EKG Strips Subject Index