Note: Supplemental materials are not guaranteed with Rental or Used book purchases.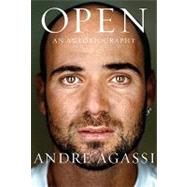 Questions About This Book?
What version or edition is this?
This is the 1st edition with a publication date of 11/9/2009.
What is included with this book?
The New copy of this book will include any supplemental materials advertised. Please check the title of the book to determine if it should include any CDs, lab manuals, study guides, etc.
Summary
A stunning memoir by one of the world's most beloved athletes-- a nuanced self-portrait, an intensely candid account of a remarkable life, and a thrilling inside view of the pro tennis tour.
Author Biography
Andre Agassi played tennis professionally from 1986 to 2006. Often ranked number one, he captured eight Grand Slam singles championships. Founder of the Andre Agassi Charitable Foundation, he has raised more than $85 million for the Andre Agassi College Preparatory Academy for underprivileged children in Las Vegas, where he lives with his wife, Stefanie Graf, and their two children.
Excerpts
THE END
I open my eyes and don't know where I am or who I am. Not all that unusual—I've spent half my life not knowing. Still, this feels different. This confusion is more frightening. More total.
I look up. I'm lying on the floor beside the bed. I remember now. I moved from the bed to the floor in the middle of the night. I do that most nights. Better for my back. Too many hours on a soft mattress causes agony. I count to three, then start the long, difficult process of standing. With a cough, a groan, I roll onto my side, then curl into the fetal position, then flip over onto my stomach. Now I wait, and wait, for the blood to start pumping.
I'm a young man, relatively speaking. Thirty-six. But I wake as if ninety-six. After three decades of sprinting, stopping on a dime, jumping high and landing hard, my body no longer feels like my body, especially in the morning. Consequently my mind doesn't feel like my mind. Upon opening my eyes I'm a stranger to myself, and while, again, this isn't new, in the mornings it's more pronounced. I run quickly through the basic facts. My name is Andre Agassi. My wife's name is Stefanie Graf. We have two children, a son and daughter, five and three. We live in Las Vegas, Nevada, but currently reside in a suite at the Four Seasons hotel in New York City, because I'm playing in the 2006 U.S. Open. My last U.S. Open. In fact my last tournament ever. I play tennis for a living, even though I hate tennis, hate it with a dark and secret passion, and always have.
As this last piece of identity falls into place, I slide to my knees and in a whisper I say: Please let this be over.
Then: I'm not ready for it to be over.
Now, from the next room, I hear Stefanie and the children. They're eating breakfast, talking, laughing. My overwhelming desire to see and touch them, plus a powerful craving for caffeine, gives me the inspiration I need to hoist myself up, to go vertical. Hate brings me to my knees, love gets me on my feet.
I glance at the bedside clock. Seven thirty. Stefanie let me sleep in. The fatigue of these final days has been severe. Apart from the physical strain, there is the exhausting torrent of emotions set loose by my pending retirement. Now, rising from the center of the fatigue comes the first wave of pain. I grab my back. It grabs me. I feel as if someone snuck in during the night and attached one of those anti-theft steering wheel locks to my spine. How can I play in the U.S. Open with the Club on my spine? Will the last match of my career be a forfeit?
I was born with spondylolisthesis, meaning a bottom vertebra that parted from the other vertebrae, struck out on its own, rebelled. (It's the main reason for my pigeon-toed walk.) With this one vertebra out of sync, there's less room for the nerves inside the column of my spine, and with the slightest movement the nerves feel that much more crowded. Throw in two herniated discs and a bone that won't stop growing in a futile effort to protect the damaged area, and those nerves start to feel downright claustrophobic. When the nerves protest their cramped quarters, when they send out distress signals, a pain runs up and down my leg that makes me suck in my breath and speak in tongues. At such moments the only relief is to lie down and wait. Sometimes, however, the moment arrives in the middle of a match. Then the only remedy is to alter my game—swing differently, run differently, do everything differently. That's when my muscles spasm. Everyone avoids change; muscles can't abide it. Told to change, my muscles join the spinal rebellion, and soon my whole body is at war with itself.
Gil, my trainer, my friend, my surrogate father, explains it this way: Your body is saying it doesn't want to do this anymore.
My body has been saying that for a long t
---

Excerpted from Open: An Autobiography by Andre Agassi
All rights reserved by the original copyright owners. Excerpts are provided for display purposes only and may not be reproduced, reprinted or distributed without the written permission of the publisher.