Note: Supplemental materials are not guaranteed with Rental or Used book purchases.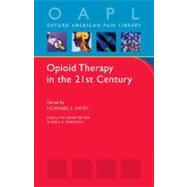 Opioid Therapy in the 21st Century
ISBN13:
9780195339499
by
Smith, Howard S
Summary
Opioids remain one of the most controversial agents in the armamentariumof analgesics, yet they are among the most effective therapeutics for manypainful complaints. Despite the remarkable effectiveness of opioid analgesics inproviding significant pain relief, fears of professional opprobrium, regulatoryrepercussions and/or adverse effects such as respiratory depression or addictionact as significant disincentives to the prescribing of these drugs. Manymisconceptions exist about the use of opioids, and it is important that doctorsare well informed about them, including the potential benefits of therapy andthe potential problems that can occur. This book provides clinicians withup-to-date information about options for managing long-term pain symptoms and isdesigned to aid rational decision-making about patient care. Opioid Therapy for the 21st Century presents a basic introduction to opioidtherapeutics and their appropriate clinical applications, along with variousdocumentation tools to support responsible and safe prescribing practices. Thebook provides an overview of common pain problems and syndromes and covers theuse of opioids in both cancer pain and non-cancer pain. It is designed toincrease the understanding and comfort level of clinicians prescribing opioidanalgesics to patients suffering with significant pain, while stressing theimportance of managing risk of abuse. Special sections are dedicated to opioidpharmacology and the needs of special populations such as pediatric, geriatric,and palliative care patients.
Table of Contents
Preface
Foreword
Introduction
Overview of Opioid-Related Terminology
Diagnosis and Assessment of Pain
Opioid Pharmacology
Optimizing Pharmacologic Outcomesa
Drug Selectionb
Route Selectionc
Assessing and Manging Opioid Side Effectsd
Opioid Rotatione
Individualization of Therapy
Opioids for Cancer Pain
Evidence for the Use of Long-Term Opioid Therapy in Persistent Non-cancerpain
Pre-opioid Prescribing Period
Identifying Patients at Risk for Pain Medication Misuse
Potential Documentation Tools in Long Term Opioid Therapy
Managing the Risk of Abuse, Addiction, and Diversion
Special Populationsa
Pediatric Populationsb
Geriatric Populationsc
Palliative Care
Patients with a History of Substance Abuse
Resources
Sample-AAPM-Consent for Chronic Opioid Therapy
Sample-AAPM-Long Term Controlled Substance Therapy for Chronic PainAgreement
NOSE
TAS
Table of Contents provided by Publisher. All Rights Reserved.