Note: Supplemental materials are not guaranteed with Rental or Used book purchases.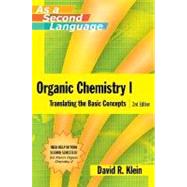 Related Products
Summary
Get a Better Grade in Organic Chemistry Organic Chemistry may be challenging, but that doesn't mean you can't get the grade you want. With David Klein's Organic Chemistry as a Second Language: Translating the Basic Concepts, you'll be able to better understand fundamental principles, solve problems, and focus on what you need to know to succeed. Here's how you can get a better grade in Organic Chemistry: Understand the Big Picture. Organic Chemistry as a Second Language points out the major principles in Organic Chemistry and explains why they are relevant to the rest of the course. By putting these principles together, you'll have a coherent framework that will help you better understand your textbook. Study More Efficiently and Effectively Organic Chemistry as a Second Language provides time-saving study tips and a clear roadmap for your studies that will help you to focus your efforts. Improve Your Problem-Solving Skills Organic Chemistry as a Second Language will help you develop the skills you need to solve a variety of problem types-even unfamiliar ones! Need Help in Your Second Semester? Get Klein's Organic Chemistry II as a Second Language! 978-0-471-73808-5
Table of Contents
Introduction
Bond-Line Drawings
How to Read Bond-Line Drawings
How to Draw Bond-Line Drawings
Mistakes to Avoid
More Exercises
Identifying Formal Charges
Finding Lone Pairs That Are Not Drawn
Resonance
What Is Resonance?
Curved Arrows: The Tools for Drawing Resonance Structures
The Two Commandments
Drawing Good Arrows
Formal Charges in Resonance Structures
Drawing Resonance Structures--Step by Step
Drawing Resonance Structures--By Recognizing Patterns
A Lone Pair Next to a Pi Bond
A Lone Pair Next to a Positive Charge
A Pi Bond Next to a Positive Charge
A Pi Bond Between Two Atoms, Where One of Those Atoms Is Electronegative (N, O, etc.)
Pi Bonds Going All the Way Around a Ring
Assessing the Relative Importance of Resonance Structures
Acid-Base Reactions
Factor 1--What Atom Is the Charge on?
Factor 2--Resonance
Factor 3--Induction
Factor 4--Orbitals
Ranking the Four Factors
Quantitative Measurement (pKa values)
Predicting the Position of Equilibrium
Showing a Mechanism
Geometry
Orbitals and Hybridization States
Geometry
Nomenclature
Functional Group
Unsaturation
Naming the Parent Chain
Naming Substituents
Stereoisomerism
Numbering
Common Names
Going from a Name to a Structure
Conformations
How to Draw a Newman Projection
Ranking the Stability of Newman Projections
Drawing Chair Conformations
Placing Groups on the Chair
Ring Flipping
Comparing the Stability of Chairs
Don't Be Confused by the Nomenclature
Configurations
Locating Stereocenters
Determining the Configuration of a Stereocenter
Nomenclature
Drawing Enantiomers
Diastereomers
Meso Compounds
Drawing Fischer Projections
Optical Activity
Mechanisms
Curved Arrows
Arro w Pushing
Drawing Intermediates
Nucleophiles and Electrophiles
Bases Versus Nucleophiles
The Regiochemistry Is Contained Within the Mechanism
The Stereochemistry Is Contained Within the Mechanism
A List of Mechanisms
Substitution Reactions
The Mechanisms
Factor 1--The Electrophile (Substrate)
Factor 2--The Nucleophile
Factor 3--The Leaving Group
Factor 4--The Solvent
Using All Four Factors
Substitution Reactions Teach Us Some Important Lessons
Elimination Reactions
Mechanisms (E1 and E2)
Factor 1--The Substrate
Factor 2--The Base
Factor 3--The Leaving Group
Factor 4--Solvent Effects
Using All of the Factors
Elimination Reactions--Regiochemistry and Stereochemistry
Addition Reactions
Terminology Describing Regiochemistry
Terminology Describing Stereochemistry
Adding H and H
Adding H and X, Markovnikov
Adding H and Br, Anti-Markovnikov
Adding H and OH, Markovnikov
Adding H and OH, Anti-Markovnikov
Synthesis Techniques
Adding Br and Br; Adding Br and OH
Adding OH and OH, Anti
Adding OH and OH, Syn
Oxidati ve Cleavage of an Alkene
Predicting Products
General Tips for Predicting Products
Getting Practice
Substitution Versus Elimination Reactions
Looking Forward
Synthesis
One-step Syntheses
Multistep Syntheses
Retrosynthetic Analysis
Creating Your Own Problems
Answer Key
Index
Table of Contents provided by Publisher. All Rights Reserved.