Note: Supplemental materials are not guaranteed with Rental or Used book purchases.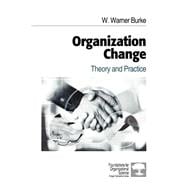 Organization Change : Theory and Practice
ISBN13:
9780761914839
by
W. Warner Burke
Related Products
Summary
Organizations are striving to succeed in an increasingly complex global, political, and economic environment. This book provides an overview of the theoretical and research foundation for our current understanding of organization change including the types of change organizations experience.It reviews various models of organization change, including a new model developed by Burke-Litwin, and demonstrates how these models can be used to diagnose change issues in organizations. Separate chapters are devoted to the role of leaders in initiating and implementing change efforts and the more popular change interventions being implemented in organizations today. The concluding chapter discusses implications for further theory development, conducting research on organization change, and planning and managing change in organizations.The book is appropriate for use in advanced courses in the areas of organizational psychology, industrial psychology, and organizational behaviour. In addition, it will be of interest to consultants in organizational change and development that want a better understanding of the field and an update on the current research in this area.
Author Biography
W. Warner Burke is Professor of Psychology and Education and coordinator for the graduate programs in Social-Organizational Psychology, in the Department of Organization and Leadership, at Teachers College, Columbia University, in New York.
Table of Contents
Introduction to the Series
xi
Preface
xiii
Acknowledgments
xvii

| | |
| --- | --- |
| | Rethinking Organization Change |

1
(18)

| | |
| --- | --- |
| | The Paradox of Planned Organization Change |

2
(2)

| | |
| --- | --- |
| | Making the Case for Organization Change |

4
(6)
4
(2)

| | |
| --- | --- |
| | Changing Government Agencies |

6
(1)

| | |
| --- | --- |
| | Changing Higher Education Institutions and Nonprofit Organizations |

7
(2)
9
(1)

| | |
| --- | --- |
| | Personal Declarations and Points of View |

10
(8)
10
(1)
11
(1)

| | |
| --- | --- |
| | Types of Organization Change |

11
(1)

| | |
| --- | --- |
| | Levels of Organization Change |

12
(1)

| | |
| --- | --- |
| | How Organization Change Occurs |

13
(1)

| | |
| --- | --- |
| | The Content and Process of Organization Change |

14
(1)
14
(1)

| | |
| --- | --- |
| | The Organizational Model of Choice |

15
(1)

| | |
| --- | --- |
| | Organization Change Should Be Data-Based and Measured |

16
(1)

| | |
| --- | --- |
| | Planned Organization Change Requires Leadership |

16
(1)

| | |
| --- | --- |
| | Planned Organization Change Is Complex |

17
(1)
17
(1)
18
(1)

| | |
| --- | --- |
| | A Brief History of Organization Change |

19
(24)
20
(3)
23
(3)
26
(2)
28
(2)
30
(2)
32
(2)
34
(2)

| | |
| --- | --- |
| | The Managerial Grid and OD |

36
(2)

| | |
| --- | --- |
| | Coercion and Confrontation |

38
(2)
40
(2)
42
(1)

| | |
| --- | --- |
| | Theoretical Foundations of Organizations and Organization Change |

43
(20)
43
(2)

| | |
| --- | --- |
| | Characteristics of Open Systems |

45
(4)

| | |
| --- | --- |
| | Organization Change Is Systemic |

49
(2)

| | |
| --- | --- |
| | Toward a Deeper Understanding of Organization Change |

51
(2)

| | |
| --- | --- |
| | Capra's Three Criteria for Understanding Life |

53
(5)

| | |
| --- | --- |
| | Implications for Organizations and Organization Change |

58
(5)

| | |
| --- | --- |
| | The Nature of Organization Change |

63
(20)
64
(3)
67
(3)

| | |
| --- | --- |
| | Revolutionary Change: Case Example |

70
(2)

| | |
| --- | --- |
| | Evolutionary Change: Case Example |

72
(10)

| | |
| --- | --- |
| | The Tools for Assessment and Ratings |

75
(5)

| | |
| --- | --- |
| | Data Summary of the Firm's Partners |

80
(1)
81
(1)
82
(1)

| | |
| --- | --- |
| | Levels of Organization Change: Individual, Group, and Larger System |

83
(38)

| | |
| --- | --- |
| | Change in Organizations at the Individual Level |

84
(8)

| | |
| --- | --- |
| | Individual Responses to Organization Change |

92
(5)

| | |
| --- | --- |
| | Change in Organizations at the Group Level |

97
(5)

| | |
| --- | --- |
| | Group Responses to Organization Change |

102
(2)

| | |
| --- | --- |
| | Change in Organizations at the Larger-System Level |

104
(7)

| | |
| --- | --- |
| | System Responses to Organization Change |

111
(3)
114
(7)

| | |
| --- | --- |
| | Organization Change: Research and Theory |

121
(22)

| | |
| --- | --- |
| | Reviews of Organization Change Research |

121
(6)

| | |
| --- | --- |
| | More Recent Approaches to Research and Theory |

127
(4)

| | |
| --- | --- |
| | The Shift From ``Normal'' Science |

127
(2)

| | |
| --- | --- |
| | The Organizational Change Research Theory of Porras and Colleagues |

129
(2)
131
(1)

| | |
| --- | --- |
| | Organization Change Theory |

132
(7)

| | |
| --- | --- |
| | Current Thinking Regarding Organization Change and Theory |

139
(2)
141
(2)

| | |
| --- | --- |
| | Conceptual Models for Understanding Organization Change |

143
(32)
144
(2)

| | |
| --- | --- |
| | Process: How to Change-A Theoretical Framework |

146
(4)

| | |
| --- | --- |
| | Process: How to Change-Practice Frameworks |

150
(6)

| | |
| --- | --- |
| | Mini-Theories Related to Organization Change |

156
(8)
156
(2)
158
(3)

| | |
| --- | --- |
| | The Larger-System Emphasis |

161
(3)
164
(1)

| | |
| --- | --- |
| | The Content and Process of Strategic Change in Organizations |

164
(4)

| | |
| --- | --- |
| | Strategies for Effecting Change in Human Systems |

168
(4)
172
(3)

| | |
| --- | --- |
| | Integrated Models for Understanding Organizations and for Leading and Managing Change |

175
(20)

| | |
| --- | --- |
| | What Is an Organizational Model? |

176
(1)

| | |
| --- | --- |
| | Why Use an Organization Model? |

177
(2)

| | |
| --- | --- |
| | Organization Models and Organization Change |

179
(12)
180
(3)

| | |
| --- | --- |
| | The Nadler-Tushman Congruence Model |

183
(5)

| | |
| --- | --- |
| | Tichy's TPC (Technical, Political, Cultural) Framework |

188
(3)

| | |
| --- | --- |
| | A Comparison of the Three Models |

191
(1)
192
(3)

| | |
| --- | --- |
| | The Burke-Litwin Causal Model of Performance and Change |

195
(22)
195
(3)
198
(11)

| | |
| --- | --- |
| | Transformational and Transactional Dimensions |

201
(8)

| | |
| --- | --- |
| | Support for the Model's Validity |

209
(6)

| | |
| --- | --- |
| | The Influence of the External Environment |

210
(1)

| | |
| --- | --- |
| | The Transformational Factors |

211
(1)

| | |
| --- | --- |
| | The Transactional Factors |

212
(3)
215
(2)

| | |
| --- | --- |
| | Application of the Burke-Litwin Model |

217
(22)

| | |
| --- | --- |
| | Case 1: Dime Bancorp, Inc. |

217
(9)

| | |
| --- | --- |
| | Case 2: British Broadcasting Corporation (BBC) |

226
(12)
238
(1)

| | |
| --- | --- |
| | Leading Organization Change |

239
(34)
240
(2)
242
(1)

| | |
| --- | --- |
| | Toward Further Definition |

242
(4)

| | |
| --- | --- |
| | Phases of Organization Change and the Leader's Role |

246
(24)
247
(10)
257
(3)

| | |
| --- | --- |
| | Postlaunch: Further Implementation |

260
(6)
266
(4)
270
(3)

| | |
| --- | --- |
| | Organization Change: Epidemics, Integration, and Future Needs |

273
(24)
274
(5)

| | |
| --- | --- |
| | Applying the ``Tipping Point'' Principles to Planned Organization Change |

279
(4)

| | |
| --- | --- |
| | Changing the Organization |

283
(4)

| | |
| --- | --- |
| | Organization Change: What We Need to Know |

287
(6)
293
(2)
295
(2)
Appendix: Annotated Bibliography
297
(6)
References
303
(14)
Index
317
(9)
About the Author
326