Note: Supplemental materials are not guaranteed with Rental or Used book purchases.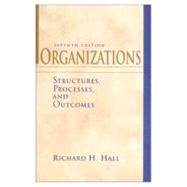 Organizations: Structures, Processes, and Outcomes
ISBN13:
9780139033940
by
Hall, Richard H.
Related Products
Summary
Basic text for the Sociology of Organizations course taught in Sociology or Business departments, whether on the undergraduate or graduate level. Based upon classical and contemporary theory and empirical research, this text forms a sociological analysis of organizations, focusing on the impacts that organizations have upon individuals and society. The Seventh Edition of this renowned text has been rewritten to be more accessible to readers and to update coverage while retaining the features that have brought it widespread acclaim.
Table of Contents
Preface
xi
Part I The Nature of Organizations
1
(44)

| | |
| --- | --- |
| | Chapter 1 The Outcomes of Organizations |

1
(25)
1
(2)

| | |
| --- | --- |
| | Why Do We Have Organizations? |

3
(1)

| | |
| --- | --- |
| | Organizations and the Individual |

4
(3)

| | |
| --- | --- |
| | Categories of Individuals |

7
(1)

| | |
| --- | --- |
| | Organizations and the Community |

8
(2)
10
(5)

| | |
| --- | --- |
| | Organizations and Social Change |

15
(7)

| | |
| --- | --- |
| | Multinational Organizations |

22
(2)
24
(1)
25
(1)

| | |
| --- | --- |
| | Chapter 2 On the Nature and Types of Organizations |

26
(19)

| | |
| --- | --- |
| | Definitions from the Past |

26
(2)
28
(3)
31
(4)
35
(8)

| | |
| --- | --- |
| | The Voluntary Organization |

43
(1)
44
(1)
Part II Organizational Structure
45
(64)

| | |
| --- | --- |
| | Chapter 3 Organizational Structure: Forms and Outcomes |

45
(38)

| | |
| --- | --- |
| | Defining Organizational Structure |

47
(3)
50
(13)
63
(6)

| | |
| --- | --- |
| | Formalization and Outcomes for Individuals |

69
(5)
74
(8)
82
(1)

| | |
| --- | --- |
| | Chapter 4 Organizational Structure: Explanations |

83
(26)
85
(13)
98
(8)

| | |
| --- | --- |
| | Explaining Organizational Structure |

106
(1)
107
(2)
Part III Organizational Processes
109
(95)

| | |
| --- | --- |
| | Chapter 5 Power and Power Outcomes |

109
(25)

| | |
| --- | --- |
| | The Nature of Power in Organizations |

110
(5)

| | |
| --- | --- |
| | Horizontal Power Relationships |

115
(6)

| | |
| --- | --- |
| | A Perspective on Power in Organizations |

121
(3)

| | |
| --- | --- |
| | Power in Voluntary Organizations |

124
(1)
124
(1)

| | |
| --- | --- |
| | The Outcomes of Power Relationships |

125
(1)

| | |
| --- | --- |
| | Conflict in Organizations |

126
(5)

| | |
| --- | --- |
| | The Social Outcomes of Power |

131
(1)
132
(2)
134
(21)
135
(5)

| | |
| --- | --- |
| | The Outcomes of Leadership for Organizations |

140
(12)

| | |
| --- | --- |
| | Leadership in the Voluntary Organization |

152
(1)
153
(2)

| | |
| --- | --- |
| | Chapter 7 Decision Making |

155
(11)
156
(2)

| | |
| --- | --- |
| | Variables and Constraints |

158
(3)
161
(2)

| | |
| --- | --- |
| | Power and Decision Making |

163
(1)

| | |
| --- | --- |
| | The Decision-Making Process |

164
(1)
165
(1)
166
(18)

| | |
| --- | --- |
| | The Importance of Communication |

166
(3)
169
(2)
171
(1)
171
(4)
175
(4)
179
(2)

| | |
| --- | --- |
| | Communication from Outside the Organization |

181
(1)
181
(2)
183
(1)
184
(20)

| | |
| --- | --- |
| | The Nature of Organizational Change |

184
(3)
187
(10)

| | |
| --- | --- |
| | Innovation in Organizations |

197
(5)
202
(2)
Part IV Organizational Environments
204
(45)

| | |
| --- | --- |
| | Chapter 10 Organizational Environments and Interorganizational Relationships |

204
(45)

| | |
| --- | --- |
| | The Environment and the Formation of Organizations |

204
(3)
207
(7)
214
(3)

| | |
| --- | --- |
| | The Perception of the Environment |

217
(1)

| | |
| --- | --- |
| | The Impact of the Environment on the Organization |

218
(2)

| | |
| --- | --- |
| | Interorganizational Relationships |

220
(1)
221
(6)

| | |
| --- | --- |
| | A Framework for IOR Analysis: The Human-Service Delivery Area |

227
(16)

| | |
| --- | --- |
| | Interlocking Boards of Directors |

243
(4)
247
(1)
248
(1)
Part V Organizational Effectiveness and Organizational Theory
249
(45)

| | |
| --- | --- |
| | Chapter 11 Organizational Effectiveness |

249
(25)

| | |
| --- | --- |
| | Toward a Contradiction Model of Effectiveness |

250
(1)

| | |
| --- | --- |
| | Models of Organizational Effectiveness |

251
(16)
267
(5)
272
(2)

| | |
| --- | --- |
| | Chapter 12 Organizational Theory |

274
(20)

| | |
| --- | --- |
| | The Population-Ecology Model |

275
(3)

| | |
| --- | --- |
| | The Resource-Dependence Model |

278
(5)

| | |
| --- | --- |
| | The Rational-Contingency Model |

283
(4)

| | |
| --- | --- |
| | The Transaction-Cost Model |

287
(2)
289
(3)

| | |
| --- | --- |
| | Combining the Perspectives |

292
(1)
293
(1)
References
294
(37)
Indexes
331