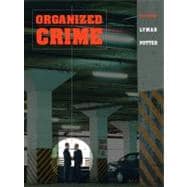 Questions About This Book?
What version or edition is this?
This is the 4th edition with a publication date of 1/1/2011.
What is included with this book?
The Used copy of this book is not guaranteed to include any supplemental materials. Typically, only the book itself is included.
Summary
Dispelling current myths regarding organized crime, Lyman and Potterrs"s fourth edition reveals a truer picture of organized crime and criminal activity today. Providing scholarly treatment and a social perspective, the authors explore the concept of organized crime, the historical foundation for its evolution and development, and the current status of criminal groups in todayrs"s society. Offering timely and respected research, this edition includes a thorough examination of drug trafficking, new sections on emerging organized crime groups, updated case studies, more coverage international groups, updated statistics, graphics and more! Presents a broad view of organized crime that incorporates more than just ethnically- driven, pop-culture stereotypes. Incorporates two parallel themes-organized crime consists of many different groups and corrupt individuals in public office, business etc., contribute to the continuation of the problem. Uses thematic questions (What is organized crime? Is there really a Mafia? Is terrorism organized crime? Do political machines still exist?) to promote higher-order thinking skills and a critical examination of the topic. Synthesizes volumes of historical data and archives to present the most salient aspects of the organized crime problem. References information and reports generated by the Federal Bureau of Investigation, the Pennsylvania Crime Commission, the National Institute of Justice, the Bureau of Justice Statistics and well-known researchers in the field. Law enforcement professionals and those interested in a scholarly treatment and a social perspective of organized crime.
Table of Contents
Preface
xv

| | |
| --- | --- |
| | Understanding Organized Crime |

1
(58)
1
(2)
3
(1)
3
(2)

| | |
| --- | --- |
| | Redefining Organized Crime |

5
(1)

| | |
| --- | --- |
| | Globalization and Organized Crime |

6
(1)
7
(2)
8
(1)

| | |
| --- | --- |
| | Profit-Making Enterprises of Organized Crime |

8
(1)

| | |
| --- | --- |
| | Organized Crime Networks or Global Mafias? |

9
(1)

| | |
| --- | --- |
| | The Forms of Organized Crime |

9
(6)
10
(1)
11
(1)
12
(1)
13
(1)
14
(1)

| | |
| --- | --- |
| | Problems Caused by Organized Crime |

15
(1)
15
(1)

| | |
| --- | --- |
| | Categories of Organized Criminal Behavior |

16
(2)

| | |
| --- | --- |
| | Provision of Illicit Services |

17
(1)

| | |
| --- | --- |
| | Provision of Illicit Goods |

17
(1)

| | |
| --- | --- |
| | Conspiracy to Commit Crimes |

17
(1)

| | |
| --- | --- |
| | Penetration of Legitimate Business |

17
(1)
18
(1)
18
(1)

| | |
| --- | --- |
| | Definitions by Crime Commissions |

18
(3)
18
(1)

| | |
| --- | --- |
| | The Wickersham Commission |

18
(1)
18
(2)
20
(1)

| | |
| --- | --- |
| | The President's Commission on Law Enforcement and the Administration of Justice |

20
(1)

| | |
| --- | --- |
| | Pennsylvania Crime Commission |

20
(1)
21
(2)

| | |
| --- | --- |
| | The Village Becomes Organized |

21
(1)
22
(1)

| | |
| --- | --- |
| | Investigations Into Organized Crime |

23
(16)
23
(2)

| | |
| --- | --- |
| | The Hennessey Incident in New Orleans |

25
(2)

| | |
| --- | --- |
| | Landesco's Organized Crime Investigation |

27
(1)
27
(1)
28
(2)
30
(1)
31
(2)

| | |
| --- | --- |
| | The Valachi Testimony at the McClellan Committee |

33
(2)

| | |
| --- | --- |
| | Robert Kennedy's Justice Department Task Force |

35
(1)
36
(2)
38
(1)

| | |
| --- | --- |
| | Louis Freeh and the New Mafia War |

39
(1)

| | |
| --- | --- |
| | Models of Organized Crime |

39
(11)

| | |
| --- | --- |
| | Report of the President's Commission on Organized Crime on Levels of Membership |

40
(3)

| | |
| --- | --- |
| | Cressey's Cosa Nostra Theory |

43
(3)

| | |
| --- | --- |
| | Albini's Patron-Client Theory |

46
(1)

| | |
| --- | --- |
| | Smith's Enterprise Theory |

47
(1)

| | |
| --- | --- |
| | Ianni's Kinship Group Model |

47
(1)

| | |
| --- | --- |
| | Chambliss's Crime Network Theory |

48
(1)

| | |
| --- | --- |
| | Haller's Partnership Model |

48
(1)

| | |
| --- | --- |
| | Block's Description of Enterprise and Power Syndicates |

48
(2)

| | |
| --- | --- |
| | Nontraditional Organized Crime |

50
(1)

| | |
| --- | --- |
| | Organizational Constraints |

51
(2)

| | |
| --- | --- |
| | Reuter on Economic Constraints |

52
(1)

| | |
| --- | --- |
| | Mastrofski and Potter on Organizational Constraints |

52
(1)

| | |
| --- | --- |
| | Organized Crime, the Media, and Popular Culture |

53
(4)
57
(1)

| | |
| --- | --- |
| | Do You Recognize These Terms? |

58
(1)
58
(1)
58
(1)

| | |
| --- | --- |
| | Theories of Organized Criminal Behavior |

59
(25)
59
(1)
60
(1)
61
(1)
62
(1)

| | |
| --- | --- |
| | Psychological Traits and Criminality |

63
(3)

| | |
| --- | --- |
| | The Antisocial Personality |

63
(1)

| | |
| --- | --- |
| | The Dependent Personality |

64
(2)
66
(2)
66
(1)

| | |
| --- | --- |
| | Sutherland on Differential Association |

67
(1)

| | |
| --- | --- |
| | Social Disorganization Theories |

68
(2)
68
(1)

| | |
| --- | --- |
| | Bell's Queer Ladder of Mobility Theory |

68
(1)
69
(1)

| | |
| --- | --- |
| | Cloward and Ohlin on Differential Opportunity |

69
(1)

| | |
| --- | --- |
| | Taylor, Walton, and Young on Blocked Opportunity |

70
(1)

| | |
| --- | --- |
| | Cultural Deviance Theories |

70
(1)
70
(1)

| | |
| --- | --- |
| | Smith's Enterprise Theory |

70
(1)

| | |
| --- | --- |
| | Organizational Theory and Organized Crime |

71
(3)

| | |
| --- | --- |
| | Two Empirical Conclusions |

73
(1)

| | |
| --- | --- |
| | Social Implications of the Enterprise Model |

74
(1)

| | |
| --- | --- |
| | Organized Crime as a Community Social Institution |

74
(7)

| | |
| --- | --- |
| | Alignment with Legitimate Business |

75
(1)

| | |
| --- | --- |
| | Benefits for Legitimate Business |

75
(1)

| | |
| --- | --- |
| | Organized Crime Provides Benefits to Legitimate Businesses |

76
(1)

| | |
| --- | --- |
| | Illicit Income for Community Members |

76
(1)

| | |
| --- | --- |
| | Legitimate Employment Opportunities |

77
(1)

| | |
| --- | --- |
| | Community Acceptance of Organized Crime |

77
(1)
78
(2)

| | |
| --- | --- |
| | Interfacing with the Community |

80
(1)
81
(1)

| | |
| --- | --- |
| | Do You Recognize These Terms? |

82
(1)
82
(1)
82
(2)

| | |
| --- | --- |
| | The Evolution of Organized Crime: Urban Beginnings and Major Participants |

84
(43)
84
(1)
85
(5)

| | |
| --- | --- |
| | The Political Machine (1830--1919) |

86
(4)

| | |
| --- | --- |
| | The Early Drug Syndicates (1915--1930) |

90
(1)

| | |
| --- | --- |
| | The Prohibition Era (1920--1933) |

91
(1)
92
(5)
92
(1)
93
(2)

| | |
| --- | --- |
| | Sam Giancana (1908--1975) |

95
(2)

| | |
| --- | --- |
| | Ethnicity and Organized Crime in Large Cities |

97
(1)
97
(8)

| | |
| --- | --- |
| | The Masseria and Maranzano Assassinations |

97
(1)

| | |
| --- | --- |
| | Lucky Luciano and New York's New Order |

98
(2)

| | |
| --- | --- |
| | Siegel, Lansky, and the New York-Las Vegas Connection |

100
(3)
103
(1)
104
(1)

| | |
| --- | --- |
| | Other Notable Figures in New York |

105
(13)
105
(1)
106
(2)
108
(1)
109
(1)
110
(2)
112
(1)
113
(1)
114
(1)
114
(1)
115
(3)
118
(4)

| | |
| --- | --- |
| | Philadelphia and the National Syndicate |

120
(2)
122
(2)
122
(2)
124
(1)

| | |
| --- | --- |
| | Do You Recognize These Terms? |

125
(1)
125
(1)
125
(2)

| | |
| --- | --- |
| | The Evolution of Organized Crime: Southern Beginnings and Major Participants |

127
(21)
127
(1)

| | |
| --- | --- |
| | Historical Perspectives of Organized Crime in the South |

127
(2)
129
(1)

| | |
| --- | --- |
| | Land Pirates, Horse and Slave Thieves, Highwaymen, Marauders, and Train Robbers |

130
(3)
133
(9)
133
(1)
134
(1)
135
(3)
138
(1)
138
(1)
139
(3)

| | |
| --- | --- |
| | Bootlegging and Moonshining |

142
(5)
147
(1)

| | |
| --- | --- |
| | Do You Recognize These Terms? |

147
(1)
147
(1)
147
(1)

| | |
| --- | --- |
| | The Businesses of Organized Crime |

148
(44)
148
(1)

| | |
| --- | --- |
| | Delivery of Illicit Goods and Services |

149
(1)
150
(2)
152
(2)
152
(1)

| | |
| --- | --- |
| | Organized Crime and Pornography |

153
(1)
154
(6)
156
(1)
156
(1)

| | |
| --- | --- |
| | Massage Parlor Prostitutes |

156
(1)
157
(1)

| | |
| --- | --- |
| | Hotel and Convention Prostitutes |

157
(1)
158
(1)

| | |
| --- | --- |
| | Escort Service Prostitutes |

158
(1)

| | |
| --- | --- |
| | Pimp-Prostitute Relationship |

159
(1)
159
(1)

| | |
| --- | --- |
| | Organized Crime and Prostitution |

160
(1)
160
(2)
160
(1)
160
(1)
160
(1)
161
(1)
161
(1)
162
(1)
163
(2)
165
(1)
166
(4)
167
(1)
168
(1)

| | |
| --- | --- |
| | The Effects of Illegal Gambling |

169
(1)
170
(1)
171
(1)

| | |
| --- | --- |
| | Trafficking in Gems and Gold |

172
(1)
173
(2)

| | |
| --- | --- |
| | Reasons to Seek Legitimacy |

175
(2)
177
(2)
179
(2)

| | |
| --- | --- |
| | Intellectual Property Rights Violations |

181
(2)

| | |
| --- | --- |
| | Trafficking in Nuclear Material |

183
(1)

| | |
| --- | --- |
| | Trafficking in Women and Children |

184
(2)
186
(3)
186
(1)

| | |
| --- | --- |
| | Current Money-Laundering Trends |

186
(1)

| | |
| --- | --- |
| | The Money-Laundering Process |

187
(1)
187
(2)
189
(1)

| | |
| --- | --- |
| | Do You Recognize These Terms? |

190
(1)
190
(1)
190
(2)
192
(30)
192
(2)

| | |
| --- | --- |
| | Drug Control: A Brief History |

194
(1)
194
(1)

| | |
| --- | --- |
| | The Impact of Drugs on Society |

195
(6)

| | |
| --- | --- |
| | The Pervasiveness of Drug Abuse |

196
(1)
196
(1)
197
(1)
198
(1)

| | |
| --- | --- |
| | Drugs and Income-Generating Crime |

199
(1)

| | |
| --- | --- |
| | Drugs and Organized Crime |

199
(2)

| | |
| --- | --- |
| | Players in the Drug Business |

201
(1)
201
(1)

| | |
| --- | --- |
| | Money Laundering in Mexico |

202
(1)
202
(2)

| | |
| --- | --- |
| | Afghanistan and Drug Trafficking |

204
(1)

| | |
| --- | --- |
| | Trends of Organized Drug Trafficking |

205
(2)
205
(1)
205
(2)

| | |
| --- | --- |
| | Drugs and Drug-Trafficking Techniques |

207
(10)
207
(2)
209
(3)
212
(1)
213
(2)
215
(1)
216
(1)
217
(2)

| | |
| --- | --- |
| | Strategy 1: Expressive Law Enforcement |

217
(1)

| | |
| --- | --- |
| | Strategy 2: Mr. Big Strategy |

218
(1)
218
(1)

| | |
| --- | --- |
| | Strategy 4: Citywide Street-Level Drug Enforcement |

218
(1)

| | |
| --- | --- |
| | Strategy 5: Neighborhood Crackdowns |

218
(1)

| | |
| --- | --- |
| | Strategy 6: Drug Abuse Prevention |

218
(1)
219
(1)
219
(1)

| | |
| --- | --- |
| | Do You Recognize These Terms? |

220
(1)
220
(1)
220
(2)

| | |
| --- | --- |
| | Domestic Organized Crime Groups |

222
(44)
222
(1)

| | |
| --- | --- |
| | Past African American Organized Crime |

223
(3)
224
(1)
224
(1)
225
(1)
225
(1)
225
(1)

| | |
| --- | --- |
| | Contemporary African American Organized Crime |

226
(2)
226
(1)
227
(1)
227
(1)
227
(1)
228
(9)
228
(1)

| | |
| --- | --- |
| | Reasons for the Existence of Youth Gangs |

229
(1)

| | |
| --- | --- |
| | How Street Gangs Are Organized |

229
(2)
231
(2)

| | |
| --- | --- |
| | Laws Addressing Gang Violence |

233
(1)

| | |
| --- | --- |
| | Characteristics of Youth Gang Members |

234
(1)
234
(2)
236
(1)
237
(1)
237
(11)

| | |
| --- | --- |
| | The OMG--Organized Crime Link |

239
(1)
239
(2)
241
(1)
242
(2)
244
(2)
246
(1)
247
(1)
248
(13)
250
(2)
252
(1)
253
(1)
253
(1)
254
(2)
256
(1)
256
(1)
257
(1)
257
(2)

| | |
| --- | --- |
| | Gang Members in the Community |

259
(2)
261
(3)
262
(1)
263
(1)

| | |
| --- | --- |
| | Characteristics of Rural Organized Crime Groups |

264
(1)
264
(1)

| | |
| --- | --- |
| | Do You Recognize These Terms? |

265
(1)
265
(1)
265
(1)

| | |
| --- | --- |
| | A Comparative Perspective |

266
(58)
266
(1)

| | |
| --- | --- |
| | Transnational Organized Crime |

266
(2)

| | |
| --- | --- |
| | International Changes and Organized Crime |

268
(2)

| | |
| --- | --- |
| | International Transportation and Criminal Organizations |

268
(1)

| | |
| --- | --- |
| | International Trade and Criminal Organizations |

268
(1)

| | |
| --- | --- |
| | Computer and Communications Technology and Criminal Organizations |

269
(1)

| | |
| --- | --- |
| | International Financial Networks and Organized Crime |

269
(1)

| | |
| --- | --- |
| | Globalization and the Consumption Society |

269
(1)

| | |
| --- | --- |
| | The Changing Character of Organized Crime in a Global Economy |

269
(1)

| | |
| --- | --- |
| | Strategic Alliances and Modern Organized Crime |

270
(2)

| | |
| --- | --- |
| | Undermining Civilized Society |

272
(1)

| | |
| --- | --- |
| | Impact on Local Economies |

272
(1)

| | |
| --- | --- |
| | Undermining State Legitimacy |

272
(1)
273
(1)

| | |
| --- | --- |
| | Future Trends Affecting Criminal Organizations |

273
(2)
274
(1)

| | |
| --- | --- |
| | International Ungovernability |

274
(1)

| | |
| --- | --- |
| | Immigration Streams and Organized Crime |

274
(1)
274
(1)

| | |
| --- | --- |
| | Drug Cartels and the International Organization of Drug Trafficking in the Twenty-First Century |

275
(1)

| | |
| --- | --- |
| | Colombian Cocaine Cartels |

276
(6)

| | |
| --- | --- |
| | Colombian Traffickers and the Cocaine Market |

276
(1)

| | |
| --- | --- |
| | Cocaine Wholesaling Structure |

277
(1)
278
(1)
279
(1)
280
(1)

| | |
| --- | --- |
| | Contemporary Colombian Drug-Trafficking Organizations |

281
(1)
282
(4)

| | |
| --- | --- |
| | Dominican Drug-Trafficking Organizations |

286
(1)
287
(1)
287
(1)
288
(1)

| | |
| --- | --- |
| | A Small Corner of the World: Organized Crime in the Triborder Area |

288
(6)

| | |
| --- | --- |
| | Geography, Society, and the Economy of Crime |

289
(1)
290
(1)

| | |
| --- | --- |
| | Organizing Crime in the TBA |

291
(1)

| | |
| --- | --- |
| | Organized Crime Enterprises in the TBA |

292
(1)
293
(1)

| | |
| --- | --- |
| | Emerging Transnational Criminal Organizations |

294
(28)
294
(4)
298
(2)
300
(1)
300
(1)
301
(1)
302
(2)
304
(3)
307
(5)
312
(8)

| | |
| --- | --- |
| | Issues Related to Organized Crime Facing Africa |

320
(1)

| | |
| --- | --- |
| | Albanian Drug-Smuggling Networks |

321
(1)
322
(1)

| | |
| --- | --- |
| | Do You Recognize These Terms? |

322
(1)
323
(1)
323
(1)

| | |
| --- | --- |
| | Terrorism as Organized Crime |

324
(52)
324
(1)
324
(1)
325
(1)
326
(2)
328
(1)

| | |
| --- | --- |
| | Recent Changes in Terrorism |

329
(2)

| | |
| --- | --- |
| | Use of Chemical and Biological Weapons |

330
(1)
330
(1)
331
(5)

| | |
| --- | --- |
| | Revisiting September 11, 2001 |

332
(3)

| | |
| --- | --- |
| | Responding to September 11, 2001 |

335
(1)

| | |
| --- | --- |
| | Middle Eastern Terrorists |

336
(11)
338
(5)
343
(4)
347
(1)

| | |
| --- | --- |
| | Latin American Terrorists |

347
(1)
348
(1)

| | |
| --- | --- |
| | State-Sponsored Terrorism and U.S. Foreign Policy |

349
(8)
349
(1)
350
(1)
350
(1)
351
(1)
351
(1)

| | |
| --- | --- |
| | U.S. Intelligence Agency Collaboration with Organized Crime |

351
(1)

| | |
| --- | --- |
| | The OSS in Italy and Marseilles |

351
(1)

| | |
| --- | --- |
| | The CIA in Southeast Asia |

352
(1)

| | |
| --- | --- |
| | The CIA in Southwest Asia |

353
(1)

| | |
| --- | --- |
| | The CIA and Money Laundering in Florida and the Caribbean Basin |

353
(1)

| | |
| --- | --- |
| | The Nugan-Hand Bank in Australia |

353
(1)

| | |
| --- | --- |
| | The Bank of Credit and Commerce International |

354
(1)

| | |
| --- | --- |
| | Cuban Organized Crime Groups |

354
(1)
354
(2)

| | |
| --- | --- |
| | Drug Smuggling by the Contras |

356
(1)

| | |
| --- | --- |
| | What Did They Know and When Did They Know It? |

356
(1)
357
(4)

| | |
| --- | --- |
| | The Bombing in Oklahoma City |

359
(1)

| | |
| --- | --- |
| | Other Incidents in the Late Twentieth Century |

360
(1)
361
(1)
362
(3)

| | |
| --- | --- |
| | Domestic Terrorism: White Supremacist and Hate Groups |

363
(2)
365
(1)
366
(4)

| | |
| --- | --- |
| | Other Domestic Terrorist Groups |

367
(1)

| | |
| --- | --- |
| | Christian Identity Groups |

367
(1)
367
(1)

| | |
| --- | --- |
| | Third-Position White Supremacists |

367
(1)
368
(1)
368
(1)

| | |
| --- | --- |
| | Fifth-Era Ku Klux Klan Groups |

368
(1)
369
(1)
369
(1)

| | |
| --- | --- |
| | Single-Issue Terrorist Activity |

370
(2)
370
(1)
371
(1)

| | |
| --- | --- |
| | The Media's Role in Terrorism |

372
(1)
372
(1)

| | |
| --- | --- |
| | The 1996 Antiterrorism Bill |

373
(1)
373
(1)
374
(1)

| | |
| --- | --- |
| | Do You Recognize These Terms? |

374
(1)
374
(1)
375
(1)

| | |
| --- | --- |
| | Organized Crime's Political and Corporate Alliances |

376
(43)
376
(1)

| | |
| --- | --- |
| | Corporate Scandals of the Twenty-First Century |

377
(2)
379
(1)

| | |
| --- | --- |
| | Organized Crime and the Political System |

380
(2)

| | |
| --- | --- |
| | The Mob and John F. Kennedy |

382
(4)

| | |
| --- | --- |
| | John F. Kennedy's Political Debts |

383
(3)

| | |
| --- | --- |
| | Organized Crime and Richard Nixon |

386
(2)

| | |
| --- | --- |
| | The Teamsters Endorsement |

387
(1)

| | |
| --- | --- |
| | Organized Crime and Ronald Reagan |

388
(5)
388
(1)
389
(1)
390
(1)

| | |
| --- | --- |
| | Reagan and the International Longshoremen's Association |

390
(1)
391
(1)

| | |
| --- | --- |
| | Other Reagan Administration Ties to Organized Crime |

391
(1)
392
(1)

| | |
| --- | --- |
| | Bill Clinton and the Whitewater Scandal |

393
(1)

| | |
| --- | --- |
| | The Bush Family: A Continuing Criminal Enterprise? |

394
(6)

| | |
| --- | --- |
| | The S&Ls, the Mob, and the Bushes |

394
(1)

| | |
| --- | --- |
| | Neil Bush: Taking Down Silverado |

395
(1)

| | |
| --- | --- |
| | Jeb Bush: Influence Peddling for a ``Bust-Out'' Scam |

396
(1)

| | |
| --- | --- |
| | George W. Bush: Insider Information, Oil, and Baseball |

397
(2)

| | |
| --- | --- |
| | Jonathan Bush: An Unregistered Broker |

399
(1)

| | |
| --- | --- |
| | Prescott Bush: The Yakuza's Frontman |

399
(1)

| | |
| --- | --- |
| | George H. Bush: Shutting Down the Organized Crime Strike Forces |

399
(1)

| | |
| --- | --- |
| | Organized Crime and the Business Community |

400
(1)
400
(1)

| | |
| --- | --- |
| | The Worlds of Meyer Lansky |

401
(11)
404
(1)
405
(1)
406
(1)
406
(1)
407
(1)

| | |
| --- | --- |
| | Organized Crime, the CIA, and the Savings and Loan Scandal |

408
(1)

| | |
| --- | --- |
| | First National Bank of Maryland |

408
(1)
409
(1)
409
(1)
410
(1)
410
(1)
410
(1)

| | |
| --- | --- |
| | Mario Renda, Lender to the Mob |

411
(1)
411
(1)
412
(1)
412
(1)
412
(1)

| | |
| --- | --- |
| | South America, Central America, and Mexico |

412
(1)
412
(1)
413
(1)
413
(1)
413
(1)
413
(1)
413
(3)
413
(1)

| | |
| --- | --- |
| | The Teamsters and the Dorfmans |

414
(1)
414
(1)
415
(1)
416
(1)
416
(1)

| | |
| --- | --- |
| | Do You Recognize These Terms? |

417
(1)
417
(1)
417
(2)

| | |
| --- | --- |
| | Controlling Organized Crime |

419
(36)
419
(1)
420
(5)
420
(2)

| | |
| --- | --- |
| | Controlling Police Actions |

422
(1)

| | |
| --- | --- |
| | The Constitution and the Police |

422
(1)
422
(2)
424
(1)
425
(5)

| | |
| --- | --- |
| | Intelligence versus Criminal Investigations |

426
(1)
426
(1)

| | |
| --- | --- |
| | Improving Intelligence Investigations |

427
(1)

| | |
| --- | --- |
| | Legal Initiatives against Organized Crime |

428
(1)

| | |
| --- | --- |
| | The 1986 Money-Laundering Control Act |

429
(1)

| | |
| --- | --- |
| | The 1988 Chemical and Diversion and Trafficking Act |

429
(1)

| | |
| --- | --- |
| | The USA Patriot Act of 2001 |

429
(1)

| | |
| --- | --- |
| | The Internal Revenue Code |

429
(1)
430
(1)
431
(3)

| | |
| --- | --- |
| | Advantages of Civil Forfeiture |

432
(1)

| | |
| --- | --- |
| | Forfeiture of Attorney's Fees |

432
(2)
434
(3)
435
(1)
436
(1)
436
(1)

| | |
| --- | --- |
| | The Continuing Criminal Enterprise Statute |

437
(1)
437
(1)

| | |
| --- | --- |
| | The Comprehensive Drug Abuse Prevention and Control Act |

438
(1)

| | |
| --- | --- |
| | Multijurisdictional Task Forces |

439
(2)

| | |
| --- | --- |
| | The Organized Crime Drug Enforcement Task Force |

439
(1)

| | |
| --- | --- |
| | The Investigative Grand Jury |

440
(1)
440
(1)

| | |
| --- | --- |
| | The Witness Security Program |

441
(1)

| | |
| --- | --- |
| | Evaluating Efforts to Control Organized Crime |

441
(1)
441
(3)

| | |
| --- | --- |
| | The Effectiveness of Headhunting |

442
(1)

| | |
| --- | --- |
| | Problems with Headhunting |

443
(1)
444
(1)

| | |
| --- | --- |
| | Cleaning Up Money Laundries |

444
(1)
445
(1)

| | |
| --- | --- |
| | Opposing Decriminalization |

445
(1)

| | |
| --- | --- |
| | Effectiveness of Organized Crime Prosecutions |

446
(1)
447
(1)

| | |
| --- | --- |
| | The Future of Organized Crime |

448
(3)
449
(1)
449
(1)
450
(1)
450
(1)
451
(2)

| | |
| --- | --- |
| | Do You Recognize These Terms? |

453
(1)
453
(1)
453
(2)
Appendix A Selected Provisions from the 2001 USA Patriot Act
455
(4)
Appendix B Chronology of White Supremacist Domestic Terrorist Incidents in the 1980s
459
(6)
References
465
(18)
Index
483