Note: Supplemental materials are not guaranteed with Rental or Used book purchases.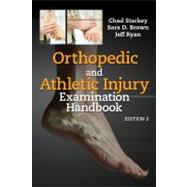 Summary
Stands on its own as an easy-to-carry reference in the clinic. [Its] strengths. . . are its clear diagrams and the table format frequently used to present information. Athletic trainers and physical therapists will find this on-the-field or in-the-clinic handbook a useful reference with clear explanations and diagrams. Advance for Physical Therapists and PT Assistants, review of the 1st Edition. Tap into easy-to-follow, step-by-step guidance on the evaluation and initial management of specific orthopedic and athletic injuries with the New Edition of this companion to Examination of Orthopedic and Athletic Injuries, 3rd Edition. From evaluative procedures for palpation and range of motion through neurologic, ligamentous, and special tests, everything you need now in the lab, and later in the field or in the clinic, is here. It a terrific preparation tool for the BOC examination, too. Covers procedures for over 185 special, neurological, ligamentous, and range of motion tests. Features unique palpation photographs with anatomical overlays to identify the underlying structure. Provides precisely illustrated, step-by-step instructions for the correct position of the patient and examiner, the evaluative procedure, positive test results, and implications. Includes tables of bony landmarks, and other useful aids for identifying postural disorders. Illustrates proper measuring techniques.
Table of Contents
The Injury Examination Process
p. 1
Examination and Management of Acute Pathologies
p. 21
Evidence-Based Practice in the Diagnostic Process
p. 31
Injury Pathology Nomenclature
p. 37
Musculoskeletal Diagnostic Techniques
p. 65
Assessment of Posture
p. 77
Evaluation of Gait
p. 105
Foot and Toe Pathologies
p. 117
Ankle and Leg Pathologies
p. 157
Knee Pathologies
p. 191
Patellofemoral Articulation Pathologies
p. 247
Pelvis and Thigh Pathologies
p. 265
Thoracic and Lumbar Spine Pathologies
p. 295
Cervical Spine Pathologies
p. 339
Thoracic, Abdominal, and Cardiopulmonary Pathologies
p. 379
Shoulder and Upper Arm Pathologies
p. 399
Elbow and Forearm Pathologies
p. 461
Wrist, Hand, and Finger Pathologies
p. 485
Eye Pathologies
p. 527
Face and Related Structures Pathologies
p. 539
Head and Cervical Spine Pathologies
p. 553
Environment-Related Conditions
p. 573
Reflex Testing
p. 583
Lower Extremity Functional Assessment
p. 593
References
p. 596
Index
p. 601
Table of Contents provided by Ingram. All Rights Reserved.