Note: Supplemental materials are not guaranteed with Rental or Used book purchases.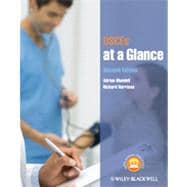 Questions About This Book?
What version or edition is this?
This is the 2nd edition with a publication date of 5/6/2013.
What is included with this book?
The New copy of this book will include any supplemental materials advertised. Please check the title of the book to determine if it should include any CDs, lab manuals, study guides, etc.
The eBook copy of this book is not guaranteed to include any supplemental materials. Typically only the book itself is included.
Summary
Following the familiar, easy-to-use at a Glance format, and in full-colour, this book is an accessible introduction and revision text for medical students. Fully revised and updated to reflect market feedback, it contains brand new and expanded chapters including child psychiatry, prescribing and more surgical skills together with a comprehensive index. The book is also supported by a companion website containing downloadable OSCE checklists.
Author Biography
Adrian Blundell is Honorary Associate Professor and Consultant in the Medicine of Older People,
Nottingham University Hospitals NHS Trust
Table of Contents
Preface
Preface to the first edition
Acknowledgements
Selected list of abbreviations
Part 1 Introduction
Logical approach
1 The OSCE examination
2 The stable patient
3 Presenting
4 History and examination
Practical stations
5 Practical stations 1
6 Practical stations 2
7 Practical stations 3
8 Practical stations 4
Communication stations
9 Communication stations 1
10 Communication stations 2
11 Communication stations 3
12 Communication stations 4
Emergency stations
13 Emergency stations 1
14 Emergency stations 2
Part 2 Medicine
Cardiovascular
15 Cardiology stations: history
16 Cardiology stations: examination
17 Cardiology stations: cases 1
18 Cardiology stations: cases 2
19 Cardiology stations: cases 3
20 Cardiology stations: skills
Respiratory
21 Respiratory stations: history
22 Respiratory stations: examination
23 Respiratory stations: cases 1
24 Respiratory stations: cases 2
25 Respiratory stations: cases 3
26 Respiratory stations: cases 4
27 Respiratory stations: skills
28 Respiratory stations: data 1
29 Respiratory stations: data 2
Abdominal
30 Abdominal stations: history 1
31 Abdominal stations: history 2
32 Abdominal stations: examination
33 Abdominal stations: cases 1
34 Abdominal stations: cases 2
35 Abdominal stations: cases 3
Neurology
36 Neurology stations: history
37 Neurology stations: examination 1
38 Neurology stations: examination 2
39 Neurology stations: examination 3
40 Neurology stations: examination 4
41 Neurology stations: cases 1
42 Neurology stations: cases 2
43 Neurology stations: cases 3
44 Neurology stations: cases 4
45 Neurology stations: cases 5
46 Neurology stations: cases 6
Endocrine
47 Endocrine stations: history
48 Endocrine stations: examination
49 Endocrine stations: cases 1
50 Endocrine stations: cases 2
51 Endocrine stations: cases 3
52 Endocrine stations: cases 4
Part 3 Surgery
General surgery
53 Surgical history
54 Surgical abdominal examination
55 Surgery cases 1: abdomen
56 Surgery cases 2: groin
57 Surgery cases 3: neck
58 Surgery cases 4: breast
59 Surgery cases 5: lumps and bumps
60 Surgical skills
61 Surgical data interpretation
Vascular
62 Vascular history
63 Peripheral vascular examination
64 Vascular cases
Urology
65 Urological history
66 Urology examination and skills
Musculoskeletal
67 Musculoskeletal stations: history
68 Musculoskeletal stations: examination 1
69 Musculoskeletal stations: examination 2
70 Musculoskeletal stations: examination 3
71 Musculoskeletal stations: cases 1
72 Musculoskeletal stations: cases 2
73 Musculoskeletal stations: cases 3
74 Musculoskeletal stations: cases 4
75 Musculoskeletal stations: cases 5
76 Musculoskeletal stations: data
Part 4 Specialties
Paediatrics
77 Paediatric stations: history
78 Paediatric stations: cardiology
79 Paediatric stations: respiratory
80 Paediatric stations: gastrointestinal
81 Paediatric stations: infectious diseases 1
82 Paediatric stations: infectious diseases 2
83 Paediatric stations: neonatology
84 Paediatric stations: child development
Obstetrics and gynaecology
85 Obstetrics and gynaecology stations: history
and examination 1
86 Obstetrics and gynaecology stations: history
and examination 2
87 Obstetrics and gynaecology stations: cases 1
88 Obstetrics and gynaecology stations: cases 2
89 Obstetrics and gynaecology stations: cases 3
90 Obstetrics and gynaecology stations: cases 4
91 Obstetrics and gynaecology stations: cases 5
92 Obstetrics and gynaecology stations: cases 6
93 Obstetrics and gynaecology stations: cases 7
94 Obstetrics and gynaecology stations: cases 8
95 Obstetrics and gynaecology stations: cases 9
96 Obstetrics and gynaecology stations: skills 1
97 Obstetrics and gynaecology stations: skills 2
98 Obstetrics and gynaecology stations: data
Dermatology
99 Dermatology stations: history
100 Dermatology stations: examination
101 Dermatology stations: cases 1
102 Dermatology stations: cases 2
103 Dermatology stations: cases 3
104 Dermatology stations: cases 4
105 Dermatology stations: cases 5
106 Dermatology stations: skills and data
Ophthalmology
107 Ophthalmology stations: history and examination
108 Ophthalmology stations: cases 1
109 Ophthalmology stations: cases 2
110 Ophthalmology stations: cases 3
111 Ophthalmology stations: skills
ENT
112 ENT stations: history and examination 1
113 ENT stations: history and examination 2
114 ENT stations: history and examination 3
115 ENT stations: cases
116 ENT stations: skills and data
Psychiatry
117 Psychiatry stations: history
118 Psychiatry stations: examination
119 Psychiatry stations: cases 1
120 Psychiatry stations: cases 2
121 Psychiatry stations: cases 3
122 Psychiatry stations: cases 4
Index of OSCE stations