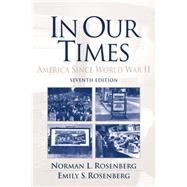 Questions About This Book?
Why should I rent this book?
Renting is easy, fast, and cheap! Renting from eCampus.com can save you hundreds of dollars compared to the cost of new or used books each semester. At the end of the semester, simply ship the book back to us with a free UPS shipping label! No need to worry about selling it back.
How do rental returns work?
Returning books is as easy as possible. As your rental due date approaches, we will email you several courtesy reminders. When you are ready to return, you can print a free UPS shipping label from our website at any time. Then, just return the book to your UPS driver or any staffed UPS location. You can even use the same box we shipped it in!
What version or edition is this?
This is the 7th edition with a publication date of 8/20/2002.
What is included with this book?
The New copy of this book will include any supplemental materials advertised. Please check the title of the book to determine if it should include any CDs, lab manuals, study guides, etc.
The Used copy of this book is not guaranteed to include any supplemental materials. Typically, only the book itself is included.
The Rental copy of this book is not guaranteed to include any supplemental materials. You may receive a brand new copy, but typically, only the book itself.
Summary
In Our Times: America Since World War II, Seventh Edition, is a revised and updated version of this widely used book, which has been popular in both survey courses in U.S. history and in more specialized courses. A clearly written, interpretive narrative, the book interrelates trends in foreign affairs, mass culture, social history, gender politics, civil rights, economics, and political culture. This new edition features Reorganized chapters that enhance clarity and expertly interweave politics, culture, and foreign policy. Significant expansion of material on the 1980s and 1990s, including the "conservative turn," the emergence of "new Democrats," the economic boom of the 1990s, and the new place of immigration in American life. New and more numerous pictures, charts, and maps Updated bibliographies Enhanced attention to mass culture, already one of the most popular features of the book
Author Biography
Norman and Emily Rosenberg are DeWitt Wallace Professors of History at Macalester College and have researched and published widely in twentieth century American history.
Table of Contents
Preface
xi
1
(24)

| | |
| --- | --- |
| | Collapse of the Old Order, Rise of the New |

1
(4)

| | |
| --- | --- |
| | Reconstructing an International Economic System |

3
(1)

| | |
| --- | --- |
| | Creating the United Nations |

4
(1)

| | |
| --- | --- |
| | The Onset of the Cold War |

5
(5)

| | |
| --- | --- |
| | Mounting Distrust between the United States and the Soviet Union |

6
(2)
8
(2)
10
(6)
10
(1)
11
(1)

| | |
| --- | --- |
| | The Anti-Communist Crusade |

12
(1)
13
(3)
16
(4)

| | |
| --- | --- |
| | Foreign Policies in New Areas of Concern |

17
(1)
18
(2)

| | |
| --- | --- |
| | A Foreign Policy Establishment |

20
(5)

| | |
| --- | --- |
| | Postwar Adjustments, 1946--1953 |

25
(34)

| | |
| --- | --- |
| | The Reconversion from War to Peace |

25
(11)

| | |
| --- | --- |
| | Wartime-Tensions, Postwar Fears |

25
(4)

| | |
| --- | --- |
| | 1946: Inflation, Black Markets, Strikes, and a National Election |

29
(2)
31
(2)

| | |
| --- | --- |
| | 1948: ``Truman Beats Dewey!'' |

33
(3)
36
(5)

| | |
| --- | --- |
| | Truman's Domestic Program |

36
(1)

| | |
| --- | --- |
| | The Fair Deal: An Assessment |

37
(2)

| | |
| --- | --- |
| | Civil Rights During the Truman Era |

39
(2)
41
(7)

| | |
| --- | --- |
| | The ``Age of Surveillance'' |

41
(1)

| | |
| --- | --- |
| | Debating the Threat of Communist Subversion |

42
(1)

| | |
| --- | --- |
| | Anti-Communist Initiatives during the Truman Years |

43
(3)
46
(1)

| | |
| --- | --- |
| | Anticommunism and Culture during the Cold War |

47
(1)

| | |
| --- | --- |
| | The Promise and Perils of Progress |

48
(11)
49
(4)
53
(1)

| | |
| --- | --- |
| | ``Selling Out'' and the End of the Truman Era |

54
(5)
59
(25)
59
(8)

| | |
| --- | --- |
| | The Elections of 1952 and 1956 |

59
(1)

| | |
| --- | --- |
| | A ``Hidden-Hand'' Presidency? |

60
(3)

| | |
| --- | --- |
| | Eisenhower and the Corporate Commonwealth |

63
(3)

| | |
| --- | --- |
| | The Critical Culture of the 1950s |

66
(1)

| | |
| --- | --- |
| | Republican Foreign Policies |

67
(7)
67
(2)
69
(1)
70
(2)

| | |
| --- | --- |
| | Challenges to Superpower Dominance |

72
(2)

| | |
| --- | --- |
| | The Third World and the Cold War |

74
(6)
75
(2)

| | |
| --- | --- |
| | Intervention: Iran, Guatemala, Lebanon, Cuba |

77
(3)
80
(4)
84
(34)
84
(10)

| | |
| --- | --- |
| | The Baby Boom and the New Family Ideal |

85
(1)
86
(2)

| | |
| --- | --- |
| | Women's Work and Domesticity |

88
(2)

| | |
| --- | --- |
| | Organization Men and Women |

90
(1)
90
(4)
94
(11)
94
(2)

| | |
| --- | --- |
| | The Hollywood Motion Picture Industry |

96
(3)
99
(2)

| | |
| --- | --- |
| | Rock around the Clock: The Cultures of Youth |

101
(2)

| | |
| --- | --- |
| | The Mass Culture Debate of the 1950s |

103
(1)

| | |
| --- | --- |
| | The Mass Culture Debate Revisited |

104
(1)

| | |
| --- | --- |
| | Race, Ethnicity, and Urban Issues |

105
(13)
105
(3)
108
(1)
109
(1)
110
(2)

| | |
| --- | --- |
| | Urban Life and the ``Invisible Poor'' |

112
(6)

| | |
| --- | --- |
| | The Promise and Perils of the 1960s |

118
(48)

| | |
| --- | --- |
| | The President We Hardly Knew |

118
(7)

| | |
| --- | --- |
| | The Rise of John F. Kennedy and the Election of 1960 |

119
(1)
120
(3)
123
(2)
125
(9)
125
(1)

| | |
| --- | --- |
| | The Johnson Program and the Landslide Election of 1964 |

126
(2)

| | |
| --- | --- |
| | The Great Society and the War on Poverty |

128
(4)

| | |
| --- | --- |
| | The Warren Court and the Origins of ``Liberal Legalism'' |

132
(2)

| | |
| --- | --- |
| | From Civil Rights to Black Power |

134
(12)

| | |
| --- | --- |
| | Civil Rights: The Kennedy Years |

135
(3)

| | |
| --- | --- |
| | The Civil Rights Act of 1964: End of an Era |

138
(2)

| | |
| --- | --- |
| | Urban Neighborhoods Explode |

140
(2)
142
(4)

| | |
| --- | --- |
| | Kennedy's Foreign Policies |

146
(5)
146
(2)
148
(3)
151
(8)

| | |
| --- | --- |
| | A Vigorous Beginning, 1964--1965 |

152
(1)
153
(3)

| | |
| --- | --- |
| | Tet and the President's Discontent, 1968 |

156
(2)
158
(1)
159
(7)

| | |
| --- | --- |
| | Polarization and the Search for Empowerment |

166
(39)
166
(10)

| | |
| --- | --- |
| | The Origins of the Youth Revolt |

167
(1)
168
(2)

| | |
| --- | --- |
| | Radical Politics: From the College Campuses to the Streets |

170
(2)

| | |
| --- | --- |
| | Campuses and Antiwar Demonstrations |

172
(2)
174
(2)
176
(5)

| | |
| --- | --- |
| | The Origins of the New Conservatism in the 1950s |

176
(2)

| | |
| --- | --- |
| | Conservatism in the 1960s |

178
(3)

| | |
| --- | --- |
| | The Politics of Polarization, 1968 |

181
(1)

| | |
| --- | --- |
| | The Fall of Lyndon Johnson |

181
(1)

| | |
| --- | --- |
| | The New Politics and the Election of 1968 |

182
(3)

| | |
| --- | --- |
| | The Violent Years, 1969--1972 |

185
(5)

| | |
| --- | --- |
| | Violence in Southeast Asia |

186
(1)
187
(1)

| | |
| --- | --- |
| | A Law-and-Order Administration |

188
(1)
189
(1)

| | |
| --- | --- |
| | The Search for Empowerment |

190
(10)

| | |
| --- | --- |
| | African American Politics |

190
(2)

| | |
| --- | --- |
| | Mexican American Politics |

192
(2)

| | |
| --- | --- |
| | American Indian Movements |

194
(2)
196
(4)

| | |
| --- | --- |
| | Gay and Lesbian Empowerment |

200
(1)

| | |
| --- | --- |
| | Polarization: An Ambiguous Legacy |

200
(5)

| | |
| --- | --- |
| | Times of Turmoil: The 1970s |

205
(37)

| | |
| --- | --- |
| | Domestic Politics Under Nixon and Ford |

205
(12)

| | |
| --- | --- |
| | Nixon's Domestic Policies |

206
(1)
207
(1)
208
(2)

| | |
| --- | --- |
| | The Underside of the Nixon Administration: Leaks, Plumbers, and Watergate |

210
(2)
212
(3)

| | |
| --- | --- |
| | The Ford Presidency: The Wounds Remain |

215
(2)

| | |
| --- | --- |
| | Nixon, Kissinger, and World Politics, 1969--1976 |

217
(7)

| | |
| --- | --- |
| | The Three Dimensional Game |

217
(1)

| | |
| --- | --- |
| | The End of the War in Southeast Asia |

218
(4)

| | |
| --- | --- |
| | The Middle East and Latin America |

222
(2)
224
(13)

| | |
| --- | --- |
| | Jimmy Carter Compassion and Competency? |

224
(1)
225
(2)

| | |
| --- | --- |
| | Equality, Affirmative Action, and the New Right |

227
(4)
231
(3)
234
(1)
235
(2)
237
(5)

| | |
| --- | --- |
| | An Oversized Society: Life during the 1960s and 1970s |

242
(32)

| | |
| --- | --- |
| | The Economy: A Gathering of Giants |

243
(10)

| | |
| --- | --- |
| | The Military-Industrial Complex |

243
(3)
246
(2)
248
(3)

| | |
| --- | --- |
| | Land and Real Estate Hustlers |

251
(2)
253
(21)
253
(2)

| | |
| --- | --- |
| | The Motion Picture Industry |

255
(2)
257
(2)
259
(2)

| | |
| --- | --- |
| | The Popular Music Industry |

261
(3)
264
(4)

| | |
| --- | --- |
| | The Educational Labyrinth |

268
(6)

| | |
| --- | --- |
| | A Conservative Turn, 1980--1992 |

274
(44)

| | |
| --- | --- |
| | Domestic Politics during the Reagan Years |

274
(14)

| | |
| --- | --- |
| | Presidential Style and the Conservative Turn |

275
(2)

| | |
| --- | --- |
| | Reaganomics: The Eventual Boom |

277
(2)
279
(2)
281
(4)

| | |
| --- | --- |
| | Drugs, AIDS, and Abortion |

285
(1)
286
(2)

| | |
| --- | --- |
| | The New Cold War, 1981--1987 |

288
(6)

| | |
| --- | --- |
| | A New Anti-Communist Offensive |

288
(4)

| | |
| --- | --- |
| | The Cold War Suddenly Thaws |

292
(2)

| | |
| --- | --- |
| | The Presidency of George Bush |

294
(8)
294
(1)
295
(1)

| | |
| --- | --- |
| | Foreign Policy Under Bush |

296
(3)
299
(3)

| | |
| --- | --- |
| | The Culture Industry 1980--1992 |

302
(16)

| | |
| --- | --- |
| | The Reagan Boom and the Culture Industry |

302
(2)
304
(3)
307
(2)

| | |
| --- | --- |
| | The Politics of Cultural Confrontation |

309
(9)

| | |
| --- | --- |
| | New Democrats, A New Economy, and New Americans |

318
(37)

| | |
| --- | --- |
| | Politics and Culture during the Clinton Presidency |

318
(15)

| | |
| --- | --- |
| | 1992: The Election of a ``New Democrat'' |

318
(3)

| | |
| --- | --- |
| | The First Clinton Presidency: Domestic Politics |

321
(2)

| | |
| --- | --- |
| | Clinton's Earliest Legal Battles |

323
(1)

| | |
| --- | --- |
| | The Contract with America (1994) and the Clinton Resurgence (1996) |

324
(4)

| | |
| --- | --- |
| | A Culture of Exposure and Clinton's Continuing Legal Battles |

328
(3)

| | |
| --- | --- |
| | The Culture of Exposure and Clinton's Final Legal Battle |

331
(2)
333
(3)
333
(3)

| | |
| --- | --- |
| | Fashioning Post-Cold War Foreign Policy |

336
(3)
339
(6)
339
(3)
342
(3)

| | |
| --- | --- |
| | The Election and Early Presidency of George W. Bush |

345
(5)
345
(2)

| | |
| --- | --- |
| | The Presidency of George W. Bush |

347
(3)
350
(5)
Index
355
Excerpts
In Our Times,like the period of U.S. history it seeks to represent, remains a work in progress. We began writing the first edition of this book in the mid1970s, when only thirty years had elapsed since 1945. In this seventh, 2002 edition, the book now wears twice as many years as when we began--and so do we. We continue to be gratified that this book--one of the first texts designed for "1945 to present" courses--remains a favorite among history teachers and students. We have again undertaken the kind of reorganization and updating that those who useIn Our Times,and we ourselves, expect.We strive to provide students and instructors with an interesting, readable, and coherent historical framework. We have streamlined the narrative, integrated new scholarship, and entirely reorganized most chapters. New, and more numerous, pictures, charts, and maps enhance the book's visual dimension. Updated bibliographies, along with suggested websites, provide additional resources for teaching and learning. Users will find that our new introductions to chapters and to sections bring major themes into focus while enhancing the text's narrative quality.In this seventh journey through "our times," we have incurred many debts of gratitude. Our greatest goes to the anonymous reviewers, some of whom suggested the reorganizations and additions that we have undertaken for this new edition. We trust that they will see many of their fine recommendations reflected in these pages: more discussion, for example, of the soldier's experience in Vietnam and of cultural diplomacy; greater consistency in chapter size; improved organization ire the coverage of politics, diplomacy, and culture; significant expansion of material on the 1980s and 1990s. We have, of course, revised and updated our strong treatment of mass culture, a feature that has appealed to students over the years.We also extend our special thanks to our editors. Charles Cavaliere enthusiastically imparted a new vision and a special commitment toIn Our Times.Emsal Hasan has skillfully carried this book forward through the last two editions; his enthusiasm, good sense, and attention to detail has made him a true collaborator. Rosie Jones provided vital expert assistance on the finishing touches of the book. Joelle Blomquist, a senior history major at Macalester College, has provided meticulous and thorough assistance in the tasks of research d revision. Herta Pitman, department coordinator at Macalester, has also contributed her expertise. Finally, of course, we are indebted to all of the scholars whose books and essays make doing the history of "our times" meaningful d exciting.In Our Times,like our teaching career at Macalester College, remains a joint production. Although we continue to split the primary responsibility for .reviewing and rewriting specific sections, the computer remains community property. One of us will often complete the paragraph or sentence that the other had begun or had once thought, mistakenly, to be complete. For any errors of fact or judgment, each of us can offer the ready excuse that it was surely committed by "the other Professor Rosenberg." Yet we will also be happy to take joint credit for whatever positive features this book offers. Norman L. Rosenberg Emily S. Rosenberg