Note: Supplemental materials are not guaranteed with Rental or Used book purchases.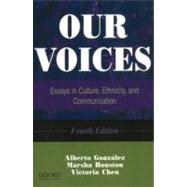 Related Products
Summary
Our Voices, Fourth Edition, examines communication in a variety of cultural and personal settings, with each contributor writing from the perspective of his or her cultural experience within diverse theoretical frameworks. Each essay addresses the question, "What is a cultural explanation and interpretation for this communication phenomenon from the ethnic scholar's perspective?" The fourth edition features seven new essays that address such topics of current interest and concern as creating a family across race and gender borders; the struggle for identity of multiethnic and biracial individuals in America; constructing American Jewish male identity; understanding class in the context of race, ethnicity, and gender; racial tensions in a 9/11 memorial; and 9/11 and "the color line." In addition, many of the previous essays have been significantly updated, and two new sections, "Economic Class and Cultural Identity" and "Reflecting on 9/11," have been added. Continuing the successful tradition of previous editions, the fourth edition: * Maintains a consistent focus on communication and culture. Each essay addresses important issues in areas of communication--including rhetoric, mass communication, and interpersonal communication. Together, the authors examine how culture influences the creation of meaning and how various uses of symbols and language constitute what we call cultural reality. * Introduces experience into examinations of cultural communication. The experience-driven approach is presented as a complement to theory-driven approaches to intercultural communication research. * Explores the rich cultural variety of communication practices within broad cultural labels. The premise is that there is not "one" style of any particular group any more than there is "one" style of Anglo-American communication.
Table of Contents
New to this edition
Introduction
Naming Ourselves
(De)hyphenated Identity: The Double Voice in The Woman Warrior
Dis/orienting Identities: Asian Americans, History, and Intercultural Communication
How I Came to Know
Names, Narratives, and the Evolution of Ethnic Identity
Negotiating Sexuality and Gender
Jewish and/or Woman: Identity and Communicative Style
Constructing American Jewish Male Identity
Remembering Selena
When Miss America Was Always White
Illusive Reflections: African American Women on Primetime Television
Black Queer Identity, Imaginative Rationality, and the Language of Home
Representing Cultural Knowledge in Interpersonal and Mass Media Contexts
Negotiating Cyberspace/Negotiating RLMargarita Gangotena
The Rhetoric of La Familia Among Mexican Americans
When Mississippi Chinese Talk
The Reason Why We Sing: Understanding Traditional African American Worship
When Black Women Talk With White Women: Why the Dialogues Are Difficult
Latina/o Experiences With Mass-Mediated Communication
Native American Culture and Communication Through Humor
Celebrating Cultures
Capturing the Spirit of Kwanzaa
A House as Symbol, a House as Family: Mamaw and Her Oklahoma Cherokee Family
Communicating Good Luck During the Chinese New Year
Hybrid Revivals: Ethnicity and South Asian Celebration
Valuing and Contesting Languages
Identity and Struggle in Jamaican Talk
The Power of 'Wastah' in Lebanese Speech
Wa-Zha-Zhe I-E: Notions on a Dying Ancestral Language
Broadening the View of Black Language Use: Towards a Better Understanding of Words and Worlds
Confessions of a Thirty-Something Hip-Hop (Old) Head
Living in Bicultural Relationships
Sapphire and Sappho: Allies in Authenticity
'I Know It Was the Blood': Defining the Biracial Self in a Euro-American Society
Being Hapa: A Choice for Cultural Empowerment
Living In/Between
Struggling for Identity: Multiethnic and Biracial Individuals in America
Creating a Family Across Race and Gender Borders
Economic Class and Cultural Identity
Invisible Identities: Notes on Class and Race
Working Through Identity: Understanding Class in the Context of Race, Ethnicity, and Gender
Traversing Cultural Paths
How We Know What We Know About Americans: Chinese Sojourners Account for Their Experiences
The Cultural Experience of Space and Body: A Reading of Latin American and Anglo American Comportment in Public
Regionalism and Communication: Exploring Chinese Immigrant Perspectives
Traversing Disparate Cultural Realities in a Transnational World: A Bicultural/Hybrid Experience
Women Writing Borders, Borders Writing Women: Immigration, Assimilation, and the Cultural Production of Space
Reflecting on 9/11Teresa Nance and Anita Foeman
Statue or Statement? Racial Tensions in a 9/11 Memorial
September 11 and "The Color Line
Table of Contents provided by Publisher. All Rights Reserved.