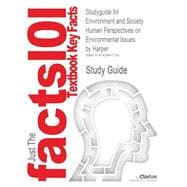 Outlines & Highlights for Environment and Society Human Perspectives on Environmental Issues.
by
Cram101 Textbook Reviews
;
Harper
Academic Internet Pub Inc
Summary
Never HIGHLIGHT a Book Again! Virtually all testable terms, concepts, persons, places, and events are included.look no further for study resources or reference material. Cram101 Textbook Outlines gives all of the outlines, highlights, notes, and practice-tests for your textbook. Only Cram101 is Textbook Specific. Cram101 is NOT the Textbook.