Note: Supplemental materials are not guaranteed with Rental or Used book purchases.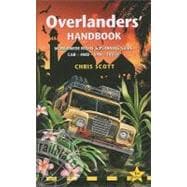 Overlanders' Handbook : Worldwide Route and Planning Guide - Car, 4wd, Van, Truck
ISBN13:
9781905864072
by
Scott, Chris
Questions About This Book?
What version or edition is this?
This is the edition with a publication date of 5/17/2011.
What is included with this book?
The New copy of this book will include any supplemental materials advertised. Please check the title of the book to determine if it should include any CDs, lab manuals, study guides, etc.
Summary
Chris Scott and his band of globetrotting contributors and specialists have put together the definitive manual for planning and undertaking a vehicle-dependent overlanding adventure across the wilds of Africa, Asia and Latin America. The Overlanders' Handbook is written in the same entertaining yet clear jargon-free English for which Chris's other books are known - it doesn't assume you know your plug gap from a radiator cap. Planning - When to go; typical costs; documentation; sponsorship; early overland journeys. Vehicle choice and preparation - The Overlanders' Handbook is the most comprehensive account in print, covering everything from adapting a cheap car to equipping a campervan or 4x4 for months on the road, or even building and outfitting your own accommodation module to mount on an all-terrain truck chassis. Life on the road - How to handle dodgy borders, haggle over a purchase, treat a dodgy stomach and cope with crazy driving conditions. Guidance on wild camping; navigation and mapping strategies; onward shipping; advice for solo women overlanders; travelling with children or with pets; vehicle repairs and troubleshooting; and off-road driving techniques. Continental route outlines - Guidelines on both popular and obscure overland routes through Africa, Asia and Latin America. Includes fuel prices, easiest borders and best seasons, visa strategies, danger zones and regional highlights. Overlanders' Tales - Half a dozen accounts of global adventures lasting months or even years - in vans, 4x4s and all-terrain trucks - from contributors aged from 9 to 69. Supported by the online resource: www.overlanders-handbook.com
Author Biography
Chris Scott is a veteran travel guide author, adventurer and tour leader. He's made films of his rides in the Yukon (Call of the Wild, 2001), Desert Riders in the central Sahara (featured on National Geographic Channel) and Gorge Riders in north-western Australia (2005).
Table of Contents
INTRODUCTION (1) PART 1: PLANNING & DOCUMENTATION 1.1 A Plan (The Overland Zone, Which Continent?, Useful Languages, Seasons And Climate, Vehicle-Dependent Overlanding – What Are The Alternatives?, Time And Money, Fuel Prices Around The World 1.2 Getting Information (The Internet, Embassies And Tourist Offices, Government Overseas Departments, National Motoring Organisations, Travel Guides, Oncoming Travelers) 1.3 Travel Documents (Passport, Visas, Local Permits, Travel And Medical Insurance) 1.4 Vehicle Documents (Vehicle Ownership Document, Driving Licence, Idp And Icmv, Back-Up Documents, Carnet De Passages En Douane (Cdp), Third-Party Motor Insurance) 1.5 Money (Best Currencies, Credit And Debit Cards, Travelers' Cheques) (2) PART 2: CHOOSING A VEHICLE 2.1 What Car, Van Or Truck? (Regional Differences, What's Available?, The Rental Option, Vehicle Budget, Daily Travelling Budget, Size Of Group, Itinerary And Duration, Space And Comfort, Payload Or Gross Vehicle Weight Rating (Gvwr) , Image And Other Preferences, Manual Or Auto Transmission, Mechanical Simplicity, Ecus And Can Bus Technology, Availability Of Parts And Know-How En Route, Build Quality, Ground Clearance, Improving Ground Clearance, Shipping Limitations, Buying And Equipping A Vehicle Far From Home) 2.2 Which Fuel? , Diesel Engines, Diesel Quality And Modern Low-Emission Engines, Petrol, Diesel Or Petrol: The Pros And Cons) 2.3 Two-Wheel Drive: The Road Less Travelled, 2wd Or 4wd: Some Key Differences, Road Cars, Vans And People Carriers (Mpvs) , Buying And Running An Old Van, Engine Rebuild In India, Cab-Over Flatbed Pickups – A 2wd Diy Option, Case Study – A 7.5t Cab-Over, Dual-Wheel Rear Axles, Towing Trailers, Across Asia Towing A Horizon Trailer) 2.4 Ready-Built Recreational Vehicles , A-Class Motorhomes, C-Class Motorhomes, B-Class: The Campervan, Mountable Cabins For 4x4 Pickups, Gross Vehicle Weight (Gvw) And Licensing Issues) 2.5 4x4s, The Mechanics And Electronics Of 4wd, What's The Differential? , Four-Wheel Drive Systems, Read This First: Transmission Wind-Up, (3) PART 3: 4x4 SURVEY, (4x4 Body Types, Short-Wheelbase 4x4s, Hardtops Or Station Wagon, Tailgates Or Doors, Pickups, Toyota Land Cruisers, Which Model? , History, 60 Series: Early Station Wagons, 80 And 100 Series, Yes But Which Land Cruiser? , The 70 Series: Pickup And Hardtop Workhorses, Prado 90-Series And Other Toyota 4x4s, Best North American Overlanders, Pinnacle Vehicles, Best 4x4xfar, Best Pinnacle Vehicle, Larger Us-Built Trucks, Land Rover Or Toyota? , Land Rover Defenders, Body Styles, Living With A Landie, Which Land Rover To Avoid? , A Short History: The First Coilers, Defenders: Tdi Engines (1990–98), Suggested Land Rover Spares, Defenders In The Us, Defender Heaters And Draughts, Coming To Your Sensor, 2.8 Tgv Engine, 2.4 Puma-Engined Defender (2007 To Date) , Travels With A Puma, Land Rover Discovery: 1989–2004, Nissan Patrol, Swapping Engines And Bigger Intercoolers, Mercedes G-Wagens, The First G, Double Cab Pickups, 4WDTrucks, Trucks: What's Available, 4wd Truck, Eastern Bloc Trucks, The Red Stars, Unimogs, Iveco Daily And Wm/Vm90, Isuzu Nps And Mitsubishi Fuso 6-Tonne Trucks, Mitsubishi Fuso, Fg Or Canter; What's The Difference?) , (4) PART 4 MODIFYING OR CONVERTING A VEHICLE 4.1 Engine 4.2 Transmission 4.3 Suspension, 4x4 Suspension (Parabolic Springs) 4.4 Tyres & Wheels 4.5 Recovery Equipment 4.6 Converting A Vehicle (Sleeping, Eating & Washing, Access And Storage, Long-Range Fuel And Water, Long-Range Fuel Tanks, Water Capacity, Where To Sleep, Ground Tents, Roof Tents, Roof Tent Styles, Sleeping Inside The Vehicle, Is It Safe? , Awnings, Three Way Awn, Principles Of Packing, Roof Racks And Roof Bars, Keeping Cool And Being Discrete, Elemenatary Electrics, Alternators – The Charging System, Electricity – Don't You Just Love It, Batteries, Charging And Managing Multiple Batteries, Voltage Sensitive Relays, Calculating Electrical Consumption, Calculating Fridge Consumption, Cooking On The Road, Stoves And Ovens, Fridge-Freezers, Cooking Utensils, Travels With My Trusty Pot, Camp Lighting, Building A Cabin, Grand Designs For The Open Road, Don't Build, Buy! , Not Buying But Spending, Getting It Made, Self-Build Strategy, Designing A Cabin, Fabricating The Box, Aluminium To Steel Corrosion, Cold Bridges, Fabrication Materials – Comparative Weights And Prices, Grp Panels, Sikaflex And 3m Sealants, Mounting The Cabin Shell, Insulation And Lining, Electrics, Plumbing And Heating, Hot Water And Heating, Case Study – Man 8.136 (5) PART 5: LIFE ON THE ROAD 5.1 Setting Off (No Turning Back, Street Wise Manifesto, Hassle, Personal Conduct In Muslim Countries) 5.2 Borders And Checkpoints 5.3 Changing Money Bargaining 5.4 Driving Abroad 5.5 Maps, Route Finding And Navigation, Paper Maps, In-Car Satellite Navigation (Sat Nav) , Gps Devices, Navigation, Not Getting Lost, Driving Women Crazy, Why Does The World Drive On The Left Or Right? 5.6 Keeping In Touch (Emergencies – Eprib Versus Spot) 5.7 Health For Overlanders (Pre-Departure, On The Road, Common Health Problems, Road Traffic Accidents And Other Severe Traumas, Malaria, Heat-Related Illness, Back At Home, Reverse Culture Shock, Useful Contacts 5.8 Honey Let's Take The Kids 5.9 Food And Shopping 5.10 Filming Your Trip, Editing, 5.11 Wild Camping, 5.12 Vehicle Maintenance And Troubleshooting, 5.13 Kit List, 5.14 Off Road Driving 5.15 When Things Go Wrong (6) PART 6: CONTINENTAL ROUTE OUTLINES 6.1 Asia 6.2 Africa 6.3 Latin America (7) PART 7 TRAVELERS' TALES FROM THE ROAD (8) APPENDIX (9) INDEX
Excerpts
Itinerary and duration
How far and how long you plan to travel ought to have a major influence on your choice of wheels. The longer you plan to travel and the more variable the climate en route, the more you'll appreciate a house on wheels rather than a car you can live out of. But remember that what can enable you to roam far and wide across Latin America and Asia (in the less extreme seasons) may struggle or limit your options in Africa. Even with a roof tent, many travelers who undertake trips of more than a few months in regular 4x4s return in a bigger vehicle, usually because they encountered others doing it this way and saw the clear advantages. Despite Africa being a perennially warm continent, tent camping or crawling around in the back of a car with a few inches of headroom will get to you in the end, and doing it this way takes a lot of organization to keep things in order and relations cordial.
The longer you go for, especially if you envision parking up for extended periods, the better off you'll be with a large living space without feeling the need for a night in a hotel once a week just so you can spread out and have a proper rest.
Space and comfort
No matter how much you like the idea of roughing it to the extreme ends of the earth, you're possibly going to be driving your vehicle for months. Wouldn't you rather it was a quiet, temperate and comfortable experience? Probably not if you're a certain type of Brit or German who equates 'expeditions' with discomfort if not outright suffering and self-denial. It's one reason the much-admired Land Rover Defender still trundles off the production line into the arms of willing customers.
Comfort and space are something that you'll only truly appreciate after many months on the road and is one reason why some travelers consider an AWD truck conversion with a cabin you can stand up in, a long wheelbase van or even a motor home. The ability to park up, switch off and simply lie back on a bed or sit at a table makes a big impact on day-to-day living. It may be overlanding but it's not all about driving. There will be challenges enough waiting for you out in the world. Too hot or cold, cramped, deafened, shaken about, fighting heavy controls: all these things will tire you prematurely and are what modern SUVs have succeeded in eliminating but is what you may get in spades driving a Cold War-era truck.
In the right vehicle you'll feel a lot better if the suspension is supple, the driving position is relaxed, the steering is light, the engine noise minimal, and your surroundings are at a pleasant temperature. If you also have somewhere amenable to spend the night then so much the better.
Payload or gross vehicle weight rating (GVWR)
A vehicle's gross vehicle weight rating (GVWR; in the UK now called MAM or maximum authorized mass, elsewhere gross load rating) is usually printed in the registration document as well as stamped on an alloy plate riveted inside the vehicle's door frame or back of the engine bay.
It adds up to the maximum permitted total weight of a vehicle including its payload, not the vehicle's actual weight, which is often opaque, overlooked or inaccurate but can sometimes be divined from a brochure. Other jargon on the same theme includes: 'tare' or 'UVW', which is unladen weight with fluids but no driver; and 'kerb weight': with a full tank and a nominal 75kg driver in blue overalls.
Leaving aside manufactures' technical design limitations, in many countries a vehicle's GVW is a critical legal designation, separating domestic cars from commercial vehicles. As many commercial drivers are well aware, this has ramifications for operator licensing, tax brackets, what roads it can drive and bridges it can cross, tolls, insurance and so on. All in all, a list of regulations you probably wanting to escape from and the sorts of concerns that don't exist in many African countries, where a vehicle's payload is only limited by its absolute physical capacity.
//Pic Gross port. Payload? We're sitting on it
Calculating the permitted payload
In an overland sense, the GVW is a way of calculating the permitted payload. Deduct the vehicle's unladen weight from the GVW and you have the payload. This is something typically overlooked by first-timers, just as their vehicles are also routinely overloaded. Long before settling on your final vehicle choice and layout, establish its payload: both in terms of chassis and tyre loads.
Manufacturers set GVWs on the conservative side (or so you'd hope; in certain light-commercial categories you can't help wondering if marketing has got more to do with it). However, in an engineering and safety sense, they're closely tied to the axles, what the tyres can safely handle, the braking set-up and performance, and the suspension as fitted from the factory. In this regard don't be surprised to find the standard suspension on a 4x4 squashed flat at its GVW limit. Uprating the tyres and suspension and is almost mandatory for overlanding (see p000 and 000). Modifying the chassis and brakes is beyond the reach of normal overland preparation; in the States it's common to fit heavier-duty axles to 4x4s, though this is more to enable running huge tyres than improving payload.
Disregarding legal issues and the mistaken belief that 4x4s are immune to overloading, to ensure the safety of your vehicle and the longevity of its components, right down to the chassis, it's vital to recognize payload limits. Remember too that payloads can rise dramatically when fully loaded with fuel and water and can effectively be much greater when driving off-road. Especially at the lighter end of the scale, always aspire to stay well below maximum GVW values – 70–80% is a good figure to aim for.
The limits of payload will also become the governing factor when making extensive modifications or full-on self builds. Suddenly bull bars, second spare wheels, huge roof tents and spare fuel tanks edge you swiftly towards the GVW limit. The sources of this information of course vary wildly, but when you see how modest the typical payload is in the list of 4x4s below you may be surprised.
Typical payloads in sample 4x4s:
2009 Jeep Rubicon                                               454kg (1001 lb)
2006 Hummer H3                                  522kg (1150 lb)
2009 Land Cruiser Amazon                 620kg (1367 lb)
2009 Land Cruiser 200 V8 diesel        650kg (1433 lb)
2005 Land Rover Discovery Td5       655kg (1444 lb)
2006 Toyota Tacoma                                           698kg (1540 lb)
1997 Land Rover Discovery                               705kg (1554 lb)
2009 Toyota Tundra V8 petrol           716kg (1580 lb)
1997 Land Cruiser 80 VX                     730kg (1609 lb)
2006 GMC Sierra                                   856kg (1890 lb)
1998 Mercedes G-Wagen                   860kg (1896 lb)
1998 Land Rover Defender 110          995kg (2194 lb)
2004 Mazda B2500 pickup                  1010kg (2227 lb)
2009 Land Cruiser HZJ79                    1105kg (2436 lb)
2006 RAM 2500                                    1180kg (2600 lb)
2010 LR Puma 130 chassis cab           1430kg (3152 lb)
Regional differences
Vehicle types and the know-how and equipment found in North America differ from what's found in Europe, Australia and South Africa. Writing about vehicle choice for my Adventure Motorcycling Handbook is much less complicated as, broadly speaking, a KLR 650 is the same bike the world over and even the same range of equipment is available in the four territories listed above.
Although I try to offer a broad Western perspective, Europe is the background from which I'm writing and is the source of much overlanding lore and equipment (particularly in Germany), if not actual activity. In saying all this it's worth repeating what 'overlanding' is as defined by this book on p000: vehicle-dependent journeys most commonly undertaken from Europe, North America or Australasia to Africa, Asia and Latin America.
Australia and South Africa have a long heritage of recreational and domestic wilderness travel; spending a fortnight's holiday out bush with the family is not unusual. This know-how and equipment, as well as the related publications, equips travelers from these two countries well for long-range overlanding. It also explains why, despite their relatively small combined population, you'll meet many Australians and South Africans on the road. It's in their blood as it has been among western and lately eastern Europeans, where 'gap-year travels' is just a newish name for what has long been an accepted institution. To judge by the available equipment and by magazines such as Overland Journal, in North America overlanding is only now being perceived as a travel trend, although the vehicles commonly found there are no less capable (see below).
The vehicles used by overlanders from Europe, southern Africa and Australia are also broadly similar: the major Japanese or European brands of 4x4s, vans and trucks. But a 4.2-litre Land Cruiser, a 'big vehicle' by European standards, will seem modest to North American drivers accustomed to running a broad-shouldered 7.3-litre petrol-engined pickup. At the same time a 120hp 2.5-litre turbo-diesel returning up to 35mpg would be regarded as quaint or fashionably green, although diesel engines in non-commercial vehicles are less unusual in Canada. In the US expectations of physical size, acceptable economy, day-to-day comfort and levels of equipment diverge dramatically from what's acceptable to a Dutch or Brit overlander. The pick of 4x4s in the US is given on p000.