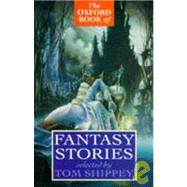 The Oxford Book of Fantasy Stories
by
Tom Shippey
Oxford University Press, USA
Summary
Stories of the unreal, of trolls and werewolves, spells and sorcerers and magic lands, have been part of the human psyche for as long as there are records. In the present century, far from being outdated by the rise of technology and science fiction, fantasy has once more become a major literary genre expressive of the deepest feelings about humanity and its relation to the natural world. In The Oxford Book of Fantasy Stories, Tom Shippey brings together thirty-one short fantasy stories from the last years of the nineteenth century to the immediate present. The anthology shows both the development of the fantasy genre over time and the range of individual talents it has embraced, from Lord Dunsany and H.P. Lovecraft through Ray Bradbury, Mervyn Peake, Larry Niven, and Angela Carter, to the latest creations of Tanith Lee, Lucius Shepard, and Terry Pratchett. In addition to these marvelous tales, Shippey also provides a thoughtful introduction that discusses the nature of fantasy, and he includes an extensive bibliography listing single author collections and anthologies of fantasy writings as well as works of criticism. For established readers of fantasy fiction, Tom Shippey's selection will offer many forgotten gems, and for those less familiar with the genre, it forms an ideal introduction to perhaps the purest of literary pleasures.
Author Biography

About the Editor:
Tom Shippey is the Walter Ong Professor of Literature at St Louis University, Missouri. He also edited The Oxford Book of Science Fiction Stories.

Table of Contents
Introduction
p. 1
The Demon Pope (1888)
The Fortress Unvanquishable, Save for Sacnoth (1908)
p. 9
Through the Dragon Glass (1917)
p. 23
The Nameless City (1921)
p. 35
The Wind in the Portico (1928)
p. 46
The Tower of the Elephant (1933)
p. 66
Xeethra (1934)
p. 88
Jirel Meets Magic (1935)
p. 105
The Bleak Shore (1940)
p. 135
Homecoming (1947)
p. 144
See You Later (1949)
p. 156
Liane the Wayfarer (1950)
p. 174
The Desrick on Yandro (1952)
p. 184
The Silken-Swift... (1953)
p. 195
Operation Afreet (1956)
p. 212
The Singular Events which Occurred in the Hovel on the Alley off of Eye Street (1962)
p. 238
The Sudden Wings (1962)
p. 244
Same Time, Same Place (1963)
p. 263
Timothy (1966)
p. 271
The Kings of the Sea (1968)
p. 283
Not Long Before the End (1969)
p. 300
The Wager Lost by Winning (1970)
p. 311
Lila the Werewolf (1974)
p. 342
Johanna (1978)
p. 361
The Erl-King (1979)
p. 364
Beyond the Dead Reef (1983)
p. 372
Subworld (1983)
p. 388
Bite-Me-Not or Fleur de Fur (1984)
p. 409
The Night of White Bhairab (1984)
p. 433
Thorn (1986)
p. 464
Troll Bridge (1992)
p. 480
Select Bibliography
p. 489
Sources
p. 494
Source Acknowledgements
p. 498
Table of Contents provided by Blackwell. All Rights Reserved.