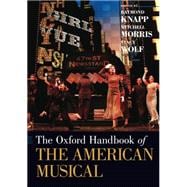 Questions About This Book?
What version or edition is this?
This is the Reprint edition with a publication date of 3/1/2013.
What is included with this book?
The New copy of this book will include any supplemental materials advertised. Please check the title of the book to determine if it should include any CDs, lab manuals, study guides, etc.
Summary
The Oxford Handbook of The American Musicaloffers new and cutting-edge essays on the most important and compelling issues and topics in the growing, interdisciplinary field of musical-theater and film-musical studies. Taking the form of a "keywords" book, it introduces readers to the concepts and terms that define the history of the musical as a genre and that offer ways to reflect on the specific creative choices that shape musicals and their performance on stage and screen. The handbook offers a cross-section of essays written by leading experts in the field, organized within broad conceptual groups, which together capture the breadth, direction, and tone of musicals studies today. Each essay traces the genealogy of the term or issue it addresses, including related issues and controversies, positions and problematizes those issues within larger bodies of scholarship, and provides specific examples drawn from shows and films. Essays both re-examine traditional topics and introduce underexplored areas. Reflecting the concerns of scholars and students alike, the authors emphasize critical and accessible perspectives, and supplement theory with concrete examples that may be accessed through links to the handbook's website. Taking into account issues of composition, performance, and reception, the book's contributors bring a wide range of practical and theoretical perspectives to bear on their considerations of one of America's most lively, enduring artistic traditions.The Oxford Handbook of The AmericanMusicalwill engage all readers interested in the form, from students to scholars to fans and aficionados, as it analyses the complex relationships among the creators, performers, and audiences who sustain the genre.
Author Biography

Raymond Knapp is Professor of Musicology at UCLA. His books include Symphonic Metamorphoses: Subjectivity and Alienation in Mahler's Re-Cycled Songs (2003), The American Musical and the Formation of National Identity (2005), The American Musical and the Performance of Personal Identity (2006), and Musicological Identities: Essays in Honor of Susan McClary (2008, co-edited with Steven Baur and Jacqueline Warwick).

Mitchell Morris is Associate Professor of Musicology at UCLA; among his research interests are Russian & Soviet Music; 20th century American music; opera; gender & sexuality; psychoanalysis; problems of musical ethics; and ecocriticism. In addition to his scholarly work, he is also a frequent collaborator with the Los Angeles Opera.

Stacy Wolf is Professor in the Program in Theater and the Director of the Princeton Atelier in the Lewis Center for the Arts at Princeton University. She is the author of A Problem Like Maria: Gender and Sexuality in the American Musical (2002) and Changed for Good: A Feminist History of the Broadway Musical (2011).

Table of Contents

Introduction (Stacy Wolf)
I. Historiography
1. Narratives and Values: Stories of the Musical (Mitchell Morris)
2. Texts and Authors (Jim Lovensheimer)
3. Marian Waltzes while Harold Marches: Musical Styles and Types in the American Musical (Paul Laird)
4. Evolution of Dance in the Golden Age of the American "Book Musical" (Liza Gennaro)
II. Transformations
5. Minstrelsy and Theatrical Miscegenation (Thomas L. Riis)
6. Toward the First "Golden Age": Tin Pan Alley Songs on Stage and Screen before World War II (Raymond Knapp and Mitchell Morris)
7. Integration (Geoffrey Block)
8. After the "Golden Age" (Jessica Sternfeld & Elizabeth L. Wollman)
III. Media
9. Theatre (Tamsen Wolff)
10. The Filmed Musical: Fissures and Fusions between Stage and Screen (Raymond Knapp and Mitchell Morris)
11. The Television Musical: Rodgers & Hammerstein's Cinderella (Robynn J. Stilwell)
12. The Animated Film Musical (Susan Smith)
13. Broadway on Records: The Evolution of the Original Cast Album (George Reddick)
IV. Identities
14. Race, Ethnicity, Performance (Todd Decker)
15. Gender and Sexuality (Stacy Wolf)
16. The Politics of Region and Nation in American Musicals (Chase A. Bringardner)
17. Class and Culture (David Savran)
V. Performance
18. Putting It Together: The Institutional Structure of the American Musical Theatre (David Sanjek)
19. Orchestration and Arrangement: Creating the Broadway Sound (Dominic Symonds)
20. "Razzle Dazzle 'Em": Musical Theatre Directors from Abbott to Zaks (Barbara Wallace Grossman)
21. What You See: Sets, Costumes, Lights, and Spectacle (Virginia Anderson)
22. Acting (John Clum)
23. Singing (Mitchell Morris and Raymond Knapp)
24. Dance and Choreography (Zachary Dorsey)
VI. Audiences
25. Box Office (Steven Adler)
26. Audiences and Critics (Michelle Dvoskin)
27. Stars and Fans (Holley Replogle-Wong)
28. Knowing Your Audience: Community and High School Musical Theatre Production (Jennifer Chapman)
29. Performance, Authenticity, and the Reflexive Idealism of the American Musical (Raymond Knapp)
Bibliography