Note: Supplemental materials are not guaranteed with Rental or Used book purchases.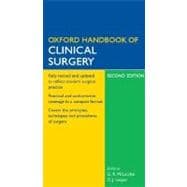 Summary
Providing a unique approach to the practice of surgery, this new edition of the Oxford Handbook of Clinical Surgery continues in the tradition of providing a succinct overview of the principles, techniques and procedures of surgery. The content has been fully revised to meet the requirementsof modern surgical practice. It is written in the very successful concise style of the handbook series, providing an accessible pocket reference for medical students, housemen, junior surgical trainees, nursing, paramedical and rehabilitation staff. The coverage includes the assessment and preparation of the patient, anaesthesia and critical care, inflammation, wound healing and infection, the key components of general surgical practice as well as chapters on other surgical specialties, including plastic, paediatric and orthopaedic surgery.There are also step by step descriptions of some common operative surgical techniques, practical hints and procedures, and a chapter on signs, symptoms and rarities.
Table of Contents
Lazarowicz, McLatchie and Adair
The surgical patientMcLatchie and Leaper
Inflammation, wounds, wound healing and infectionKalia
Anaesthesia and critical careLeaper
The breastAvery and McEwen
Head, neck and ocular emergenciesLeaper, Peel, McLatchie and Kurup
Gastrointestinal diseaseClason and Wilson
Peripheral vascular diseaseThompson
UrologyMcLatchie
Abdominal wallRaine and Bennett
Paediatric surgeryKirkpatrick, Roderick, Dunn and Soutar
Plastic surgeryLennard
Endocrine surgeryPacker
Orthopaedic surgeryClancy
Trauma and the Golden HourEmerson
Gynaecological problems in general surgeryEl Gaddal
Surgical presentation of tropical diseasesLees
Organ transplantationYassin and McLatchie
Surgical oncologyThompson and Lazarowicz
Practical hints and proceduresDoyle
Radiology for general surgeryMcLatchie
Anatomy for surgeonsMcLatchie: Operative surgeryLeaper
General management in the NHSLazarowicz and McLatchie
Signs, syndromes and raritiesUseful addressesMain sources
Table of Contents provided by Publisher. All Rights Reserved.