Note: Supplemental materials are not guaranteed with Rental or Used book purchases.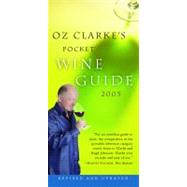 Oz Clarke's Pocket Wine Guide 2005
ISBN13:
9780151011001
by
Clarke, Oz
Houghton Mifflin Harcourt
Summary
Indispensable as ever, Oz Clarke's now-classic pocket wine guide has been thoroughly and meticulously revised and updated for 2005, with much-anticipated lists of favorite wines, top values, and producers and regions to watch, as well as with new vintage reports.As user-friendly as it is complete, Oz Clarke's Pocket Wine Guide 2005 lists each wine, grape, winery, producer, and region alphabetically for easy reference. It is a perfect pocket reference for novices-and essential for the seasoned wine lover wanting the latest information.
Author Biography
Oz Clarke is one of the world's leading wine experts. He has won all the major wine-writing awards, including the Glenfiddich (three times), the AndrT Simon, the Wine Guild (three times), the Julia Child, and the James Beard. He lives in London.

Table of Contents
How to Use the A-Z
p. 4
Introduction
p. 5
Some of My Favourites
p. 7
Modern Wine Styles
p. 10
Matching Food and Wine
p. 12
Matching Wine and Food
p. 14
Making the Most of Wine
p. 18
The World of Wine
France
p. 20
Italy
p. 24
Germany
p. 26
Austria
p. 28
Spain
p. 29
Portugal
p. 30
USA
p. 31
Australia
p. 33
New Zealand
p. 35
South America
p. 36
South Africa
p. 38
Other Wine Countries
p. 39
A-Z of Wines, Producers, Grapes & Wine Regions
p. 44
Special Features
Barossa
p. 58
Bordeaux Red Wines
p. 68
Bordeaux White Wines
p. 70
Burgundy Red Wines
p. 76
Burgundy White Wines
p. 78
Cabernet Sauvignon
p. 84
Champagne
p. 96
Chardonnay
p. 100
Jerez y Manzanilla/Sherry
p. 158
Merlot
p. 184
Muscat
p. 196
Napa Valley
p. 200
Pinot Noir
p. 216
Port
p. 220
Riesling
p. 232
Sauvignon Blanc
p. 250
Sparkling Wines of the World
p. 258
Super-Tuscans
p. 262
Syrah/Shiraz
p. 266
Glossary of Wine Terms
p. 289
Who Owns What
p. 295
Index of Producers
p. 297
Acknowledgements
p. 320
Table of Contents provided by Ingram. All Rights Reserved.