Note: Supplemental materials are not guaranteed with Rental or Used book purchases.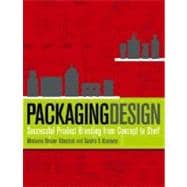 Questions About This Book?
What version or edition is this?
This is the 1st edition with a publication date of 9/11/2006.
What is included with this book?
The eBook copy of this book is not guaranteed to include any supplemental materials. Typically only the book itself is included.
Summary
How to create packaging designs for consumer brands that effectively communicate in the retail environment Packaging Design: Successful Product Branding from Concept to Shelf is the most comprehensive resource of practical and professional information for creating packaging designs that serve as the marketing vehicles for consumer products. Packed with real-world advice, step-by-step descriptions of the creative process, and all-important insights into the stakeholders, the design process, and the production process, this book illuminates the business of packaging design like no other. Whether you're a designer, brand manager, or packaging manufacturer, the highly visual coverage in Packaging Design will be useful to you, as well as everyone else involved in the packaging design process. In one convenient book, you'll find: Insightful images of the design process, design concepts, three-dimensional models, and prototypes A wealth of case studies showcasing how superior packaging designs were created A framework for today's packaging design business Environmental considerations, along with legal and regulatory issues Useful appendices with advice on portfolio development and professional practice guidelines
Author Biography
MARIANNE ROSNER KLIMCHUK
is Associate Chair of the Packaging Design Department at the Fashion Institute of Technology (FIT) in New York City. She's a frequent lecturer and contributor to industry magazines.
SANDRA A. KRASOVEC is Assistant Professor of Packaging Design at FIT and principal of Krasovec Design in New York City.
Table of Contents
Acknowledgments
viii
Foreword
ix
Preface
x
1
(32)

| | |
| --- | --- |
| | Developments through Emerging Societies |

1
(1)

| | |
| --- | --- |
| | Capitalism through the Ages |

2
(1)
3
(1)
4
(1)

| | |
| --- | --- |
| | The Beginnings of Visual Communication |

4
(1)
5
(7)
12
(1)
13
(1)
14
(2)

| | |
| --- | --- |
| | Twentieth-Century Developments |

16
(4)

| | |
| --- | --- |
| | The Growth of the Packaging Design Business |

20
(3)
23
(1)

| | |
| --- | --- |
| | Advancements in Packaging Design |

24
(5)
29
(1)
30
(3)

| | |
| --- | --- |
| | Defining Packaging Design |

33
(20)

| | |
| --- | --- |
| | Packaging Design as Communication |

33
(2)

| | |
| --- | --- |
| | Packaging Design in the Marketing Mix |

35
(1)

| | |
| --- | --- |
| | Reaching the Target Market |

36
(1)
37
(1)

| | |
| --- | --- |
| | Packaging Design and the Brand |

38
(1)
39
(1)
40
(1)
40
(2)
42
(1)
43
(1)
44
(1)
44
(2)

| | |
| --- | --- |
| | Packaging Design and Society |

46
(1)

| | |
| --- | --- |
| | Packaging Design Objectives |

47
(6)
53
(26)

| | |
| --- | --- |
| | The Stakeholders in Packaging Design |

53
(2)
55
(6)

| | |
| --- | --- |
| | Checklist of What Every Designer Needs to Know |

61
(1)
62
(2)

| | |
| --- | --- |
| | Consumer Product Categories |

64
(1)
65
(1)
66
(2)
68
(2)
70
(2)
72
(2)
74
(2)
76
(3)
79
(8)
81
(1)

| | |
| --- | --- |
| | Packaging Design Principles |

82
(1)

| | |
| --- | --- |
| | The Primary Display Panel |

82
(3)
85
(2)
87
(18)

| | |
| --- | --- |
| | Typography and Packaging Design |

87
(1)
88
(1)

| | |
| --- | --- |
| | Typography and Technology |

89
(1)
90
(2)

| | |
| --- | --- |
| | Typographic Principles for Packaging Design |

92
(6)

| | |
| --- | --- |
| | Designing the Brand Identity |

98
(6)

| | |
| --- | --- |
| | Key Points about Typography |

104
(1)
105
(14)
105
(1)
106
(1)

| | |
| --- | --- |
| | Color Distinguishes the Packaging Design |

107
(1)
108
(4)
112
(3)

| | |
| --- | --- |
| | Owning Color in Packaging Design |

115
(1)

| | |
| --- | --- |
| | Color Forecasting and Trends |

116
(1)

| | |
| --- | --- |
| | Color on the Computer Screen |

117
(1)

| | |
| --- | --- |
| | Packaging Design and Color in Retail |

118
(1)
118
(1)

| | |
| --- | --- |
| | Communicating with Imagery |

119
(18)

| | |
| --- | --- |
| | Imagery and Cultural Perception |

119
(1)

| | |
| --- | --- |
| | Effective Uses of Imagery |

119
(4)

| | |
| --- | --- |
| | Illustration and Photography as Mediums for Imagery |

123
(2)
125
(1)

| | |
| --- | --- |
| | Cropping and Scaling Images |

126
(1)

| | |
| --- | --- |
| | Instructional Illustration |

126
(2)
128
(3)
131
(1)
132
(2)
134
(2)
136
(1)
137
(28)

| | |
| --- | --- |
| | Structures and Materials in Packaging Design |

137
(3)
140
(1)
141
(1)
142
(1)
142
(1)
143
(1)
144
(1)

| | |
| --- | --- |
| | Other Paper and Paperboard Structures |

144
(2)
146
(4)
150
(2)
152
(2)
154
(1)
154
(2)
156
(1)
156
(2)
158
(1)
159
(1)
159
(1)
160
(1)
161
(1)
161
(1)

| | |
| --- | --- |
| | New Material Technologies |

161
(3)

| | |
| --- | --- |
| | Key Points about Structures and Materials |

164
(1)
165
(18)

| | |
| --- | --- |
| | Design Considerations for Materials and Production |

165
(1)
166
(1)
166
(1)

| | |
| --- | --- |
| | Art Files: Image vs. Vector |

167
(1)
168
(1)
169
(3)
172
(1)

| | |
| --- | --- |
| | File Delivery and Pre-Flight |

172
(1)
172
(1)
173
(1)
174
(1)
174
(3)

| | |
| --- | --- |
| | Special Processes and Techniques |

177
(5)

| | |
| --- | --- |
| | Production Follow-Through |

182
(1)

| | |
| --- | --- |
| | Key Points about Production |

182
(1)
183
(38)
183
(1)

| | |
| --- | --- |
| | Request for Proposals (RFP) |

184
(1)
184
(1)
185
(1)
186
(1)
186
(1)

| | |
| --- | --- |
| | Phase 1: Research and Analysis |

187
(1)
188
(1)
188
(1)
188
(1)
189
(1)

| | |
| --- | --- |
| | Visual References or ``Swipes'' |

190
(1)
191
(2)

| | |
| --- | --- |
| | Phase 2: Preliminary Design |

193
(1)

| | |
| --- | --- |
| | Beginning a Design Strategy |

193
(1)

| | |
| --- | --- |
| | Brainstorming and Ideation Sessions |

193
(1)
194
(2)

| | |
| --- | --- |
| | Sketching in Black and White |

196
(1)
196
(1)
197
(1)
198
(1)
199
(4)

| | |
| --- | --- |
| | Design Reviews and Presentations |

203
(4)

| | |
| --- | --- |
| | Phase 3: Design Development |

207
(4)

| | |
| --- | --- |
| | General Guidelines for Net Weight or Product Contents |

211
(1)
211
(4)
215
(1)

| | |
| --- | --- |
| | Phase 4: Final Design Refinement |

216
(1)
216
(3)

| | |
| --- | --- |
| | Phase 5: Pre-Production and Digital Mechanicals |

219
(1)
219
(1)

| | |
| --- | --- |
| | Key Points about the Design Process |

220
(1)

| | |
| --- | --- |
| | Considering the Environment |

221
(10)
221
(2)

| | |
| --- | --- |
| | Packaging and Life-Cycle Assessment |

223
(1)
223
(1)
224
(2)
226
(1)
226
(2)
228
(2)

| | |
| --- | --- |
| | Key Points about the Environment |

230
(1)

| | |
| --- | --- |
| | Understanding Legal Issues |

231
(16)

| | |
| --- | --- |
| | Understanding Legal Issues |

231
(1)

| | |
| --- | --- |
| | Laws and Regulatory Agencies |

232
(3)

| | |
| --- | --- |
| | Excerpts from the FDA Food Labeling Guide |

235
(6)
241
(1)
241
(2)

| | |
| --- | --- |
| | Intellectual Property Rights |

243
(2)

| | |
| --- | --- |
| | Counterfeiting and Packaging Design |

245
(1)

| | |
| --- | --- |
| | Key Points about Legal Issues |

246
(1)
Appendix A Creating a Folding Carton Comp
247
(3)
Appendix B Packaging Design Portfolio
250
(1)
Appendix C Professional Sources
251
(1)
Bibliography
252
(2)
Glossary
254
(4)
Index
258