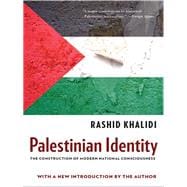 Palestinian Identity: The Construction of a Modern National Consciousness
by
Khalidi, Rahhid
Summary
Khalidi critically assesses the narratives that make up Palestinian history and identity and examines the ways in which the Palestinian national consciousness has come full circle.
Table of Contents
Contrasting Narratives of Palestinian Identity
Cultural Life and Identity in Late Ottoman Palestine
The Place of Jerusalem Competing and Overlapping Loyalties in Ottoman
Jerusalem Elements of Identity
Peasant Resistance to Zionist Settlement Elements of Identity
The Debate on Zionism in the Arabic Press The Formation of Palestinian Identity
The Critical Years, 1917-1923
The "Disappearance" and Reemergence of Palestinian Identity
Table of Contents provided by Publisher. All Rights Reserved.