Note: Supplemental materials are not guaranteed with Rental or Used book purchases.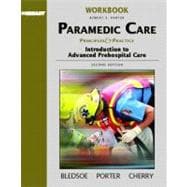 Paramedic Care, Principles and Practice: Introduction to Advanced Prehospital Care Workbook, Volume 1
ISBN13:
9780131178243
by
Porter, Robert S.
Related Products
Summary
(Brady Pearson Education) Emergency Physician, Midlothian, TX. Reinforces the learning objectives from the parent text of the same title, 2nd edition, c2006. Offers self-evaluation through chapter reviews and case reports. Previous edition: c2000. Text also available and listed on 2005-14. Softcover with perforated pages.
Table of Contents
Introduction to the Self-Instructional Workbook
vii
How to Use the Self-Instructional Workbook
ix
Guidelines to Better Test-Taking
xi

| | |
| --- | --- |
| | Introduction to Advanced Prehospital Care |

1
(5)

| | |
| --- | --- |
| | The Well-Being of the Paramedic |

6
(12)
18
(10)

| | |
| --- | --- |
| | Roles and Responsibilities of the Paramedic |

28
(8)

| | |
| --- | --- |
| | Illness and Injury Prevention |

36
(5)

| | |
| --- | --- |
| | Medical/Legal Aspects of Advanced Prehospital Care |

41
(11)

| | |
| --- | --- |
| | Ethics in Advanced Prehospital Care |

52
(4)

| | |
| --- | --- |
| | General Principles of Pathophysiology |

56
(26)

| | |
| --- | --- |
| | Part 1: The Cell and the Cellular Environment |

56
(10)

| | |
| --- | --- |
| | Part 2: Disease---Causes and Pathophysiology |

66
(5)

| | |
| --- | --- |
| | Part 3: The Body's Defenses Against Disease and Injury |

71
(11)

| | |
| --- | --- |
| | General Principles of Pharmacology |

82
(32)

| | |
| --- | --- |
| | Part 1: Basic Pharmacology |

82
(14)

| | |
| --- | --- |
| | Part 2: Drug Classifications |

96
(18)

| | |
| --- | --- |
| | Intravenous Access and Medication Administration |

114
(23)

| | |
| --- | --- |
| | Part 1: Principles and Rates of Medication Administration |

114
(10)

| | |
| --- | --- |
| | Part 2: Intravenous Access, Blood Sampling, and Intrasseous Infusion |

124
(8)

| | |
| --- | --- |
| | Part 3: Medical Mathematics |

132
(5)

| | |
| --- | --- |
| | Therapeutic Communications |

137
(6)
143
(6)

| | |
| --- | --- |
| | Airway Management and Ventilation |

149
(26)
Introduction to Advanced Prehospital Care Content Review
175
(40)
Workbook Answer Key
215
(10)
National Registry of Emergency Medical Technicians Practical Evaluation Forms
225
(18)
Emergency Drug Cards
243